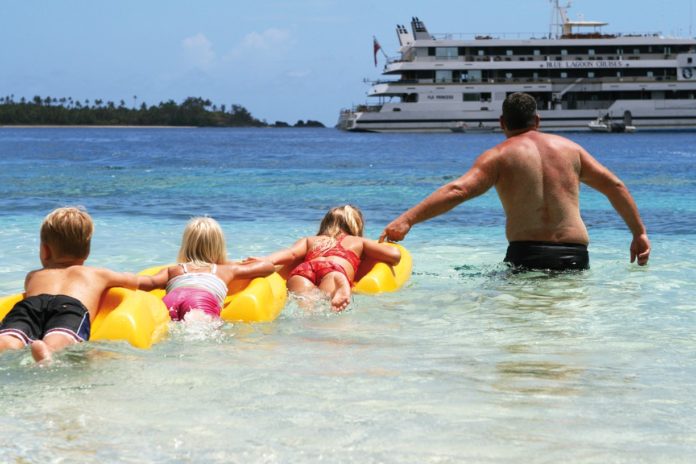 Finding a cruise that meets the needs of every family member can be tough. While you may be in search of some peace and quiet, the kids are probably eager to play. To help you find a cruise that fits your family's needs, we've put together a list of the five best family friendly cruises taking into account fun, affordability, and flexibility.
The 5 Best Family Friendly Cruises
Royal Seas Cruises Far and away the best cruising option for a family looking for an affordable and friendly cruising experience with all the amenities of luxury liners. The Grand Celebration, by Royal Seas Cruises, is equipped with amenities galore. There are five swimming pools and Jacuzzis, a kids club with an enthusiastic and well-trained staff, a luxurious spa and wellness center, Las Vegas-style casino, eight bars and lounges, state-of-the-art performance center with nightly live shows, duty-free gift shops, and much more.
Royal Seas Cruises offers a 4 Night Cruise & Resort Stay package starting at just $393 per person (for the standard resort stay). This package gives you two days of cruising on The Grand Celebration cruise ship and two days to explore everything The Bahamas has to offer. You simply can't beat this deal, and the laid back atmosphere is conducive to please every type of family.
Carnival Cruise Lines Carnival's "Fun Ships," have a wide array of activities to keep your family busy. With water slides and sports courts, casinos and piano bars, comedy acts and night clubs, Carnival Cruise Line ships offer guests of all ages something to enjoy. Carnival has excellent onboard cuisine, which includes three-course meals served in the main dining room, and specialty restaurants dishing out everything from Italian fare to sake and sushi. The downside is that the larger ships can feel crowded when you are looking for peace and quiet.
MSC Cruises With the "kids sail free" promotion that allows children 11 and younger to sail for free year-round and a LEGO partnership that brought redesigned play areas to select ships, MSC is a great choice for families. The ship has water parks, bowling alleys, spas and live music lounges. There are many hidden costs on MSC cruises, so be sure to read the fine print before booking a family vacation.
Celebrity Infinity Launched in 2001 and most recently refurbished in 2015, Celebrity Infinity has updated suites, an Italian steakhouse, and the fleet's first rooftop terrace. Other highlights include venues like the Cellar Masters wine bar, a martini bar and Qsine, an interactive restaurant complete with iPad menus. Kids love the floor-to-ceiling sliding glass doors in the cabin, giving them a splendid view of the ocean. This ship can feel a bit crowded and be prepared for the furnishings to feel a bit dated despite the renovation.
Disney Cruise Lines Of course, it's awesome. Disney owns it. Like its land-based theme parks, Disney Cruise Line caters impeccably to kids and kids at heart. Every minute of a Disney cruise is crammed with parties, character-autograph sessions, Broadway-esque musicals, classes, tours, movies, games, even a 1,800-foot water play area on the 4,000-person Disney Fantasy. You'd think that would be enough, but the children's and teen programs are the best of any cruise line, thanks to extensive activities. With that said, be prepared to turn over lots of cash for a Disney Cruise. Families can expect to pay upwards of $4,000 before the many additional costs add up.
Cruising as a family offers the ideal balance between spending time together and apart. Cruises offer something for every type of traveler at every budget. If know some families who could use a cruising vacation, please SHARE this article!