Public Relations professionals and individual business owners no longer have the time to wait for a story to get picked up by traditional PR wires and distributed. The public relations landscape is evolving rapidly, and brands have only minutes to launch their story. Professionals need to be knowledgeable about the best ways to have their story seen by their target audience as quickly as possible.
According to Kari DePhillips, Owner at The Content Factory, "many pros in the PR industry are ready to dance on the grave of traditional press release distribution." DePhillips explains that "the inherent SEO value of press release distribution via wire services is exactly zero."
Real-time responses are among one of the biggest PR trends in 2017, and a new platform from the USA Herald is at the forefront of the movement. If you are an individual with an important story or a company looking to get news around your product, you can now create a story for free and release it on the USA Herald.  The USA Herald's new platform gives media attention to people and brands that otherwise would have to spend huge dollars.The platform is designed to share content that shapes news and starts online conversations without having to break your budget. Using the platform is simple, affordable and gives people and brands a voice that they never had using traditional PR tactics.
How The USA Herald Platform Is Different Than Traditional Press Releases
There is no doubt that the PR landscape is changing. With this shift, comes opportunities for your brand, business, and voice to be heard. The USA Herald platform transcends traditional public relations tactics by distributing content via relevant social channels in real-time. All you need is a credit card. Choose your budget, define your target audience, and decide how many people you want to read your story.
8 Reasons Why Sharing News on USA Herald Is Better Than Paying For A Press Release:
1. The USA Herald is Simple
First, create a free account on USA Herald. Then, write a byline and load up your story into the platform. Next, choose a budget for advertising your article. Finally, submit your story and watch your story go live on USA Herald. Audiences start to view your article, click on your website, order your products, and call your business for more information within hours of submission.
On May 30, 2017, this article by the nonprofit, Honor Flight Northern Colorado had nearly 2,000 social media interactions on The USA Herald Platform within 24 hours. On May 31, 2017, an article posted by Royal Seas Cruises entitled "It's Better In The Bahamas This Summer With Royal Seas Cruises" saw significant social engagement within hours.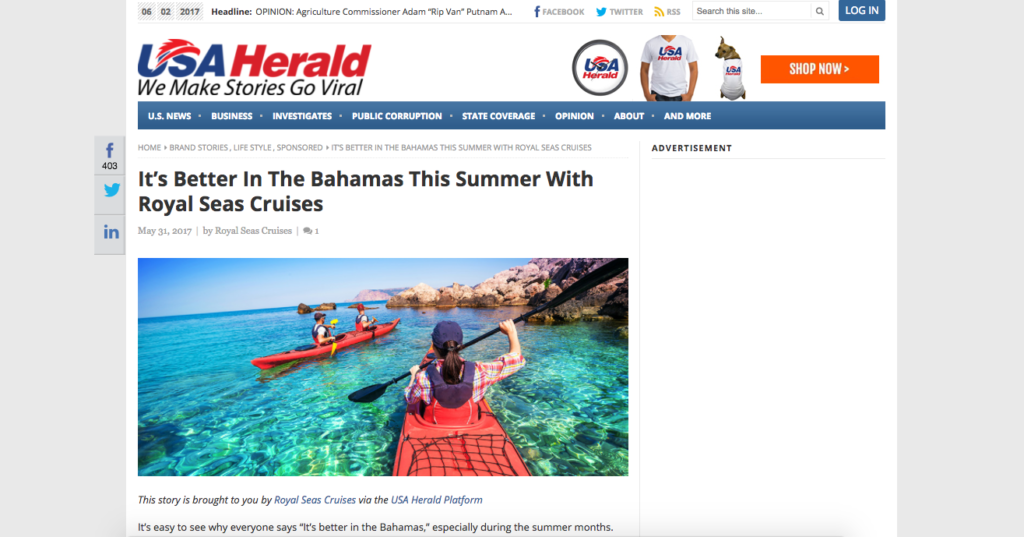 2. The USA Herald Is Affordable
If you are an industry veteran or just getting started in promoting your business or website, you know that most press release distribution services are expensive and rarely produce ROI. In general, you can expect to pay between $400 and $1000 to distribute a press release to one the leading players such as PR Newswire or Business Wire. For that price, you are usually limited to 400 words and this does not guarantee that journalists will write stories about you or your company.
The USA Herald platform offers a variety of options for every budget. For example, a $20 boost will reach up to 8,600 users. Your budget will directly determine how many eyes you want to see your article. Whether it's a few thousand or many millions, the platform can distribute your content to the world.
3. You Don't Need Media Experience To Use This Platform
Our highly experienced media buying team matches your article and target audience with the most relevant social sharing networks. Depending on your budget, we will boost your article between Facebook, LinkedIn, Instagram, other the Content Networks.
At a bare minimum, USA Herald guarantees that thousands of people will engage in your story.
4. No More Waiting For Traction
Even though some press releases may get the attention of a journalist, it is very unlikely that it will reach your target audience. Within hours of your story going live, real readers start engaging with your story via the easy to use USA Herald platform. No longer do you need to wonder if important media eyeballs are reading your story. You are controlling how many people see the story and who those people are.
5. You Can Be Authentic
The USA Herald Platform gives readers information in a way that is natural. Consumers prefer to read information that is easy to digest. The press release format takes longer to read and is often harder to understand without reading it several times. In a world with thousands of stories being posted online every hour, readers want to understand the what they are reading quickly.
6. The Platform Is Self Explanatory
Significant amounts of time are wasted using press release distribution services. Uploading the release, adding image video assets, and hyperlinking to resources can take a couple of hours. The USA Herald Interface is easy to use. You can be done in minutes.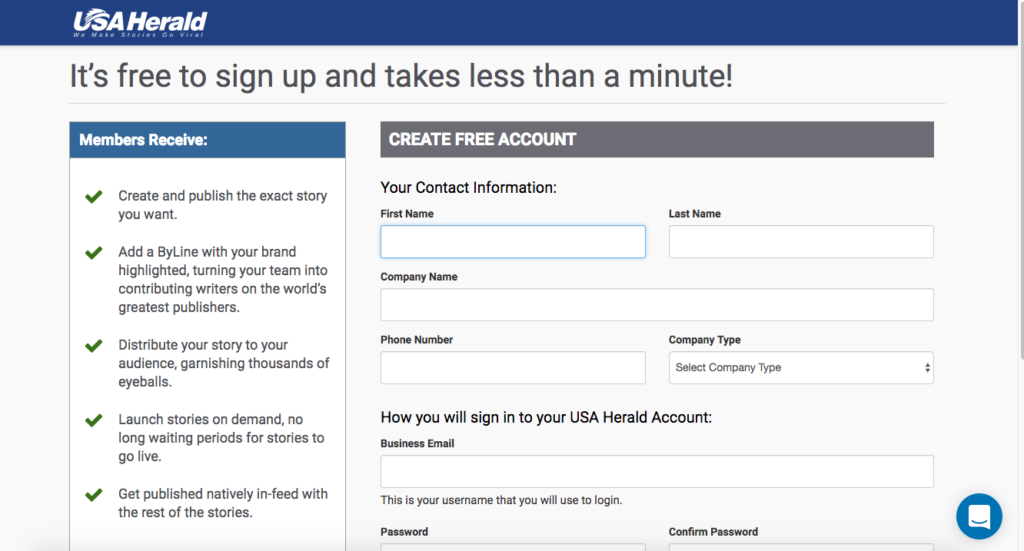 7. You Will Get The Credibility You Deserve
You will earn the attention and trust of your audience by showing that you're an authority on a particular subject when your share stories through the USA Herald platform. You or your team of contributing writers will turn into the world's greatest publishers. You create your byline, and your brand is highlighted in every piece of content you upload.
8. You Don't Need To Be A Professional Writer
As a business owner, there is a lot of fear in writing press releases. It's okay if you aren't a professional writer. At no additional cost, we have a team that will assist in editing or re-writing your story. We want your article to reach as many people as possible to achieve the results you want. We are motivated by what is important to you. Your voice will be heard if it's a new product launch or if you are spreading the word about an issue that is important to you. With only a few clicks, you can get your story live to the world.
Important Things To Know About The USA Herald Platform
We target Facebook, LinkedIn, Instagram, other the Content Networks. We properly disclose who you are in the byline and showcase to readers that your brand sponsored the story.
Before submitting an article, make sure you note the following:
We do not publish "fake" news on our site. Be prepared to substantiate your claims should we ask for proof.
Make sure that your content is edited and well written.
We reserve the right to reject any poorly written content.
Do not submit any hate speech or anything that is intended to inflame people.
If you plan to try the USA Herald platform for distributing news about your brand, product or services, please SHARE this article with other professionals!