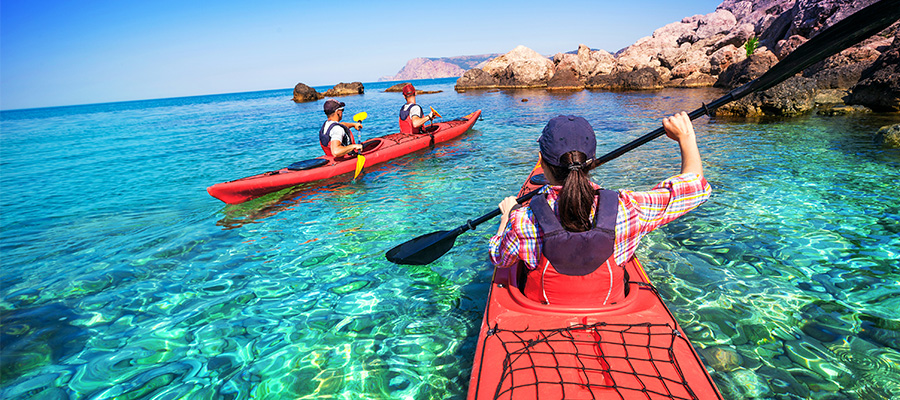 This story is brought to you by Royal Seas Cruises via the USA Herald Platform
It's easy to see why everyone says "It's better in the Bahamas," especially during the summer months. Summer is consistently one of the most sought after times to cruise to the Bahamas, especially if you fancy tropical temperatures. Temperatures are usually in the high 80s to 90s with easterly trade winds keeping the Bahamas comfortable. According to Lonely Planet, there are about 320 days of sunshine every year, and the summer is no exception.
A survey from BREA, Business, Research, & Economic Advisors, reports that the Bahamas has an average of 3.93 million passenger and crew visits per year. This is the highest volume of visits in the Caribbean. It also has the second largest level of direct passenger and crew expenditures with $373 million per year.
Royal Seas Cruises – Summer Cruise to The Bahamas
Royal Seas Cruises offers summer cruise vacations to the Bahamas that will create lifetime memories. The company boasts unparalleled customer service all year long. Travelers who book vacations through Royals Seas Cruises enjoy a fabulous vacation from start to finish. Friendly and knowledgeable customer service experts are readily available to meet the needs of travelers at all times.
"When you book your summer vacation with Royal Seas Cruises you will be treated like royalty from the moment you contact us. Our staff promises to make your trip to the Bahamas as stress-free as possible," says M Hanson VP of Royal Seas Cruises.
Royal Seas Cruises has summer vacation cruise packages to The Bahamas designed for family, fun, and adventure. Royal Seas Cruises promises the best Bahamian attractions including sea, sand, surf, and lots of sunshine. A cruise vacation with Royal Seas Cruises gives families the chance to explore deserted beaches, a 4-Diamond resort with seven acres of pristine white sandy beaches, or tour the Garden of the Groves, where lush tropical gardens will surround you.
Royal Seas Cruises – Vacation Packages Aboard The Grand Celebration
Three of the summer vacation packages offered by Royal Seas Cruises include a cruise on The Grand Celebration. .The Grand Celebration offers affordable cruising options, flexible schedules, and last-minute getaways. Royal Seas Cruises arranges dynamic family vacations in a casual, unpretentious, relaxing and cheerful atmosphere.
The Grand Celebration sets sail every other day of the week from the Port of Call in Palm Beach, Florida providing tremendous convenience for visitors to South Florida. The cruise departs at 6 pm, but the onboard fun begins just after noon when passengers are allowed to start boarding. The late departure time allows plenty of time for passengers to arrive from surrounding airports including West Palm Beach, Ft. Lauderdale, Miami, and Orlando.
Royal Seas Cruise Vacations – Endless Entertainment and Relaxation
Royals Seas Cruises consistently arrange well-organized vacations offering a variety of onboard cruising entertainment and relaxation.
It's Party Time Each night passengers enjoy a different show in the 800-seat Legends Grand Theater. Dancers, comedians, acrobats and magicians will dazzle your family. Bands and musicians perform live music in its many lounges, and the upbeat dance club is famous for its laser glow party for the young at heart.
Kick Back With Cocktails There is no shortage of tropical cocktails to start your summer vacation. The staff is known for joking around with the cruisers as they hand out the ship's signature Bahama Mamas cocktail to relaxed cruisers.
The Kids Are Cool The Grand Celebration has numerous supervised children's programs for kids ages three to seventeen. Each age group will have age-appropriate activities supervised by experienced, trained and friendly staff. Your children will have so much fun making memories; they will beg you to extend your vacation.
Upscale Dining When it's time for beef carpaccio, fresh seafood, or pistachio crème brule, slide off your flip-flops and head to Stellar Prime or the Admiralty Club. The dress code is a bit more refined than the Ocean View Buffet, yet still casual and unassuming.
Take A Chance At The Casino The Grand Celebration offers Vegas-style casino action. The cruise ship has video and reel slots, and 13 table games including blackjack, craps, and roulette. Passengers will have lots of fun and hopefully win enough cash to buy some fabulous souvenirs when the cruise ship arrives in the Bahamas.
Spa Indulgence You deserve the finest spa and salon services in a relaxing, peaceful environment. Talented professionals practice state-of-the-art techniques and treatments including massages, body wraps, and facials. Meet your girlfriends for a mani-pedi or a pre-dinner blowout that will leave your hair feeling healthier than ever.
Unique Summer Attractions in The Bahamas
Junkanoo Since summer is all about celebration, you won't want to miss the Junkanoo Summer Festival held every July in the Bahamas. A cruise to the Bahamas through Royal Seas Cruises in July will bring you to this lively street festival designed to capture the competitiveness and excitement of Junkanoo. You can expect five days of elaborate costumes, cultural dance and live music throughout the Bahamas.
Xanadu Beach This is a popular tourist beach, three miles from the International Bazaar that is often less crowded in the summer. Xanadu Beach offers thrilling water sports, straw goods for sale, and a variety of local food and beverages.
Golf In The Bahamas Don't let the summer heat stop you from playing a round of golf at one of the many challenging, masterfully conceived and stunningly beautiful golf courses in the Bahamas.
 Swimming With The Dolphins A trip to the Bahamas through Royal Seas Cruises is not complete without an exhilarating swim with dolphins. The island is home to one of the top dolphin swimming centers, allowing guests to encounter and interact with the friendly sea mammals.
Royal Seas Cruises is ready to help you plan the cruise of a lifetime to the Bahamas this summer. School is out, and employers are giving increased professional flexibility during the warmer months. Your family will love how the Bahamas feels so far away, but is so close to home! Royal Seas Cruises promises to make all of your summer vacation dreams come true. Visit www.royalseascruises.com to start planning your summer escape.