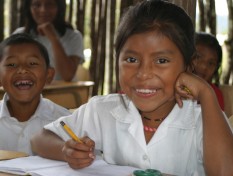 Costa Rica, a nation of more than 4 million citizens, offers free healthcare and basic dental care to all. More than 6000 dentists provide abundant access to dental care for most middle class citizens. However, a growing number of Costa Ricans living at or below the poverty line still lack access to quality dental care.
By some estimates, as many as 50,000 children have decaying teeth that are ignored by parents and remain untreated for years, causing teeth to fall out prematurely. Children that receive fillings often receive unsightly metal fillings that make children feel self-conscious and afraid to smile. Many teenagers lack adequate access to dental care items, and experience tooth decay at an alarming rate. Other have crooked or protruding teeth that require orthodontic treatment. Since most orthodontic treatments are not covered by the national insurance, low-income families simply cannot afford braces for their children. Even adults with missing teeth are unable to afford dental implants or quality crowns, a reality reflected in the toothless smiles of many low-income seniors in Costa Rica.
Goodness Dental, a leading Costa Rica dental tourism clinic, provides free dental care to children in need through a unique program that brings dental care to low-income communities in Costa Rica. In partnership with the popular non-profit organization Project Santa Claus, on December 9, 2017 top specialists from Goodness Dental will provide free dental care, exams and even dental care training to hundreds of children and their parents.
Since, 2007, Project Santa Claus has been providing Christmas gifts every Christmas to more than 800-1000 children living below the poverty line in urban and rural areas of this Central American nation. At last count, Project Santa Claus has delivered Christmas gifts to more than 9000 children in Costa Rica over the past decade.
Over the years, Project Santa Claus founder Patrick Goodness (CEO of Goodness Dental) witnessed a growing concern with increased dental decay among children living in low-incomes areas. "High sugar foods and soft drinks paired with poor dental hygiene and diminished access to dental care have caused increased rates of dental problems among Costa Rica's youth," says Goodness. "Our commitment to healthy neighborhoods and caring for those in need compels us to do what we can to help these families in meaningful ways. Providing free dental care for children in need is one way we give back to the communities where we live and work and to this country we love so much."
On December 9, 2017, while Christmas music fills the air, portable dental chairs and teams of dentists and dental surgeons will examine and treat hundreds of children that will come to receive a toy from Santa. Children in desperate need of advanced care will be invited to Goodness Dental for free ongoing treatment. "We can't take care of every child in need, but we will do our best to care for as many as possible," says Dr. Peter Aborn, Patient Coordinator with Goodness Dental. Aborn also manages Project Talamanca, a program that brings free dental care to the indigenous Talamanca people in Costa Rica.
This year, Project Santa Claus hopes to raise $10,000 USD to purchase toys and needed dental supplies. One percent of all company profits from Goodness Dental are donated to this cause. Additionally, Goodness Dental patients are invited to donate to these efforts by rounding up the cost of their treatment. 100% of funds raised from the "Round It Up" program are donated to this cause.
Interested donors may visit https://www.gofundme.com/project-santa-claus-costa-rica-2017 to support this effort.