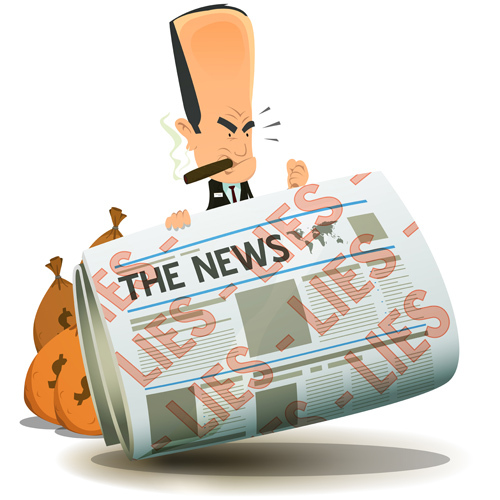 Buzzfeed, an online news site, went from being the reporter to being the subject of the news after publishing an article with unverified information on President Donald Trump. In the past, when media outlets have given false or incorrect information, they have issued apologies or retractions. Ben Smith, Editor-in-Chief of Buzzfeed, instead chose to double down, saying "Publishing this document was not an easy or simple call, and people of good will may disagree with our choice…But publishing this dossier reflects how we see the job of reporters in 2017." It seems that, rather than pursuing fair and unbiased journalism, Buzzfeed has decided to drop the gauntlet and stand in opposition to the Trump administration.
Throughout the 2016 election cycle, Americans expressed extreme distrust in the media. Once considered the "Fourth Estate" of government, the media has lost its reputation as a watchdog and has become more of a lapdog for special interests, elected officials, and advertisement dollars. In a Gallup study released in September 2016, only 32% of Americans expressed a fair/great amount of trust in mass media. Why has this distrust been allowed to grow? Lack of accountability and blatant dishonesty.
When a newscaster reports a story unfavorably or inaccurately, they are not held accountable by the special interests that shape the agenda, and are, in fact, rewarded for biased reporting. The general public has no recourse, no options available to them to hold the dishonest media accountable.
A new social media startup, Completed.com (covered previously by the USA Herald), is seeking to change that. By allowing users to categorize media personalities on their level of trustworthiness, they are giving average Americans the ability to fight back against dishonest reporting and hold the media accountable.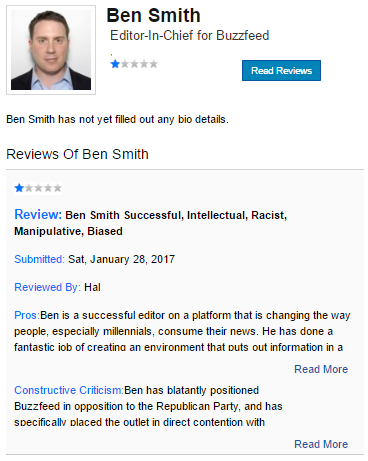 In fact, one user, "Hal", reviewed Buzzfeed Editor-in-Chief, Ben Smith. In his one-star review, he writes "Ben has blatantly positioned Buzzfeed in opposition to the Republican Party, and has specifically placed the outlet in direct contention with Donald Trump. He has done this by releasing false information, approving stories that disparage white people as a generality, and cultivating an environment that encourages this behavior from his writers. He has no interest in finding the truth, but instead uses his platform as a weapon to attack those that he disagrees with."
Anyone can sign up on Completed.com for free and review anybody else. If the person that you are reviewing isn't on the site, you can create a profile for them. While the idea of rating a human being is controversial and problematic, some users have used this service to review media personalities.
Completed.com strongly encourages users to provide "pros" with their "constructive criticism" (the negative section of the review). In this section, Hal writes, "Ben is a successful editor on a platform that is changing the way people, especially millennials, consume their news. He has done a fantastic job of creating an environment that puts out information in a way that engages a demographic that is not being reached by traditional media outlets."
Currently, Hal's review does not have much of an impact. But if Completed.com sees widespread adoption, reviews like these will cause people like Ben Smith to have lower ratings. These ratings and reviews will be visible to potential employers and customers, business contacts, and peers. Essentially, this will create an online reputation that will be directly tied to an individual. Unlike Facebook, Twitter, Instagram, and other social media applications, Completed.com does not allow users to remove reviews and it's impossible to "deactivate" a profile with reviews on it. This means that news reporters will have to display the reviews of dishonest reporting, and the ratings that these reviews carry.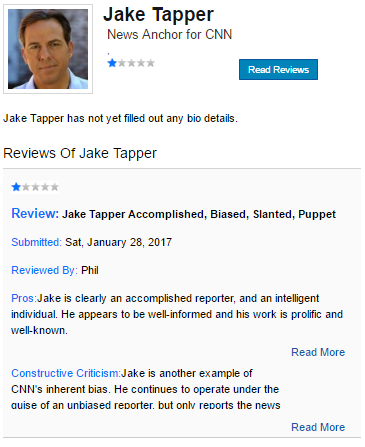 CNN's Jake Tapper has also come under review by Completed.com users. A user by the name of Phil writes, "Jake is another example of CNN's inherent bias. He continues to operate under the guise of an unbiased reporter, but only reports the news and facts that fit with the narrative of the network. The network refuses to give the new administration a fair shake, something that they continued to do to a fault for Obama, and appears to care more about advancing the agenda of the Democrat party above the needs for the American people to hear the truth."
Phil also notes, "Jake is clearly an accomplished reporter, and an intelligent individual. He appears to be well-informed and his work is prolific and well-known."
The concept behind Completed.com has some striking implications for modern society. The average person will have the ability to directly affect another person's public perception. Users have begun implementing this to increase media accountability, an endeavor that was formerly impossible for a regular Joe.
Many early critics are concerned that this power will lead to abuse and increased cases of cyberbullying. The founders of Completed.com have sought to mitigate some of this abuse through a moderation process. This process does not allow reviews with profane or abusive content to be published. Users are also given the ability to balance out poor reviews with better reviews, and encourages reviewers to leave follow-up reviews if the issues outlined in the review have been resolved.
We caught up with a Completed.com spokesperson, and they had this to say:
"The media has misled people for years, spreading falsities and destroying lives. Donald Trump is really the first person to bring the pervasiveness of lies the media is spreading to light.

Completed.com aims to put the lying members of the press in check by giving regular people the ability to rate them. With the possibility of being held accountable now, we hope that these dishonest journalists think twice before spreading fake news to further the agendas of political parties and special interests. Now, if a reporter spreads fake news or lies, we the people will bring this truth to light by coming together on Completed.com to review them individually, just like we all come together to rate businesses on Yelp."
A quote from Spiderman seems fitting. "With great power comes great responsibility." In the dishonest media's case, the power has been reduced due to a lack of responsibility. In the case of Completed.com, we will have to wait and see.