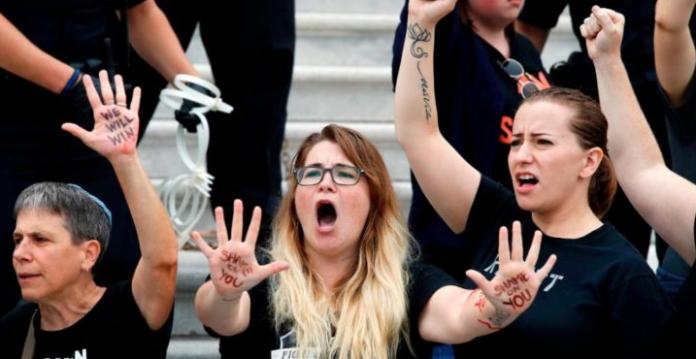 Tallahassee, Fla. — Under a cloud of secrecy and without any public discussion, the Florida Senate has once again changed its policy for reporting sexual harassment.  It is at least the third policy change in less than 13 months and it comes nearly a year after former state Senator Jack Latvala resigned following an investigation that was riddled with leaks and the perception that it was a one-sided probe.
Even if lacking in transparency, an effort to improve the legislature's policy and protect potential victims should be applauded.  But the timing of these changes, when layered against the timeline of the sexual harassment case brought against Latvala, is suspect at best.
New state Senate President Bill Galvano told the online news site Politico that he wanted to clean up the process for handling rules and sexual harassment cases.
"I thought the whole process should be cleaned up, so it was clear what steps we needed to take to avoid ambiguity," Galvano, a Bradenton Republican told Politico.
Credit Galvano for stating the obvious, even if he fails to acknowledge that it was his immediate predecessor who caused the ambiguity and the need to clean up the policy.
Under the new policy, a complaint against a senator must be filed with the Senate rules chair, who then determines if probable cause exists.  The new rule gives the senator who is the subject of the complaint an opportunity to respond.  If probable cause is determined by the rules chair, the Senate President then sends the complaint to a select committee to further investigate.
Galvano's approach to investigating all complaints is very similar to the way the United States Congress handles complaints – when an allegation is made, probable cause is determined; and then the House Ethics Committee makes a determination of fact.  The state senate's new rule handles all complaints internally rather than sending them to an outside investigator.
This new policy is in stark contrast to the previous one which was announced on October 27th, 2017 and gave the Senate President total control and how he exercised that control.  It was an unusual move that required all power for investigating complaints of sexual harassment in the Senate to be absorbed by then Senate President Joe Negron's office empowering Negron himself to be judge, jury and executioner.
Before Negron's sneaky changes to these rules, giving him omnipotence in harassment cases,   complaints of this nature were handled independently by the Human Resources division within the Office of Legislative Services.  It appears that the Senate's conscience has returned, now that the Latvala matter has been dispensed with, and it is time to return to a decent, reasonable and practical policy.
The current change dismantles a policy that had consolidated power and control of sexual harassment complaints under the purview of one of Latvala's biggest rivals. Was it purely a coincidence that Negron made that policy change in the fall of 2017 giving his office complete autonomy and control of handling complaints, when no problems with the previous policy had been mentioned – or was it part of a larger, carefully orchestrated plan to take down Latvala?   And was it a coincidence that these changes occurred only a week before Politico's devastating report about Latvala's anonymous accusers?
The latest rule change seems to acknowledge mistakes the Senate made in the Latvala investigation. While they don't lay out what was done improperly, they certainly create a fairer, more reasonable approach to protect all people in such cases until a verdict can be determined.
Why no one has stepped back to look at the events leading up to October 27th, 2017 and what followed is a mystery?  But in our next story, U.S.A. Herald will to lay out a timeline and actions that strongly suggest this was all a plot to destroy Latvala's political career.  That the Florida Senate has fixed the tool it used to destroy Latvala seems to validate that a conspiracy was certainly at hand.