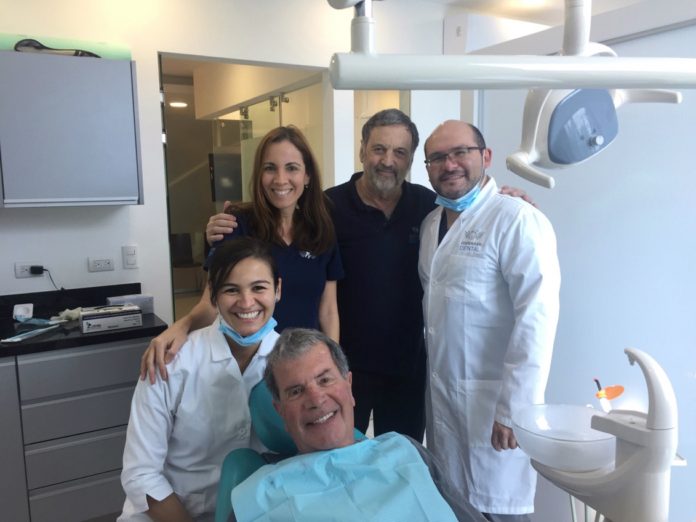 In a country known for eco-tourism, zip-lining and incredible coffee, many are surprised to learn that Costa Rica is also a popular dental tourism destination.  More than 142 million Americans lack sufficient dental insurance.  More than 36 million Americans do not have any teeth, and 120 million people in the U.S. are missing at least one tooth. Dental prices in the USA are among the highest in the world, motivating millions of Americans to leave the USA to seek high quality, affordable dental care in nations such as Costa Rica, Mexico and Guatemala. What most patients are discovering is that dental care is not only more affordable, but a much better overall experience in Latin America.
Patients need to be careful when seeking dental care abroad. Organizations such as Global Clinic Ratings help patients find the best quality clinics for safe, yet affordable dental care. Some clinics stand out as leaders in providing outstanding dental care to American patients.
Out of 331 leading dental clinics in Costa Rica, Goodness Dental ranks #1 according to Global Clinic Ratings, an international medical and dental quality measurement organization. Global Clinic Ratings rates dental clinics on expertise, facilities, services & feedback.  Goodness Dental also stands out as a leader on a global scale. Out of more than 126,000 dental clinics around the world, Goodness Dental has achieved a remarkable rank of #11.
CostaRicaDentalGuide.com, the nation's leading directory for respected dental clinics and dental tourism information, also ranks Goodness Dental as the national leader. 2017 survey results reveal that Goodness Dental received the highest ranking in international patient care and service. Goodness Dental is recognized as the only clinic in Costa Rica to offer a lifetime guarantee on dental implants and attractive guarantees on crowns, bridges and other restorations. Survey responses indicate that many Costa Rica dental clinics have general dentists performing complex specialty care such as the placement of dental implants and full mouth restorations.  Patients commented that Goodness Dental is staffed by a team of compassionate specialists and ensures that every procedure is performed by a licensed, qualified specialist. The level of confidence among patients treated at Goodness Dental was the highest in the CostaRicaDentalGuide.com 2017 survey. (Excerpt from CostaRicaDentalGuide.com)
With a focus on personal attention and specialized care, Goodness Dental ranked highest in patient satisfaction, patient confidence and overall patient experience.  Goodness Dental is managed by US Prosthodontist Dr. Peter Aborn, (NYU Graduate) with more than 40 years of practice experience in the USA and Costa Rica. The team of specialists at Goodness Dental includes four maxillofacial surgeons and dental implant specialists, three prosthodontists, two endodontists, two periodontists and one general dentist.
Costa Rica is quickly becoming recognized as a leading global destination for affordable, high quality dental implants. Patients report that Costa Rica offers high quality dental implant brands and a high success ratio. Respondents in the CostaRicaDentalGuide.com 2017 patient survey commented on 57 dental clinics in Costa Rica, ranking the following factors: clinic communications, response time, treatment planning, transparency, pricing, patient care and post care follow-up.
Goodness Dental, located in Escazu, near the capitol city of San Jose, was ranked as the best clinic for dental implants in 2017. Goodness Dental is also recognized as a leader in all on 4 dental implants and full mouth restorations in Costa Rica.
In November, 2017, Goodness Dental will open a new location in Guatemala City, to meet the needs of the growing dental tourism market there. Prices are approximately ten percent lower in Guatemala as compared to Costa Rica. Goodness Dental Guatemala Clinic Director Dr. Claudia Bruns, is confident that a growing number of Americans and Canadians will choose Guatemala for their dental needs.
"Our surgeons rank among the highest skilled dental surgeons in Latin America," says Bruns. "The new Goodness Dental clinic is a state of the art facility inside Paseo Cayala, a whitewashed colonial-style district with a Marriott AC Hotel, brand name shopping, international dining and a huge movie multiplex. Most of our patients tell us that our clinic and location exceeds the best clinics in the USA and Canada."
Goodness Dental CEO Patrick Goodness believes that dental tourism is the future of dental care for tens of millions of Americans that can no longer afford to visit their dentist at home.  "Every week, we receive phone calls and emails from American patients with serious dental concerns. Their comments are almost always the same.  They can't afford to go to the dentist at home," says Goodness.  "In the USA, patients often pay forty five thousand to more than seventy thousand dollars for an all on four procedure with dental implants.  At Goodness Dental, our patients pay fifty to seventy percent less and receive a lifetime guarantee on all titanium dental implants."
U.S dental pricing is expected to continue to increase, pushing more Americans to seek dental care abroad. The good news is that Costa Rica and Guatemala are prepared to offer American patients the same high quality care they expect at home at savings of up to 70-80% with the added benefit of a tropical vacation in two of the most beautiful tourist destinations in the world.