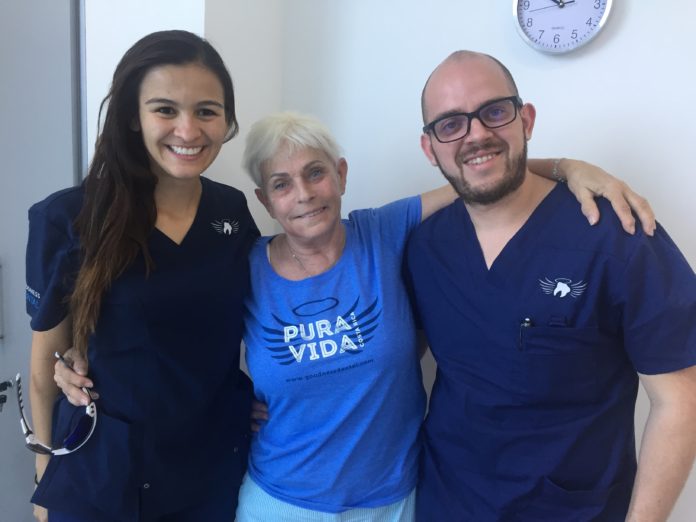 Recent reports show that more than 140 Million Americans have no dental insurance. This grim reality is pushing many Americans in need of dental care to consider dental tourism, a popular trend that has millions of Americans seeking more affordable care outside of the USA.
Since the 1990's, Americans have predominantly chosen Mexico for low-cost dental care. However, since 2015, the popularity of dental tourism destinations like Costa Rica and Guatemala has attracted the attention of an increasing number of savvy dental patients seeking dental implants and full mouth restorations.
For most Americans that have never traveled to Central America, it comes as a surprise to discover that routine and even complex dental care in Costa Rica and Guatemala is equal and in some respects better and more attentive than the care in the USA and Canada.
To be certain, the USA offers an outstanding level of dental care and delivers consistently high quality outcomes. But most small practice dental offices operate with outdated equipment, and many general practitioners lack training in leading modern techniques and best practices.
Leading dental tourism clinics in Costa Rica and Guatemala are outfitted with intraoral cameras and digital x-rays that allow patients and dentists to see images and x-rays in real time on a television screen or laptop. Cutting edge digital smile design programs allow patients to see what their new smile will look like before any work is even started.
Modern, sleek high-tech clinics overlook beautiful green valleys or colonial courtyards with nearly perfect year-round weather, while English-speaking dentists and surgeons pay close personal attention to patients; a welcome change from U.S. dental care, where many patients describe their experience as cold and even intimidating.
While the quality of dental care in Costa Rica and Guatemala is outstanding on many levels, it's the savings of 50% to 70% that attracts tens of thousands of American patients every year.  Almost every flight to Costa Rica and Guatemala has at least a few dental tourists on board with appointments to transform their smile in less than two weeks.
While most people correctly surmise that Mexico has low dental prices, a growing number of exigent and well-researched patients are discovering that dental pricing in Costa Rica and Guatemala is equal to the low pricing in Mexico, while offering a much higher level of care and materials from the USA and Europe. In fact, a recent patient survey conducted with LosAlgodonesDentalGuide.com, CostaRicaDentalGuide.com and GuatemalaDentalGuide.com reveals that pricing for high quality dental implants in Costa Rica, Guatemala and Los Algodones is very competitive.
In Costa Rica and Guatemala, leading clinics offer maxillofacial surgeons (dental implants), prosthodontists (crowns, bridges & dentures), endodontists (root canals) and periodontists (gum and oral surgery) with degrees from NYU, Baylor, UCLA and other world-class dental schools. Recent rankings by Global Clinic Ratings, CostaRicaDentalGuide.com and GuatemalaDentalGuide.com show that Goodness Dental consistently beats competitors in quality care, outcomes and patient experience to rank as the best dental clinic in Costa Rica and Guatemala.
Goodness Dental differentiates itself from other clinics by promising that every complex procedure is performed by a licensed specialist, not a general dentist. Patients seeking the popular all on 4 dental implants treatment receive this procedure by skilled oral and maxillofacial surgeons, ensuring consistently high quality outcomes with minimal pain, reduced swelling and faster healing times. Patients opting for a full mouth restoration, also known as a full mouth reconstruction receive the skilled expertise of oral and maxillofacial surgeons as well as highly-regarded prosthodontists that create natural, yet almost flawless smiles for their patients of all ages.
More than 36 million Americans do not have any teeth, and 120 million people in the U.S. are missing at least one tooth. The majority of these patients are over the age of 55. This fits the profile of the dental tourist like a well-worn glove.  According to CostaRicaDentalGuide.com, 90% of dental tourism patients in Costa Rica and Guatemala are over the age of 55, with a surprising number of patients over the age of 75 boarding planes for dental care in these Central American dental care hotspots.
Dr. Peter Aborn, a retired prosthodontist with a degree from NYU, more than 25 years of private practice experience in New York and another 20 years of university teaching experience is the patient coordinator with Goodness Dental in Costa Rica. Most of the dentists and surgeons attending to patients at Goodness Dental were once his students. Dr. Aborn hand-picked these specialists to become members of the clinic's elite patient care team.  "I speak with patients from the USA every day.
The conversations are almost always the same. They simply can't afford dental care in the U.S. Patients across the nation, including pockets of patients from New York, Boston, Chicago, Los Angeles, Washington and Atlanta are looking for affordable alternatives for dental care, generally dental implants or cosmetic dentistry in Latin America. I'm so proud to be able to offer them a level of care that is almost unheard of in the US anymore," says Dr. Aborn.
The patient coordinator for Goodness Dental in Guatemala is dentist Dr. John Bahr, who recently retired from his career as a 40 year private practice dentist near Kansas City, Missouri. Dr. Bahr is impressed with the professionalism, technology and training that Goodness Dental offers patients that visit their Guatemala location, beautifully situated in the brilliantly whitewashed colonial enclave of Paseo Cayala, just minutes from the airport in Guatemala City. "Patients are amazed at the technology and the advanced training of our surgeons and other specialists.
Our leading dental implant specialist is the head of the maxillofacial department at the national university. These are the best specialists in the nation, and they rate on the same level as any specialist I've worked with during my career," says Dr. Bahr. "I recommend that any of my past patients come to Guatemala for complex dental cases like dental implants, all on 4 and cosmetic dental care like crowns, veneers, and even maxillofacial and orthognathic surgery. They'll receive a high level of quality care and they'll probably save almost seventy percent when compared to U.S prices.  I've seen patients pay less than $22,000 for procedures that routinely cost $65,000 or more in Kansas City, Chicago or Pittsburgh."