John Morgan has proven himself to be the face of legal weed in Florida.
The infamous trial attorney has gotten rich from defending the little guy against monster corporations and the government. He's built an insanely popular brand off of fighting the political and corporate elites.
Against all the odds, he bucked both political parties and created his own campaign to legalize medical marijuana in Florida and succeeded. When asked to comment on the current field of gubernatorial candidates, the life-long Democrat answered, "I can't muster enthusiasm for any of today's politicians."
It makes no sense that he'd run for Governor as a Democrat, which is why he's said that he won't. But, will he run as an Independent? That would be more his style.
As a champion of the every-day person, Morgan cares more about issues than he does politics. The political environment is irrelevant to him, as he demonstrated when Democrats called him foolish for trying to get medical marijuana passed in Florida. He likes challenging the odds, but that doesn't mean he's not efficient.
Morgan understands that fighting one battle is easier than two. If he chose to run as a Democrat, he'd face two elections and wage two wars upon entering the Governor's mansion.
First, he'd have to face off in a primary against two establishment Democrats and a potentially serious challenge being ramped up by Miami's own Philip Levine, who is rumored to inject $25 million of his own money into his campaign. That would instantly make him a top contender and the highest-funded candidate on the Democratic side.
Then, Morgan would need to face off against whatever Republican comes out on top from their primary. Right now, it could be either establishment-sweetheart Adam Putnam or less-traditional Sen. Jack Latvala, who is a slightly more conservative version of Morgan himself.
In the end, if he comes out on top as the next Democratic Governor of Florida, Morgan's real work would begin. In order to get anything done, he'd have to work with a deeply Republican legislature.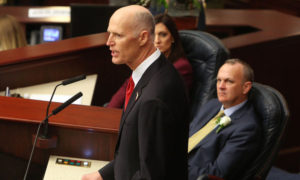 In addition, he'd be working to mobilize the state's Democratic party, which has been torn to shambles by the party's fringe groups gaining momentum against money-producing elites.
None of that sounds like Morgan's cup of tea. He likes being in control, and prefers being responsible for his own successes and failures. As an Independent governor, he'd be beholden to no one. He wouldn't have to lead a party, and he could more easily work with Republicans and compromise wherever he'd need to in order to get his agenda passed.
As an Independent Governor, the door would be wide open for him to negotiate with Republicans on a bevy of issues in order to make legal weed a reality. In many ways, he'd break the mold of traditional politics as we know it, proving once and for all that you can run on specific issues versus a party's platform and still win.
Morgan hasn't shut the door on running for Governor, he's only said that he won't run "as a Dem." But, if Morgan feels like he'd make a better Governor than any of the other candidates – at this point, he does – then it's very likely that we'll see Morgan run as an Independent.