Walgreens did not respond to questions but issued the following statement through a media relations spokesperson:
We condemn any form of bigotry, racism and hate.  We have contacted local law enforcement and worked to remove this offensive symbol as quickly as possible. 
Hoffman sent her first message to Walgreens on Dec. 20 and received a fast response. However, when a few days passed and the swastika was still up she sent another message. Again she received a fast response apologizing and indicating action. She went out of town and when she returned in early January she saw it was still there. This continued several more times.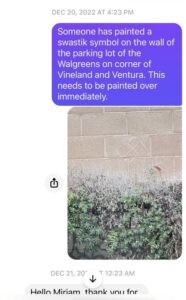 On Jan. 13 Hoffman received a call from a store employee who was looking for the swastika in the parking lot, so she directed them to it. Hoffman thought it would be removed, however a piece of paper was placed over it. This paper remained until she left town on Jan. 19. When she returned on Jan. 23the paper was gone and the swastika as well.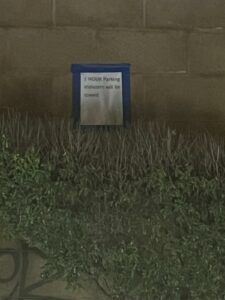 "I was relieved," she said about finding it gone and repaired. "It should have happened sooner but at least it happened."