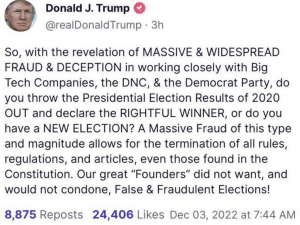 Given the aforementioned oath of office that presidents take during their swearing-in ceremonies, Trump's endorsement of nixing the Constitution ought to disqualify him as a 2024 presidential candidate.
The Republican Party cannot nominate a candidate who cares more about his own ego and power than the Constitution. There is no grey area here or plausible deniability.
Trump made his views about the Constitution as plain and open as possible.
Where are Trump's advisers?
Last month, the former president announced yet another campaign for the White House. However, since this announcement, Trump's conduct remains wildly out of step with the actions of someone seeking the presidency.
Having Fuentes and West over was bad enough. Though endorsing the termination of the US Constitution takes things to an entirely different level. This reads as treasonous and seditious as well.
Donald Trump believes we should terminate "all rules, regulations and articles, even those found in the Constitution" to overturn the 2020 election. That was his view on 1/6 and remains his view today. No honest person can now deny that Trump is an enemy of the Constitution.

— Liz Cheney (@Liz_Cheney) December 4, 2022
Many Americans continue to wonder why no one on Trump's team is vetting who he dines with. Now, people would like to know why the former president's advisers haven't told him that coming out against the Constitution is not what you do when you want to be president.