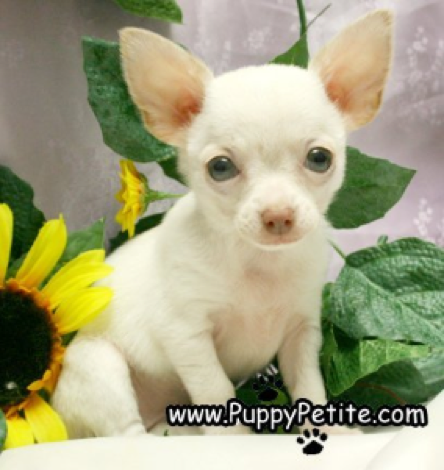 Overview of the breed
Whether you have been a dog owner before or are considering getting a dog for the first time, a Chihuahua would be a great choice.  This small breed, measuring only 6 – 9 inches tall fully grown, and weighing between 3 and 6 pounds, makes a great companion for a person or family living in an apartment or small home.
What to expect with a Chihuahua for a pet
Chihuahuas are highly sensitive dogs.  They do not like being alone, and this is why they are classified as companion dogs.  They are friendly and affectionate and are good with children.  They love attention and will want to be wherever you are in your home, so be prepared for a dog that sits on your lap or wants to be with you on the sofa or bed.
Puppy Petite recommends this as a great breed for families and single people alike.  The Chihuahua is a sensitive breed so it does not do well in noisy environments.  They don't enjoy being on their own for extended periods of time.  When you have a Chihuahua as a pet you'll automatically have a shadow no matter where you are in your home.
The best environment for Chihuahuas
If your home is reasonably settled it would be a suitable home for a Chihuahua.  If you are a person who lives alone and would love a constant companion, Puppy Petite highly recommends this breed for you.  The most suitable home for a Chihuahua is one where there is usually someone at home during the day so that your pet is not left alone for too long during the course of the day.
The Chihuahua may be prone to barking in response to unusual noises and this needs to be taken into consideration if you live in very close proximity to others in your apartment building or condo complex.  On the upside, it is this breed's alert nature that makes it one of the best watchdogs to have in your home.
They do not need a lot of exercises so a home with little or no garden would also be a suitable home for a Chihuahua.
General Health Considerations
Chihuahuas enjoy generally good health and have very few inherent health issues specific to them.  One of the most reported health conditions for this breed is a collapsing trachea so ensure you use a harness for walks rather than a collar.
Caring for your Chihuahua
Chihuahuas are quite easy to care for.  They don't shed much hair so a good brush and a home bath once a week should keep your pup looking great and feeling comfortable.
They don't do well in really cold weather.  They tolerate hot weather better but will still need a cool place to get in out of the sun.
Training and socializing
Chihuahua is an intelligent breed and reasonably easy to train.  They can be cheeky and bark or howl from time to time, so a settled, quiet home environment will make them less prone to this behaviour.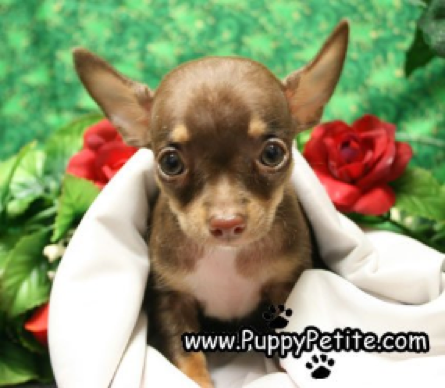 Puppy Petite recommends this breed to potential owners who have time to exercise on two to three days a week. Chihuahuas are a playful breed. They are not very fond of other dogs or strangers so taking your Chihuahua to a dog park may make your pet skittish.  Keep a watchful eye on your dog and ensure it is relaxed and happy while visiting the park or go at a time when it is less busy.
A Chihuahua will adjust to other dogs in the home. Crate train your Chihuahua if you have trouble house-training it.
How to select a puppy from a litter or breeder
Puppy Petite sources puppies from only the most conscientious and caring breeders.
Consider more than just the physical attributes of the puppy.  How alert the puppy is, how playful and responsive it is to being touched or played with, will tell you everything you need to know about this puppy's nature and what temperament it will have as an adult dog.
If the puppy approaches you first, this should be a clear indicator of the puppy's level of confidence.  If the information is available about the puppy's parents this can give you clues to the level of health you can expect for your puppy as it grows into an adult dog.
Your Commitment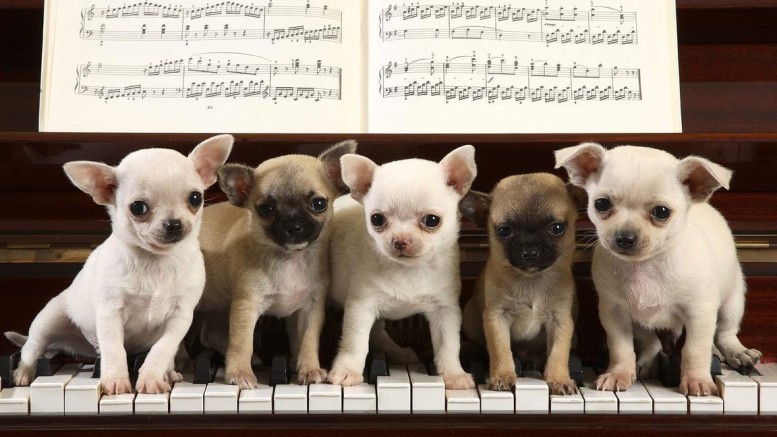 The Chihuahua breed has a life-span of between 10 and 18 years. This is a long-term commitment.  You need to be 100% certain when you are selecting your new companion.
You are not only choosing a new puppy for your home.  You are adding a new member to your family.  Your Chihuahua pup will require the same level of attention you would give to a child.  The years of devoted companionship you are going to share with your Chihuahua will be happy times for both of you, so take special care in choosing a pup.  It is a decision that should not be taken lightly. It is, after all, a new relationship you are forming.  Your new pup will rely on you for all its needs.
Choose well and you will have a loving companion that will show you endless affection.