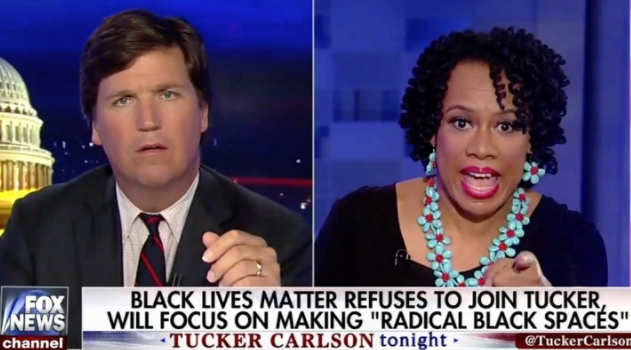 Earlier tonight, American political commentator, Tucker Carlson got into a heated debate with Black Lives Matter apologist Lisa Durden. The conversation started off fairly pleasantly with Carlson asking Durden about Black Lives Matter's decision to exclude white people from attending their New York City Memorial Day event. He asked Durden if the basis of Black Lives Matter was to oppose people who ostracize others because of their race. She then responds by saying "Boo hoo hoo," before going on a racist and somewhat incoherent rant.
To quote her exactly: "Boo hoo hoo! You white people are angry because you couldn't use your white privilege card to get invited to the Black Lives Matter's all black Memorial Day celebration!" She then went on to assert that Memorial Day was created by former black slaves and that Black Lives Matter was justified in excluding white people because of their race. Durden also refused to let Carlson get a word in and repeatedly over-talked him. She became so hostile that her microphone had to be shut off so that Carlson could ask his question.
"If you don't like people excluding others on the basis of their race, and as a society, we agree that that's bad," Carlson asked, "then why are you doing it and why are you defending it?" Instead of giving Carlson's inquiry some serious thought and responding logically and intelligently, Durden responded by saying "White folks crack me up when we want to have one day for black folks to focus on ourselves but you've been having white day forever."
You can see the full video here: https://www.youtube.com/watch?v=bt5pYXIFxMQ
Any intelligent person who watches and listens to this exchange will see the flagrant hypocrisy. Lisa Durden is out of her mind and completely racist since she does not understand that excluding white people because of their race is, in fact, racist. If white people held a Memorial Day celebration and said "No Black People Allowed," she would cry racism in seconds. During the Jim Crow era, black people were excluded from attending certain schools, using particular water fountains, and occupying various spaces. People like Martin Luther King Jr. fought tirelessly to halt these malpractices and decades later, they are being reinstated by people like Black Lives Matter.
Moreover, Black Lives Matter can no longer claim to oppose racism when they are perpetuating it and using terms like "you white people." The truth about Lisa Durden and others like her, who support Black Lives Matter, is that they have an unfounded vendetta against white Americans. They are under the illusion that having white skin grants privilege and they believe that white people owe them reparations for things that have never happened to them personally.
During the intense exchange, Tucker Carlson slammed Lisa Durden as "demented" and he was absolutely correct. Her rhetoric is in perfect alignment with what any Neo-Nazi or white supremacist would believe. Durden's tirade on Fox News is a perfect example of the fact that anyone can be racist. Since Black Lives Matter has demonstrated that they have absolutely no problem with excluding white people because of their race, Black Lives Matter should not complain if they happen to be on the receiving end of similar treatment.