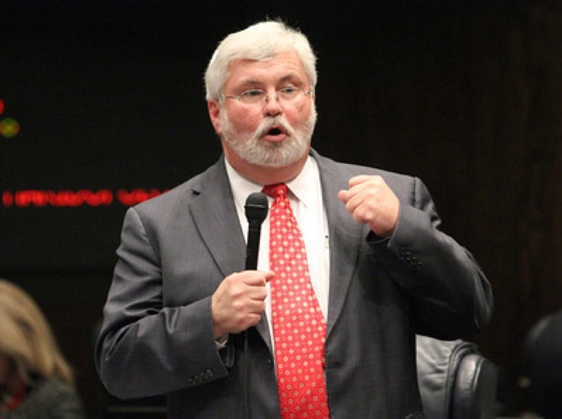 Imagine, if you will, a sitting state senator sporting a full beard, serving a fourth term, yet somehow remaining devoutly anti-establishment in his approach. A man who talks straight, has a get-it-done attitude, all while never blushing if he has to push a little harder than most in the process appreciate being pushed, to get things done. A candidate supported by insiders because he does what he says, even if they don't like what he does. Perhaps half John McCain, half Donald Trump.
Would such a candidate appeal to voters as their chief executive in a gubernatorial race where he would likely be running against two lifelong politicians, fresh off an overwhelmingly anti-establishment election cycle? Senator Jack Latvala seems to have all these ingredients, and they may be just the recipe that a candidate needs to succeed in today's political environment. The question left unanswered is: Will Jack Run?
The notion for a marginally known state senator becoming Governor is neither unique nor new. Should Latvala run and win, he would join the ranks of Florida's Governors that rose from the halls of the Florida Senate like Bob Graham and Ruben Askew. And like Askew, Latvala's motivation could stem from frustration with the current system as much as a passion and love for his state.
As the 2017 legislative session concluded, Latvala's angst with the process and the myopic views of the lower chamber's leadership seemed to weigh heavily on him. His passion and more importantly, ability to fix things, move the ball and break logjams—while not thwarted—was tempered by Speaker Richard Corcoran's approach to governance. Corcoran repeatedly outmaneuvered his Senate counterpart Joe Negron, often making it a point in his approach to negotiations to circumvent Latvala's influence. Call it the highest form of respect in the political process, Corcoran it seemed, was wise enough to do all he could to avoid Senator Jack Latvala as he fought for House priorities in negotiations with the Senate.
As Appropriations Chairman, Latvala was and remains a lynchpin, and a key point of contact for the only constitutional responsibility the Legislature has each year: passing a budget bill. While not everything runs through the Appropriations Committee, nearly everything with any consequence does. Senator Latvala also seems to possess the biggest personality in the Florida Senate, if not the Florida legislature. Eminently quotable, somehow warm, yet irascibly witty and at times brutally candid; to those that know Latvala well, he has charm and a heart as big as his rough, gruff exterior.
Latvala has long been a voice of reason in the fractious legislature, often balancing factions in the GOP that seek to cut every tax in sight and every program they can with practical arguments of greater accountability and increased transparency. While Latvala is fiscally conservative, he seems more intent on using his power and talents to make government work better, rather than completely dismantling it. He is also resolute in his determination to make sure Tallahassee doesn't become the ineffective, partisan cesspool that is Washington, D.C.
A long-time Florida businessman deeply involved in politics, Latvala reveres the institution of the Senate, is a scholar of Florida political history and respects the institutions of government and its occupants, even if he vehemently disagrees with the approach or views of some of his colleagues.
While Latvala may not be the most logical successor to Governor Rick Scott, he seems to be the one most closely aligned with the current Governor, as Latvala has advocated so zealously for many of Scott's programs. As Scott's term ends, the outsider mantle he seized in the rush of Tea Party exuberance seems still fresh in the eyes of voters. The Trump victory in Florida underscores this point. Scott, now a seasoned political veteran, continues to fight to preserve Florida's jobs and business recruiting efforts while simultaneously saving the tourism development program, Visit Florida. During the last year that saw these programs come under attack, Scott found a devout ally in Latvala who worked tirelessly at the Governor's side to keep these programs intact. To a large extent, the two succeed, even if they lost some on the margins of these programs.
While Latvala and Scott have not always seen eye-to-eye, Latvala has inherited the pro-tourism and jobs mantle from Scott as they teamed to defend tax incentive programs that reward job creators and promote the state's tourism. Their kinship, however, runs deeper than just current needs. Both actually ran large, private businesses with many employees and correspondingly big payrolls to meet. Their business backgrounds bind them, and like Scott in the 2010 election cycle, Latvala contrasts remarkably well with the other likely candidates for Governor. Agriculture Commissioner Adam Putnam, who has never held a private sector job since graduating from college, and House Speaker Richard Corcoran, a career politician whose remaining professional life involves several government/legislative jobs and a position with a large law firm that also employees lobbyists.
In the past Session, House Speaker Corcoran and his loyal following of House members focused on attacking government programs and their participants as much as their touted focus on fighting waste, fraud and abuse and shrinking Florida's government via the elimination of large programs. Meanwhile, Latvala, the Senate, and the Governor defended many of these programs, focused instead on making them work better.
So where does this leave Latvala? Representing the Tampa Bay area from his Clearwater home, he comes from the center of the state, a market demographic where 25% of primary voters live. His name recognition is strong in the area, but nominal statewide. He has become the biggest advocate of a very popular Governor's agenda at a time where nice words from the Governor have proven to be very helpful, as they were for President Trump.
Latvala's politics are complex, but in a nutshell much more conservative than anything else, with an eye toward protecting Florida's beauty and environment. Minus the Rough Rider history, he may be more like Teddy Roosevelt than any modern Republican in elected office. Having earned his GOP credentials well before the Republican Party ran anything in Florida, perhaps Latvala does have a bit of GOP Rough Rider in his blood. His history with the Republican Party runs as deep and true as any Republican in the state. Latvala was the first College Republican State Chairman in Florida, supporting a man named Rove who came to Florida with a man named Atwater to woo Latvala's support for Rove's national chairmanship of the College Republicans.  These men have made their imprint on national politics as effectively as any generation of political leaders or operatives.