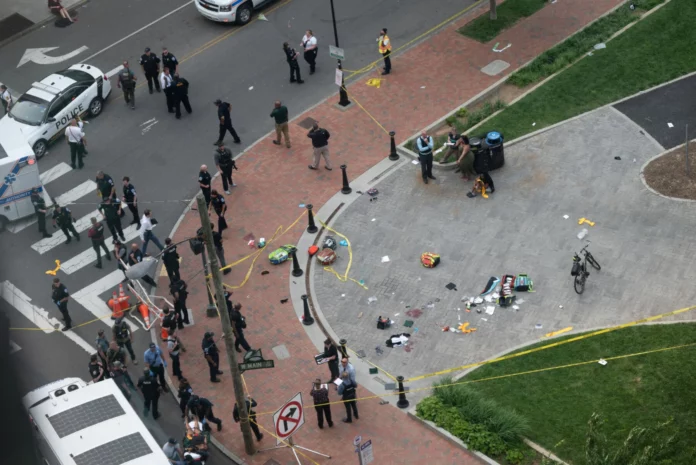 In a turn of events that has sent shockwaves through the community, the Richmond shooting occurred on Tuesday, claiming two lives and injuring five others. The scene of the crime was in the vicinity of Virginia Commonwealth University (VCU), adjacent to Monroe Park and the Altria Theater, where a graduation ceremony had just wrapped up for Huguenot High School.
 Chaos Reigns Following the Richmond Shooting
The Richmond shooting sparked a horrific sequence of events around 5:13 p.m., turning what should have been a day of celebration into a time of terror and loss. One of the victims was an 18-year-old male who had just graduated, and the other, a 36-year-old male. Details of the victims' identities remain confidential, but authorities suspect that at least one victim was known to the shooter.
 Immediate Aftermath of the Richmond Shooting
Richmond police reported a wide range of injuries in the chaos that followed the Richmond shooting. Along with those directly shot, others were treated for falls or non-life-threatening injuries caused in the panic, including one juvenile hit by a car. Despite this, a disturbing number of recovered handguns paint a chilling picture of the incident.
 Richmond Shooting Leads to a Custody and Cancellation
In the aftermath of the Richmond shooting, a 19-year-old suspect has been taken into custody and faces charges of second-degree murder. The ripple effect of the incident led to the cancellation of another graduation ceremony at Thomas Jefferson High School. Authorities are now offering reassurances of no ongoing threats, although a heightened police presence remains at Monroe Park.
The Community Responds
The shooting has elicited deep concerns from community members, local officials, and Virginia Governor Glenn Youngkin, who labeled the incident "terrible". Residents like Naomi Wade, a vendor near the scene, and John Willard, an observer from his balcony, provided firsthand accounts of the tragedy. The shared sentiment remains: "Is nothing sacred any longer?" As authorities promise justice, the community's resolve is tested yet strengthened in the face of adversity.