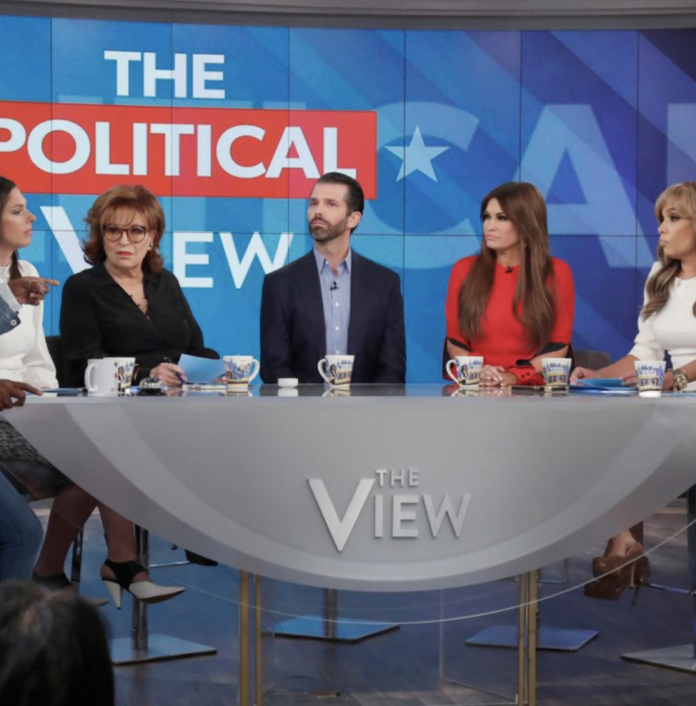 This week, a new book by first son Donald Trump Jr. officially hit bookstores and became available for purchase. Triggered: How the Left Thrives on Hate and Wants to Silence Us focuses on politics, the current state of affairs, and much more. The president's eldest son is, therefore, promoting his new book by touring and giving various interviews.
On Thursday, Don Jr. and girlfriend Kimberly Guilfoyle visited The View in order to discuss the release and content of Triggered. However, the on-air segment rapidly turned into a back-and-forth between Don Jr. and the co-hosts of the talk show.
Everything You Need to Know About Don Jr.'s Time on The View
The president's eldest son faced repeated criticism from the various co-hosts of the show. Abby Hunstman challenged Don Jr. for "publishing" the name of the whistleblower accusing the president of a quid-pro-quo with Ukraine. However, as the first son noted, the whistleblower's name was on Drudge Report for days before he tweeted it out.
Sunny Hostin and Meghan McCain also had questions for Don Jr. Hostin asked the first son why he referred to the impeachment inquiry as a sham; Don Jr. responded by noting that his father did not withhold aid in order to get any favors from the government of Ukraine. Hostin then pushed back, accusing the first son of lying.
"There was no quid pro quo," Donald Trump Jr. tells us on admin's Ukraine policy.
In revised testimony, Amb. Sondland said he delivered message to top Ukraine official that U.S. aid was contingent on Ukraine's ability to launch probe wanted by Trump https://t.co/9coDczjMxa pic.twitter.com/BLhMW8loBR

— The View (@TheView) November 7, 2019
During McCain's time, she inquired about whether or not Don Jr. feels good about the controversies regarding his father's treatment of Gold Star families. The first son subsequently explained that Trump has shown care and respect to the aforementioned families; Don Jr. also pointed out that traveling across the country allows him to come in contact with Americans who are thankful for his father's presidency.
.@MeghanMcCain: "You and your family have hurt a lot of people… does all of this make you feel good?"

Donald Trump Jr.: "I don't think any of that makes me feel good, but I do think that we got into this because we wanted to do what's right for America." https://t.co/9coDcz2bFC pic.twitter.com/31TCMFJxE5

— The View (@TheView) November 7, 2019
After facing censure from Whoopi Goldberg and Joy Behar, Don Jr. noted that they've made mistakes as well. The first son reminded Behar of the time she dressed in blackface for a costume as a "beautiful African woman."
He also reminded Goldberg of her past defense of convicted child rapist Roman Polanski. Neither Behar nor Goldberg seemed very pleased about these reminders.
Due to the back-and-forth between Don Jr. and The View's co-hosts, the latter didn't have time to ask the first son any questions about his book. Towards the end of the segment, Goldberg curtly thanked Don Jr. and Kimberly Guilfoyle for appearing on the show.