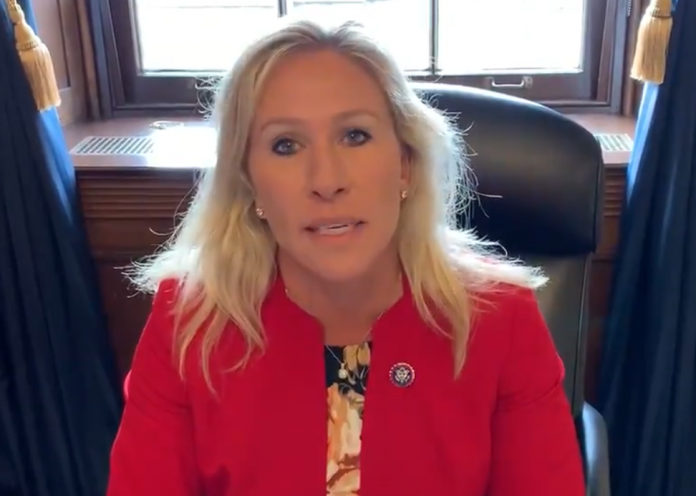 Newly-elected Rep. Marjorie Taylor Greene (R-GA), announced that she will file articles of impeachment against President-elect Joe Biden, just a day after the inauguration.
She announced her plan on Wednesday. Greene explained that her motivation behind this outrageous move is to provide a voice for the 75 million Americans who are "fed up with inaction" and the politicians who seem to put playing political games before truly representing their constituents.
"It's time to take a stand, and I'm proud to be the voice of Republican voters who have been ignored," Greene said.
While the exact details of the documents being prepared were not released, Rep Greene tweeted, "the now-famous panel discussion at the Council on Foreign Relations where Biden talked about how he urged Ukrainian officials to fire Viktor Shokin, the country's prosecutor in 2015, while he was vice president." Despite the release of this information, Biden has denied any wrongdoing or affiliation with these statements.
Biden's transition team did not immediately respond to questions regarding these statements or the potential difficulties which could result from investigations into these allegations.
As the House and Senate both have a Democratic majority, this will be more of a symbolic gesture and these articles of impeachment will likely not get any traction.
However, the message that this would bring is very much against the wishes of her own party. Multiple representatives have repeatedly warned that impeachment hearings are dangerous and divisive at a time when the Trump-supporting lawmakers have been calling for legislators to cool tempers and demonstrate unity for the purpose of healing the nation.
Have a story you want USA Herald to cover? Submit a tip here and if we think it's newsworthy, we'll follow up on it.
Want to contribute a story? We also accept article submissions – check out our writer's guidelines here.