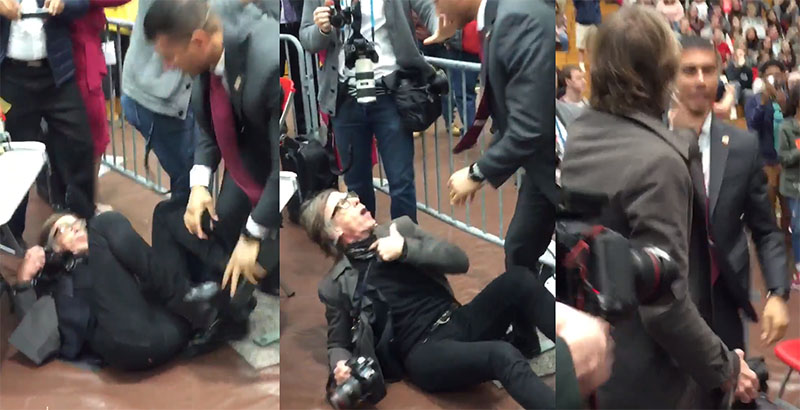 Acts of violence cannot be tolerated, even if the actions that beget violence are offensive.
In this, the sad state of American political discourse, we no longer listen to those with whom we disagree, we use expletives to refer to our adversaries, and we think killing legislation is virtuous unless it is 100% in agreement with our views. This is no way to advance a Republic, much less enable one to survive.
Americans have become too accustomed to nastiness and negativity in politics. It is high time we took hold of our emotions and acted like the mature Republic that we in fact are. This is a call for civility for our own sake and our own good. A movement toward civility should begin with our elected leaders, but since they appear incapable of leading and too selfish and self-absorbed to govern, individual Americans must instead put a stop to this pathetically boorish behavior.
Journalism and journalists may be the only occupation perceived as lower in status than politics and politicians by the American people. Sadly, we need these two professions to survive as a nation. Find a country with a free press, and you'll find a nation of informed people, or ignorant perhaps by choice or laziness. Regardless, there is no free nation with citizens enjoying liberty on this planet that does not have a free press. While the meaning of a "free press" is open to debate and is certainly undergoing a metamorphosis here in America, the need for it, for any true democracy to endure, is undeniable, for someone must guard the guardians. Similarly, the need for leaders, indeed, statesmen who are capable of putting country before Party and even before self, is more critical now that at any time since our Republic's founding.
With elected Democratic leaders directing chants like "Fuck Trump," news and TV outlets carrying on like everything is like Watergate or the next "gotcha scandal," no wonder Americans have given up hope of trusting their government. Americans are numb from an almost PTSD syndrome of watching the evening news. Republicans share just as much of the blame, their inability to govern or pass meaningful legislation and one of their own yelling, "you lie," during the State of the Union highlights their fecklessness. Sadly, our current brood of politicians or more respectfully, elected officials, indeed, our ruling class seems to be completely void of class.
While the state of American journalism may be at an all-time low, it is incumbent upon journalists and all newspapers and news outlets to clean up their acts. It is one thing to take a philosophical bent or view of things, one is entitled to one's opinion, but it is another thing entirely to become the mouthpiece of a political party and consistently seek to create one's own facts. First Amendment protections aside, many of today's "news outlets" should run the risk of regulation, given their biases are so unscrupulous that their reports border on in-kind campaign contributions to candidates and political Parties.
Sadly, the future doesn't look any brighter. The education of our future political and journalistic leaders is being corrupted by a similarly biased group, professors! Our universities are filled with such cesspools of liberal bias that many of today's professors seem more intent on philosophical indoctrination than teaching or learning. Some so much so they refuse to offer letters of recommendations to student's whose views they do not share. To be fair, we would prefer to balance this critique of left-wing extremism in our places of higher learning with examples of the same on the right, we simply cannot find any.  Shame on the left.
In this recent example of a candidate now Congressman body slamming a reporter, even if the reporter was annoying the living hell out of a candidate for public office, when nobody seems to be outraged that a reporter gets body slammed, something is deeply wrong with our political system. While the reporter may wish to temper his own ways of pursuing an interview in the future, as even elected officials have a limited right and expectation of some privacy, there is nothing that can justify or explain the need to physically touch or harm, much less body slam anyone in our political process.
Given this terrible long and slow turn of events away from civility, perhaps both parties should realize what lies ahead and agree to ratchet down the volume. Now, should it get to the point of fisticuffs again, perhaps each party involved in the disagreement could instead agree to do a controlled boxing or MMA match with the proceeds going to charity? At least we'll see who is willing to own up to their rhetoric, avoid sucker punches and raise money for charity at the same time. Such may be the modern way to settle squabbles deserving of resolution that oral debate cannot quell. We fear that if somebody doesn't take a civilized approach to things, the only way to return civility to politics is the Hamilton and Burr method. Formal and refined as duelling may have been for its time, somehow, we think we can do better.  If we fail in the quest to return to a more civil approach to our discord, we fear that the real winner may well be anarchy in America.  If that does not scare you, watch the evening news World Report for Venezuela to see what can happen in 20 years to a once-great nation.