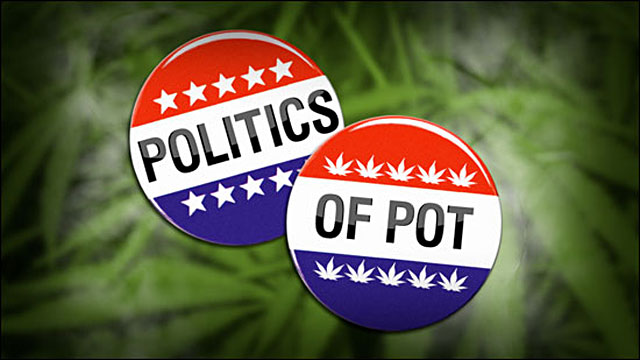 The Maestro, John Morgan
For nearly half a decade, that delightfully maniacal, entertaining force of nature named John Morgan has made legalizing medical marijuana a big personal priority. We take Morgan's motivation for this cause for what he says it is, but if he intended to use medical marijuana to showcase the pathetic hypocrisy and abandonment of philosophical principles so artfully accomplished by the Florida GOP on this issue, he could not have chosen a more perfect path.
Florida's Constitution now contains language allowing its residents to use medical cannabis to relieve their pain and suffering. Even a first-year law student would understand that after the passage of a constitutional amendment, the legislature has a job to further determine how pot is grown, delivered, bought, and sold, and this should all be determined by statute. From there, the executive branch – the Governor or the Department of Health would do the job of regulating and rulemaking to provide any necessary further detailed regulation.
The legislature failed to placate Morgan, or at least avoided giving him what he wanted, when it tried to make available a form of medical marijuana with a strain of THC from a source known as Charlotte's Web, so Morgan took the issue to the people again and by a stunning near 3-1 margin; voters embraced the concept of medical marijuana. What that means is debatable, but even the GOP's biggest apologists could not create excuses to explain how the Republican-led legislature has failed in its legislative duties on this issue.
Next, the Kids will be Dancing!
You see, the tiny libertarian wing of the GOP and most legislative Democrats are all for medical marijuana. They likely would legalize recreational marijuana if they had the votes. However, the social conservatives and the business advocates in the Republican legislative leadership get a little nervous when they think about Pot. We won't speculate as to what past experiences led these elected officials to their positions, but we are confident that each has their own story to tell and some of them actually have legitimate concerns like legal liability for driving, heavy equipment operation, and other life and work needs that could be complicated by medical marijuana.
We note that these same concerns can be applied to any other pharmaceutical opioid and other drug types as well as alcohol, so we are dumbfounded by the GOP's fecklessness here. While nobody has argued that medical marijuana could lead to dancing, many have argued it to be a gateway drug to other illegal drugs. Most note that it is only a gateway drug if you keep it illegal and once legalized, it would be no more or less of a gateway than alcohol. Further, advocates note the massive legal, social and medical costs associated with alcohol and wonder why the GOP doesn't share the same concern with it versus medical marijuana. Those with short memories may simply wish to google "Prohibition" to answer the question.  The stunning and devastating facts surrounding opioid addiction make the consideration of marijuana as an alternative all the more compelling and the GOP's failures in doing their job on medical marijuana that much more offensive.
Oooh, That Smell:  
Failure to do their job aside, what is even more stunning and reckless of the Republicans in the legislature is what they have already done to set up this disastrous implementation of medical marijuana. First, they set up a system to reward their Cronies – they all but spelled out 'family member of a legislator' – when they created one of the standards required to grow the product. It may seem like a high regulatory burden, but high regulatory burdens that their friends and family can meet do not equal meaningful regulations, they simply equate to contempt for the people and fraud. Given how pot has been cultivated in Central America, and all over the United State in covert shelters, open forests, hidden green housese, backyards, etc. by modern day "bootleggers," – many of whom are teenagers – makes the initial requirement to have owned a nursery for 20 years outright laughable. Experience in growing plants isn't the challenge, controlling the output should be the focus instead. The obvious attempt to help one House member with this regulation stinks to high heaven. While we're sure Rep. Halsey Beshears never participated in the discussion of this standard, as that would be wrong, it sure smells bad.
Hypocrisy for $100 Alex.
The disgust for marijuana is so complete with many in the legislative majority, they fail to see their own hypocrisy in their pathetic lawmaking efforts. After listening to the debate and the sincerity of grown men pretending to want to obey the constitutional law, while they do all they can to defy it through statute, we are left with a system that has only a few thousand patients eligible to use medical Soviet style control of the growth and distribution licenses granted to 6 (eight now due to litigation) well-heeled, well-connected and well-represented (lawyers and lobbyists) who represent a Cartel to control the market in Florida.  Crony captialism is alive and well in Florida's Republican controlled government.
This debate continues while House Speaker Richard Corcoran travels the state preaching how he won't "pick winners and losers" in Florida. Well, Mr Speaker – you just did! The blatant stupidity of this debate is not lost on anyone with common sense and armed with a freshman college level class in economics. You see, those in an industry often try to create artificial barriers to entry to keep competition out. Oligopolies are extremely efficient organizations that do a great job of price fixing in legal ways. And with the help of government regulation, the eight-member oligopoly in medical marijuana can set prices as it sees fit.
This leaves us to wonder if Mr Corcoran, who has worn his principles on his sleeve this session fighting to kill corporate giveaways and lucrative state contracts to celebrities to market Florida – is willing to sacrifice those same principles because the social conservative in him hates medical marijuana that much. It is not lost on insiders that Corcoran must be torn to pieces on this issue. First, there is that "picking winners and losers" thing. Then there is the discernable Soviet-style attempt of controlling markets by artificially limiting market entry. Finally, there is John Morgan, who many believe has bankrolled Corcoran and his political efforts for years and whom Corcoran has secretly helped massively through surrogates in the process. But alas, none of that matters unless the legislature reconvenes to do its job, something that Speaker Morgan… ah, Corcoran, has called for already as soon as benefactor Morgan raised a ruckus at Session's end.
Easy Fix: 
Sadly, there is an easy fix here for the GOP, one which sadly, that they will never adopt. Acquiesce to the will of the voters and remember that markets work and the Soviet Union failed, for a reason. Pharmaceutical drugs and alcohol provide two very easy ways to replicate a new regulatory system for medical marijuana. Create a very high standard for anyone cultivating medical marijuana. Perhaps consider the three-tiered: Production, Distribution and Retail regulatory system that worked for years with alcohol in America (at least until the California wineries wanted to circumvent the distributions and direct-ship). Consider a mandated system of controls for growers, with a high bond mandate to ensure compliance with product quality, control and monitoring. Maybe even consider seed or plant pedigree tracking.
No, growing palm trees for 20 years does not help here. Let the market determine who succeeds, not a quota by government determining who gets a license, which only creates artificial value and wealth to big Donors to the GOP legislative candidates. That is Crony Capitalism, and it is the very essence of corruption that led to voters' rejection of The Establishment and to the election Donald Trump. Wake up GOP! Finally, retailers should have requirements like liquor stores and pharmacists. Check the validity of prescriptions and punish anyone who sells to a customer without a prescription. Pharmacists do this all day long. This could even be sold in pharmacies, where drugs belong. The final step is to quit pretending that doctors need to go to school to prescribe this new drug. This is not required when Big Pharma comes out with a new perhaps unknowingly addictive opioid and marijuana is much simpler and has fewer side effects than many of the new drugs sold every day in Florida.
Nobody is saying don't regulate. What we are saying is properly regulate.