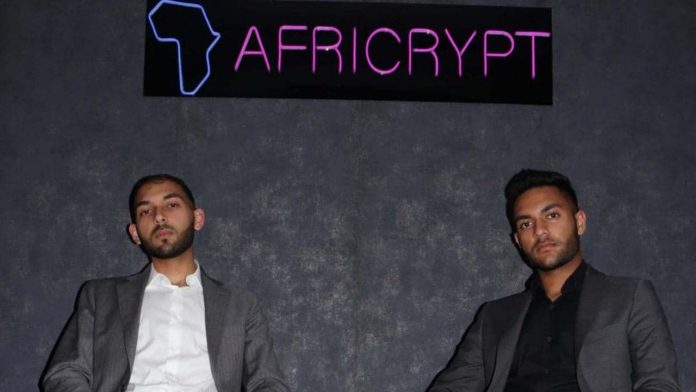 Investors in the South Africa-based Africrypt are seeking the arrest of Raees and Ameer Cajee. Attorneys for the disgruntled investors claim as much as $3.6 billion in digital assets may have disappeared. And say that the crypto bros may have pulled off the biggest Bitcoin theft in the history. 
The group of 35 investors alleges the brothers ran a fraudulent cryptocurrency platform. And doubt there was hacking involved in the disappearance of the fund. They hired Sean Peirce, with Coast-to-Coast Special Investigations to investigate.
"They just went wild with other people's money.' Peirce claims.
"We are pushing for the brothers to be charged for fraud, theft, possibly money laundering," said Peirce in an interview. "They can get 10 to 15 years for a first-time offense."
"My clients want justice and have given us an unlimited budget to track them down. We are going to go to the ends of the earth to catch them and bring them to justice."
Crypto bros create Africrypt 
Brothers Raees Cajee, 21, and his 18-year Ameer known as the "crypto bros" founded Africrypt from their bedroom in 2019. It was set up as a fund that invested in crypto-tokens and bitcoins.
It's uncertain how many investors were on board. There are claims the company had several thousand South African investors. But the big money was from the overseas client base. And there could be tens of thousands of investors.
Raees is a child prodigy. He is credited with creating a trading algorithm that allowed the family to trade while he and Ameer were in school. The home-based crypto platform was getting amazing returns. And it was getting a lot of attention.
 Raees trading platform was so successful that it attracted the attention of Huobi, a Chinese crypto platform. The firm flew him to China to attend meetings with Chinese cryptocurrency experts.
Africrypt unravels
In April 2021, CEO Ameer sent a notice to Africyrpt traders. He claimed that the company's systems were hacked. The strange email was begging them not to alert authorities. And claimed if they did, it would "delay" getting the money back.
Ameer also added that it was "unknown to us the extent of personal client information breached during the attack".
Raees and Ameer Cajee vanished after claiming their company had been hacked. No one was able to reach them and they pulled their platform.
In late June Raees was interviewed by the Wall Street Journal from a secret location. He denies any wrongdoing and says the brothers were forced to flee due to "death threats" from "organized crime syndicates".
He also claims the firm's portfolio was never as big as Peirce suggests.  "At the height of the market, we were managing just over $200 million,"  Cajee said. And only $5 million is unaccounted for.  After the interview, the brothers disappeared again.
Crypto bros bought golden passports
In the meantime, a mysterious Dubai-based crypto company, Pennython made compensation payouts to many of the out-of-pocket traders. These payouts were said to be approximately 70%.
The Peirce report indicates that the brothers had a plan. It is alleged that a week before the "hack" the 3 Africrypt employees were terminated and kicked off the platform.
Raees and Ameer bought citizenship from the Pacific island nation of Vanuatu. In 2020 the brothers bought these "golden passports". This was months before the hack.
In 2020 more than 2,000 people bought Vanuatu passports. The passports usually cost over $100,000 each. And give the brothers visa-free access to several countries, including the UK and European nations within the Schengen Area.
In the meantime, the brothers were living a lavish lifestyle. After the hack, millions were spent. They bought designer watches, silk suits, first-class tickets, and lavish holidays.
They bought a Lamborghini Huracan, one of the most expensive cars in the world.  And paid a year's rent in advance on a luxurious Zimbali Estate, north of Durban, South Africa.
They sold the Lamborghini before they left the country. And weeks later they were booking first-class Emirates trips to Dubai and the Maldives costing over $40,000 each and not including the costs of accommodations.
It may be more than a coincidence that the company Pennython who was smoothing things over with some of the investor losses was Dubai-based.
Where did the Crypto go?
The investigation found that in November 2020, there were a string of strange transfers from their Bitcoin wallets using "dark web" technologies. 
It is alleged that the crypto bros smuggled the funds out by pooling investor cash with other Bitcoin transactions to make it untraceable.
Peirce and a cyber security specialist probed the Cajee brothers' email addresses and company websites. And found no evidence of a hack.
"No hack took place whatsoever," Peirce insists.
He added: "Through various addresses supplied to him, he was able to resolve a Bitcoin wallet belonging to Africrypt that had a transaction history of 75,459 Bitcoin (BTC) to the current value of $2.9billion USD.
"The Bitcoin address had various micro-transactions going out to multiple wallets."
The Financial Sector Conduct Authority (FSCA) can not take any action because crypto assets are not regulated in South Africa. They recently said that Africrypt, "was offering exceptionally high and unrealistic returns".
The collapse of Africrypt is another example of the lack of regulation and scrutiny over the country's booming crypto industry.  Another South Africa-based company, Mirror Trading International, collapsed in 2020. Losses are said to total over  $1.2 billion.