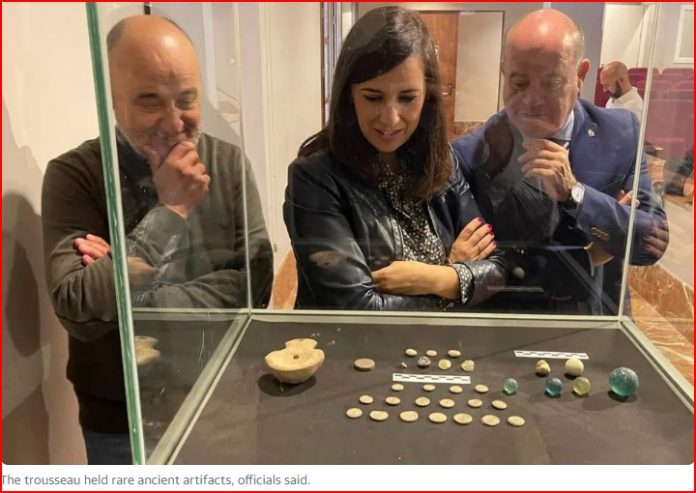 Archaeologists are sharing images of the ancient Roman artifacts unearthed in southern Spain earlier this year. The rare collection is on display at the Museo de la Ciudad de Antequera according to the museum's Facebook page.
The discovery was made on a construction site in the city of Antequera. 
The Mayor of Antequera, Manuel Barón described the discoveries as "spectacular." 
Mayor Barón, municipal Heritage delegate, Ana Cebrian, and the museum director, Manuel Romero reviewed the artifacts. 
Romero explained that each artifact will have more review and will be carefully preserved at the museum. 
According to the Olive Press, Antequera has one of the largest prehistoric burial sites dating back to the Bronze Age in Spain. 
Ancient Roman artifacts include double urn burial
According to news outlet Nius, during prep work in Antequera, Spain an ancient Roman necropolis (city of the dead) was unearthed. It contains 54 graves dating back to between the first and second century A.D. 30 of the graves were direct burials. And 24 were cremations.
Officials said one burial, in particular, tomb 307, was an incredibly rare discovery. The tomb is a lead-constructed sarcophagus, with two bodies inside and two on top. Officials say a teenager between 14 and 16 years old and a several-month-old baby are inside. And after the tomb was buried another teen and baby were placed on top.
Glass jars of ointments, game tokens, a coin minted in the second century A.D., and some glass beads were also found in the first section of the double burial. Tokens for the same game, glass beads, glass marbles, and a second-century A.D. oil lamp were recovered from the second.
In addition to the "double urn" burial site, archaeologists said that even rarer was the discovery of a trousseau. A trousseau is the personal possessions of an ancient Roman bride usually including accessories and wares
Included in the trousseau were 15 glass ointment vials, two jugs, 25 tokens from the most popular game in Ancient Rome, a 2nd-century A.D. coin, and several glass beads.