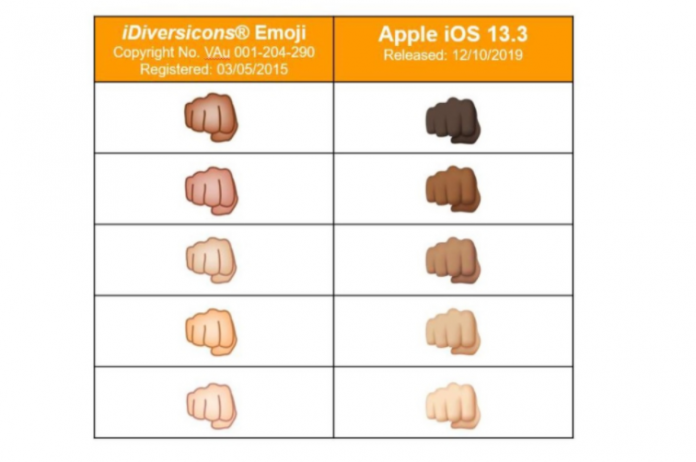 Apple, Inc. (NASDAQ: AAPL) is facing a copyright infringement lawsuit filed by Cub Club Investment, LLC. (CCI), owned and operated by Katrina Parrott, an African-American businesswoman.
CCI sued Apple in the U.S. District Court for the Western District of Texas on Friday, claiming "trade dress infringement, unfair competition, misappropriation, and unjust enrichment" by the tech giant.
In the lawsuit, the Texas-based company alleged that Apple copied Mrs. Parrot's innovations that are internationally recognized for helping in bringing racial diversity to the world of emojis.
In 2013, Mrs. Parrott and her team developed the iDiversicons emoji app that lets users choose from five skin tones. She claimed that it the "the world's first diverse emoji" created and copyrighted. It is sold on Apple's App Store and iTunes.
Parrot created iDiversicons emoji technology from her unique ideas 
Mrs. Parrott started the company after being laid off by a NASA JSC contractor. She became a "Native App Developer" to bring her vision of diversity to life.  The entrepreneur assembled resources that included "an experienced programmer, artist, and video team to bring our unique vision for iDiversicons to life."
On October 11, 2013, the Texas-based company released iDiversicons emoji on Apple's App Store, with versions compatible to iPhone, iPad, and iPod Touch. 
CCI holds more than 20 copyrights protecting various emoji characters and has three pending patent functions. Apple allegedly closely copied Mrs. Parrot's unique five-skin tone keyboard pallet app and many of her copyrighted emoji's. 
In the lawsuit, CCI described Mrs. Parrott's 2013, 2014, and 2015 meetings and communications with the Unicode Consortium, the group liable for the emoji customary. Apple is a member of the consortium.
In the meetings, CCI was pursuing a partnership deal with Apple for iDiversions. In the course of those interactions, she gave two senior Apple software engineers, a very close look at her technology. She even provided one of them with a thumb-drive of iDiversicons creations and developed some of the new emojis at their behest. 
Apple released its emoji designs with 5 pores and skin tone pallet selector as an addition to iOS 8.3 in 2015. CCI alleged that the tech giant's designs are near identical to her five-skin tone keyboard modifier pallet. 
And to make matters worse Apple's new offering resulted in an immediate drop in the number of downloads of Mrs. Parrott's iDiversicons.
CCI is seeking a court order stopping Apple from using her work and unspecified money damages based on the tech giant's profits, and her lost business opportunities from the alleged copyright infringement.
Apple recently settled a class-action lawsuit involving its Powerbeats 2 earbuds. The tech giant also recently lost a $506 million patent infringement case involving its its 4G LTE technology.
—————————————-
Have a story you want USA Herald to cover? Submit a tip here and if we think it's newsworthy, we'll follow up on it.
Want to contribute a story? We also accept article submissions — check out our writer's guidelines here.