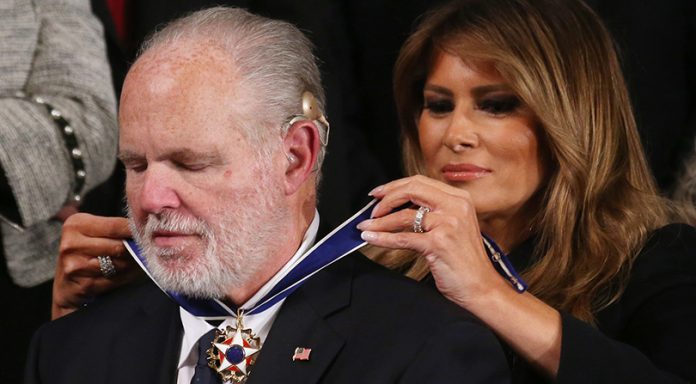 Rush Limbaugh, the brash conservative talk radio host who has been identified as a leader within Republican politics, is dead at the age of 70.
His wife Kathryn made the announcement on Limbaugh's radio show on Wednesday, announcing he died after a battle with lung cancer, Fox News reported.
"It is with profound sadness I must share with you directly that our beloved Rush, my wonderful husband, passed away this morning due to complications from lung cancer," she said.
"The radio icon learned he had Stage IV lung cancer in January 2020 and was awarded the Presidential Medal of Freedom by President Trump at the State of the Union address days later. First lady Melania Trump then presented America's highest civilian honor to Limbaugh in an emotional moment on the heels of his devastating cancer diagnosis," Fox News noted.
Limbaugh's show began 33 years ago with 56 radio stations and became one of the most listened to shows in the United States.
He received the Presidential Medal of Freedom from former President Donald Trump and was in several hall of fames for broadcasters.
"I wasn't expected to be alive today," he said in his final show of 2020. "I wasn't expected to make it to October, and then to November, and then to December. And yet, here I am, and today, got some problems, but I'm feeling pretty good today."