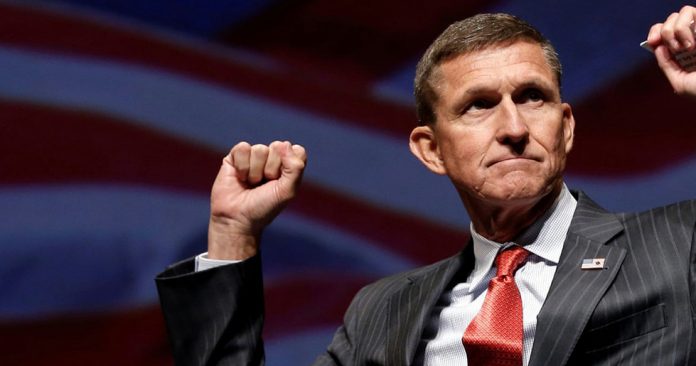 The moment that many fans of President Donald Trump and Gen. Michael Flynn have been waiting for has finally arrived.
The president is set to give a full pardon to the general, Axios reported.
In February 2017, Gen. Flynn pleaded guilty to lying to the Federal Bureau of Investigation (FBI) but attempted to withdraw his plea in January 2020 alleging prosecutorial misconduct.
According to Axios, "President Trump has told confidants he plans to pardon his former national security adviser Michael Flynn, who pleaded guilty in December 2017 to lying to the FBI about his Russian contacts." The media outlet cited two sources with direct knowledge of the discussions.
"Flynn's pardon would be the culmination of a four-year political and legal saga that began with the FBI's investigation into possible coordination between the Trump campaign and the Russian government in the 2016 election," it said.
Many people in the conservative community believe that the general was railroaded and pressured into pleading guilty to lying to the FBI because the bureau threatened to go after his son. Something Flynn's attorneys have also said happened.
Speculation of a pardon for Gen. Flynn began in May when the president praised him and said that he had been "tormented."
"It looks to me like Michael Flynn would be exonerated based on everything I see," he said. "I'm not the judge but I have a different type of power. But I don't know that anybody would have to use that power. I think he's exonerated."
"They came at him with 15 buses and he's standing in the middle of the highway. What they did to this man," the president said. "They tormented him. They destroyed him. But he's going to come back."
The Justice Department has dropped the prosecution of Gen. Flynn but Judge Emmet Sullivan has continued to drag out the case, acting as if he is the prosecutor.
If the president pardons Gen. Flynn, which now appears likely, it would take all of the power away from Judge Sullivan and the general's saga would be over.
—————————————-
Have a story you want USA Herald to cover? Submit a tip here and if we think it's newsworthy, we'll follow up on it.
Want to contribute a story? We also accept article submissions – check out our writer's guidelines here.