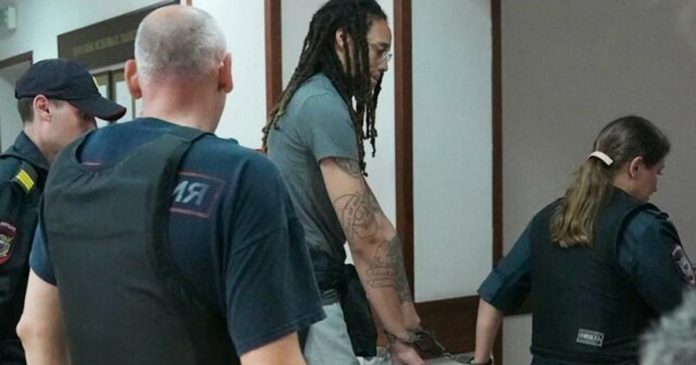 On June 27, Brittney Griner, 31, appeared in a Russian court for her preliminary hearing. She was brought in handcuffed and escorted by guards in black tactical vests. 
Griner, a star in women's basketball, plays for the WNBA for Phoenix. And she remains imprisoned in Russia since mid-February.  She was detained at a Russian airport where Russian officials are claiming they found vape cartridges containing cannabis or hash oil in her suitcase. 
During the hearing, Griner was given an official date of July 1st that was set for her criminal trial. And Griner's lawyer, Alexander Boykov, announced that "the court ruled Griner's detention be extended for six months pending her trial." This was the third time her detention has been extended.
Russian court process 
In a Russian court, Brittney Griner faces up to 10 years if convicted. Authorities claim despite a lack of evidence that she is the head of a large drug ring.  
Her last extension came on June 14, with the announcement her stay in a Russian prison would be extended till July 2. And on May 13, Russian authorities said the WNBA athlete's pretrial detention would be for another 30 days.
In May "[Boykov] believed the relatively short extension of the detention indicated the case would come to trial soon."  And on May 3rd the US government classified her detention as a "wrongful detainment." 
 Until the designation, Griner's case did not have a classification status from the US government. And the US was just waiting for the case to make its way through Russia's legal system.
Special Presidential Envoy for Hostage Affairs Roger Carstens has since been tapped to lead the interagency team trying to secure Brittney Griner's release." According to CNN Carstens was the key diplomat who helped obtain the release of US citizen Trevor Reed from Russia.
After being detained in late February Griner was not able to talk to the US State Department until March 23. Spokesman Ned Price confirmed that someone from the US embassy "has been granted consular access" to Griner. And check on her. 
 "Our official found Brittney Griner to be in good condition, and we will continue to do everything we can to see to it that she is treated fairly throughout this ordeal," Price said. 
Her wife, Cherelle Griner, told The Associated Press that she has "zero trust" in the US government in light of the way her wife's detention has been handled thus far.
Playing basketball in Russia
Griner had been in Russia to play in the UMMC Ekaterinburg basketball team for several WNBA off-seasons. But this particular trip came just a week or so before Russia invaded Ukraine. And the US State Department had just issued a "Do Not Travel" advisory.
The two-time Olympian flew to Russia like about "half of the WNBA's 144 players" had been doing every year. High-ranking athletes can earn more than $1 million playing in Russia. WNBA athlete Liz Cambage said on NBA Today she increases her earnings "five to eight times more" by playing overseas.
Griner is a native of Texas.  Texas Congressman Joaquin Castro claims that Russia's decision to detain the athlete is all about politics. "I'm closely monitoring reports of Texan @brittneygriner's detention in Russia. This follows a pattern of Russia wrongly detaining & imprisoning US citizens. US citizens are not political pawns."
Brittney Griner's family, fans, fellow players, human rights organizations, and Texas authorities are part of the social media campaign #FreeBrittneyGriner. 
On June 22, several groups, including NOW, the Human Rights Campaign, the National Urban League, and the National Action Network, sent President Joe Biden and Vice President Kamala Harris a letter. They are urging the administration "to make a deal to get Brittney back home to America immediately and safely."