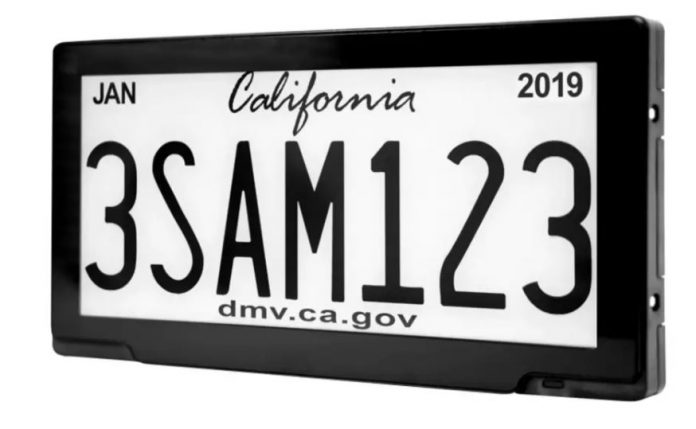 A number of vehicles with digital license plates are now rolling on the streets of California. The city of Sacramento is currently testing 24 digital licence plates on its in-house vehicle fleet, according to Sacramento Bee.
In 2013, the California Department of Motor Vehicles (DMV)  approved the use of digital licence plates. The agency has been quietly testing and preparing the launching of digital license plates called RPlate Pro, which was developed by Reviver Auto.
According to Reviver Auto, the RPlate Pro is the first digital license plate available in the market around the world. California is the first state to roll out the digital license plate.
The RPlate Pro comes with a wireless communication system and a bistable display just like that on Kindle e-book readers. It allows drivers to display custom messages and advertisements. However, that feature is still subject to the approval of the California DMV. It also comes with a tamper-proof mounting and built-in anti-theft features.
Digital license plates costs $699 plus monthly subscription fee
Last month, Neville Boston, founder and CEO of Reviver Auto, explained to The Drive that RPlate Pro is resistant to extreme temperatures and weather conditions. According to him, the digital license plate is underwent road testing for multiple driving and operational scenarios. It "can withstand a temperature range of 85 [degrees Celsius] to -40 [degrees Celsius]."
Additionally, Boston said the digital license plate has strong strong security to prevent hacking. He said RPlate Pro has the "same level of security as online banking." It has "thee-key encryption protocols."
California drivers will be able to buy digital license plates for $699 plus intallation fee at auto dealerships. They will also pay a monthly subscription fee of around $8.
Several auto dealerships are now selling RPlate Pro including Future Ford Group, Kuni Chevrolet Cadillac, and Galpin Motors and Pendragon.