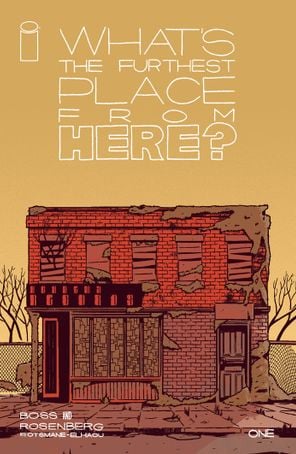 In November the first issue of the musically-infused new comic What's the Furthest Place From Here? will drop.
It debuts as a $5, super-sized edition. And the deluxe edition, including vinyl, will also be available for $15.
The first of a series will only be available at comic book stores. These special editions will be available with new music for every issue of the series from new creatives, announced alongside each issue's pre-order window. 
The first issue of What's the Furthest Place From Here already has over 100,000 pre-orders.
Musical Journey of The Furthest Place from Here
This is a comic with a unique twist. An important element of this book is music. A lot of the story takes place inside of a record store, Academy Records. And the characters use music to create their identities. 
The Furthest Place From Here comic book has created vinyl releases to accompany the issues. You can read the book accompanied by the music. The vinyl single features two brand-new songs. The music comes from punk rock legend Blake Schwarzenbach (Jawbreaker, Jets to Brazil) and rising star Joyce Manor.
Limited quantities of the singles will be pressed based on pre-sell numbers. And if you want a copy it's sold exclusively through comic shops.
 Expect future issues to also have a deluxe option with a new unique accompanying single. If you order online details should be found alongside the preorder window.
Artist Tyler Boss and writer Matthew Rosenberg are the team that inked and penned the new series. They previously created 4 Kids Walk into a Bank which is being adapted into a feature film. 
Image Comics is the venue for the new book. It specializes in creator-owned comic book content. And is home to iconic The Walking Dead and Saga properties.
What's The Furthest Place from Here is one of the most successful comic launches of 2021.
Writer Matthew Rosenberg says, "We're blown away by the support for this book. It's been a passion project for Tyler and myself for a long time now." 
Artist Tyler Boss added, "We can't thank readers and [comic] shops enough for their belief in the book."