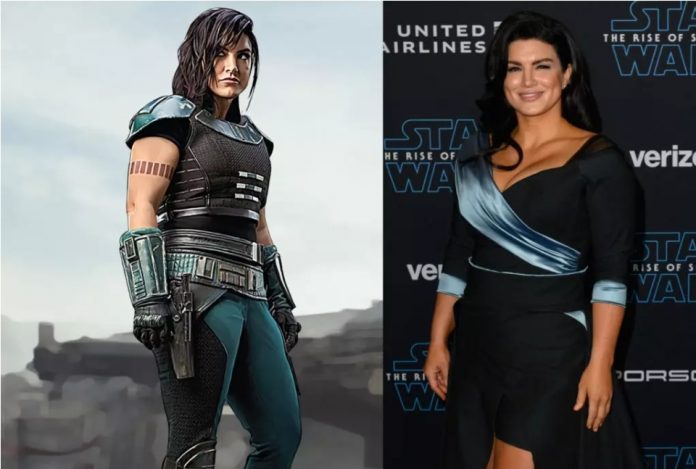 Madalorian Co-Star is off the show due to social media backlash, according to a Lucasfilm statement.
"Gina Carano is not currently employed by Lucasfilm and there are no plans for her to be in the future," a spokesperson for the company said in a statement to EW. "Nevertheless, her social media posts denigrating people based on their cultural and religious identities are abhorrent and unacceptable."
BREAKING: Actress and former MMA fighter Gina Carano has been fired from the cast of the Disney+ Star Wars series The Mandalorian for suggesting that conservatives could get fired these days for voicing their opinions in public. (Yep, really happened.)

— Scott Adams (@ScottAdamsSays) February 11, 2021
UTA is also no longer representing the actress, according to a spokesperson for the agency. Representatives for Carano did not respond to request for comment.
She came under fire Wednesday after re-sharing a post, which compared modern American politics to Nazi Germany and claimed that having differing political views in 2021 is like being Jewish during the time leading up to the Holocaust.
"Jews were beaten in the streets, not by Nazi soldiers but by their neighbors…even by children. Because history is edited, most people today don't realize that to get to the point where Nazi soldiers could easily round up thousands of Jews, the government first made their own neighbors hate them simply for being Jews. How is that any different from hating someone for their political views," the since-deleted post read, Variety reported.
The post also featured a famous image from the 1941 Lviv pogroms, during which Jewish men and women were massacred by their own neighbors.
Brief History of the Pogroms Leading to the Nazi Rise in Power
For historical context, just before WWII, Lviv (Lwow) was an incredibly culturally and religiously diverse city. Government leaders, influenced by the USSR, distributed flyers with the help of Ukrainian Nationalists (OUN) in the first days of the German invasion. This form of media instructed the population: "Don't throw away your weapons yet. Take them up. Destroy the enemy. Moscow, the Hungarians, the Jews—these are your enemies. Destroy them."
Upon further reading and understanding of these horrific incidents, Carano was not devaluing the horrors of the Holocaust. Rather, she was bringing light to the fact that the public at that period in time was easily swayed into turning on their neighbor by corrupt leaders. As she mentioned in her post, prior to getting to this horrific point in history, leaders needed to sow discord and hatred among the people. Only by doing that could average individuals commit such unspeakable horrors against their neighbors.
While she may be out of a job, many who are aware of the history to which she referred, recognize her meaning and supporting her right to voice her persepctive.
Texan Gina Carano broke barriers in the Star Wars universe: not a princess, not a victim, not some emotionally tortured Jedi. She played a woman who kicked ass & who girls looked up to. She was instrumental in making Star Wars fun again. Of course Disney canceled her.

— Ted Cruz (@tedcruz) February 11, 2021
One fan, stated it perfectly:
So wait … Gina Carano posted that she's worried about hatred in America spiraling out of control, which she thinks could eventually lead to Nazi-like oppression … and Disney fired her? Don't they realize they just validated her fear?

— Jennifer Michelle Greenberg 🦌 (@JennMGreenberg) February 11, 2021
In January, Carano spoke about her political views in a podcast by The Federalist. "The whole reason why I started speaking out is because I feel like there is a large group of people that were being silenced this year and being forced to play this game of 'woke-ism' or whatever it is," she said. "No matter who you voted for, no matter who you are, I want to create a platform where everybody can have an opportunity."
Gina Carano was fired for being conservative.

— Kyle Kashuv (@KyleKashuv) February 11, 2021