CorsairThe initial public offering (IPO) of Corsair Gaming on NASDAQ under the ticker "CRSR" was disappointing on Wednesday. The company's stock price dropped by 16%.
The PC and gaming component maker priced its stock at $17 per share on Tuesday night. During its market debut, CRSR shares started trading at $15.12 per share, below its offering price. The stock closed at $14.25 per share.
Corsair sold 14 million shares and raised $238 million, bringing its valuation to $1.3 billion. It is twice the amount paid by EagleTree Capital for a controlling stake in the PC and gaming component maker in 2017.
EagleTree owns around 92% stake in the PC and gaming component maker as of June 30. The New York-based private equity firm remains a majority shareholder post-IPO.
Corsair delivered strong financial results amid the COVID-19
Although Corsair's IPO fell short of expectations, the company has done incredibly well amid the COVID-19 pandemic. For the first half of 2020, Corsair generated $23.8 million in revenue compared to a $15.9 million net loss in the same period a year ago.
Corsair is the world's largest maker of keyboards and other computer and gaming hardware and accessories including mouses, fans, and power supplies.
Gaming has quickly become a global phenomenon in recent decades as big sponsors jump into the arena of e-sports. Corsair is maneuvering most of its business toward the PC gaming segment.
In an interview with CNN Business, Corsair CEO Andy Paul noted that the company is benefiting from the COVID-19 pandemic since people are spending more time online.
"With people at home, they're able to spend a little bit more time on the internet, sharing content with friends," said Paul.
Corsair has a "huge untapped market"
He added that the trend has been "really helpful for consumer demand. We've still got a huge untapped market in front of us because the vast number of gamers have yet to buy specializer."
In fact, many people are building their own gaming computers these days including Superman actor Henry Cavill.
Describing e-sports, Paul said, "It's a real sport… it's become mainstream and we understand this is a great time to finally become a public company."
On Thursday, Corsair shares opened at $14.10 each. By the end of the trading day, the company stock price was $15.58 per share, up by 9%. It appears that investors are starting to see that the company is capable of delivering long-term profit.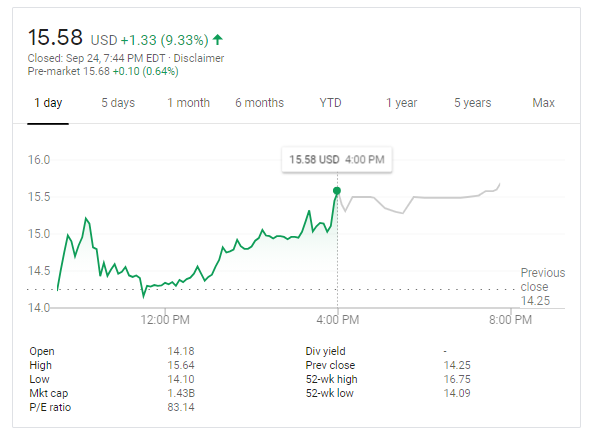 The e-sports market is expected to grow
Indeed, COVID-19 has massively impacted traditional sports as crowd sizes are cut in half, and questions of player health continue to be a pressing concern. Furthermore, the politicized nature of traditional sports has begun to drive away viewers, leaving e-sports to possibly generate new founds from uncommon demographics.
While e-sports have exploded in Asia, particularly South Korea, China, and Japan, there is still a lot of room for growth in the United States. The American market has been rather slow in its e-sports sector growth.
That said, the future of e-sports could change in a big way at some point in the future.
—————————————-
Have a story you want USA Herald to cover? Submit a tip here and if we think it's newsworthy, we'll follow up on it.
Want to contribute a story? We also accept article submissions — check out our writer's guidelines here