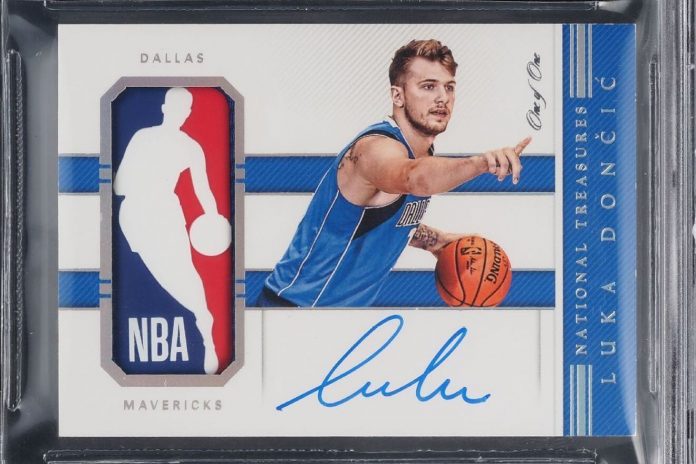 According to ESPN a Luka Doncic rare rookie card sold at a public auction for $3.12 million on Friday. The sale set records for the most paid-for basketball card at a public auction.
It was a 2018-19 National Treasures RPA (rookie patch autograph) Logoman with an on-card autograph. And it features a player-worn NBA shield logo aka "Logoman." The unique card is numbered 1-of-1. 
In March 2021 the same Doncic Logoman had reportedly been purchased in a private sale for $4.6 million. As of that date, the sale was the most expensive basketball card ever sold in a private auction.
Then in April 2021, a new record for a basketball card was set. A deal was brokered by PWCC for $5.2 million for LeBron James RPA.
 The Luka Logoman is now publicly and privately, the second-and third-highest selling price for a basketball card. 
Doncic trading cards have always commanded premium prices. At an auction in 2021 his limited-edition Panini Gold Prizm card sold for $799,500.
Rare rookie card for a basketball star
Jesse Craig, VP of sales at PWCC Marketplace said in a statement.
"When this card went to the block, we purposefully avoided speculation on a price because this was an important moment for the market to decide on the value of Luka's best trading card. The card stood on its own merits and the market placed it where it belongs." 
"If you include private sales, Luka now sits between the high sales for LeBron and Jordan," he continued. "The market confirmed Luka is in rare air in terms of collectability with this sale."
"It is his premier card making its public debut while he is playing extremely well. It's a very exciting moment," Craig added.
Luka Doncic is in his fifth season with the Dallas Mavericks. He broke Wilt Chamberlain's 1962-63 season record of scoring 30-plus points in each of a season's first 7 games.
Doncic was NBA Rookie of the Year in 2018-19. And he is favored for the league's MVP honors in 2022.
 In 13 games Doncic played averages a league-high record of 34.4 points per game. He hit a career-high 9.8 rebounds per game. And 6.4 assists per game.