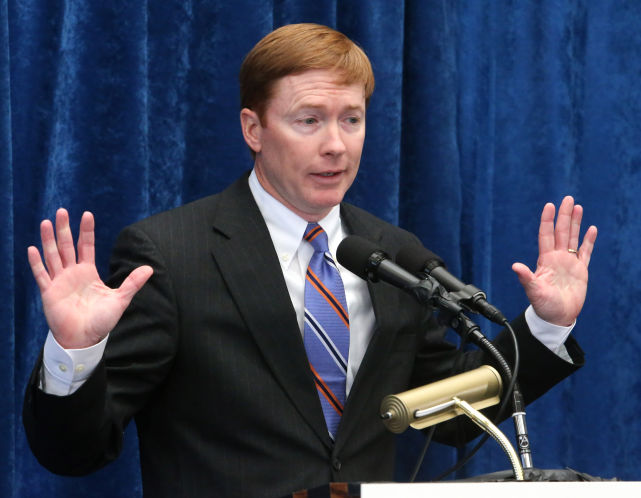 February was a roller coaster month for Florida Agricultural Commissioner Adam Putnam. His political committee, Florida Grown PC, announced that they raised more than $2.25M in the month of February. In the email announcement, Justin Hollis, Chairman of Florida Grown PC, writes that the month's fundraising activities bring, "total contributions for Florida Grown PC to just over $9.4 million to date."
The announcement even came with humor, noting that unlike the Oscars, Putnam's accountants had double-checked the totals and they were, indeed, accurate.
For a sitting Agriculture Commissioner, raising millions from the established GOP elite as well as the regulated interests in Tallahassee is not a big surprise, but these totals are impressive by any standard.
As we learned from the 2016 election cycle, media coverage can make or break a candidate and fundraising matters, but it isn't everything.  Just ask Jeb Bush.  Unfortunately for Putnam, other than the notoriety generated for his fundraising prowess, his media coverage in February hasn't exactly been favorable and given the focus of this coverage, his successful fundraising only added to his chagrin.
Earlier in the month, Tampa Bay Times published an editorial blasting Putnam for his position on Senate President Joe Negron's (R-Stuart) proposed land purchase for a Lake Okeechobee reservoir. In the piece, Kimberly Mitchell suggests that Putnam's position on the purchase stems not from fiscal conservatism, but from the hundreds of thousands of dollars that he has received from Big Sugar and the companies growing sugar cane in the Everglades.  These companies stand in opposition to the land acquisition. Closing the article, Mitchell writes:
One reporter asked Putnam if he would ever take a position against the sugar companies. His answer: "I was opposed to it (buying U.S. Sugar land) the first iteration of the buyout, which is not the position they held, so I would say I already have a track record."

When he was reminded that, back then, Florida Crystals shared his opposition to the buyout (unlike U.S. Sugar, which had contracted to sell all their holdings), Putnam gave what might have been the most telling response of his career.

"You didn't qualify that. When there's division amongst them, I gotta pick."
The opinion piece was picked up and republished by media outlets all over Florida, with the Miami Herald publishing a follow-up Letter to the Editor written by Lloyd Wruble of Palmetto Bay. Wruble writes:
"…the reservoir will help provide fresh water to the Everglades and Florida Bay, where it is badly needed. Florida Bay is devastated with algae blooms and grass die-offs. The reason for his opposition to the plan is money, which he and his Legislature buddies receive from Big Sugar. Putnam plans to run for governor and will need funding." 
Commenting on Putnam's stance, Joe Negron remarked:
"If there was ooze and poisonous fluids flowing down the center of Bartow and Polk County (Putnam's hometown), we wouldn't be talking about an abstract schedule or making comments that somehow this is a political effort."
To cap the month off for Putnam, ABC Action News in Tampa Bay published an investigative report revealing that failed food safety inspections of a large grocery chain that has donated hundreds of thousands to Putnam's Florida Grown PC were pulled from the Department's website and later reposted without the scoring. In fact, the inspections were pulled the day after ABC released the news that the stores had failed their inspections.
Putnam stated that, "the pass/fail system is a failure because an industry leader, who has highly trained and highly qualified, nationally renowned food safety standards ought not be mislabeled based on minor infractions."  This, despite the fact that these violations were not minor at all, and in fact, termed PRIORITY violations by Putnam's own agency.
ABC reports that the "stores failing in 2016 had priority violations." These violations included "rodent problems" and rodent feces in the store, food stored at "dangerous temperatures", and "fly glue-strips hanging over exposed bread and other food in the bakery as well as live ants on the walls."
The article states that Putnam received over $350,000 from the grocer and has made use of the company's private jet.
"So we had to ask Putnam if all those contributions impacted his decision to remove grades the day after our story aired. 

"So their contributions to your PAC and your campaigns over the years have not influenced your decision making?" asked ABC Action News I-Team producer Fran Gilpin.  "Of course not," Putnam said, "anymore than anyone else's contributions influence."
Given his stand with Big Sugar donors, these comments seem to be indicative of his attitude towards campaign benefactors.
These reports were clearly not what Adam Putnam was seeking as he unveiled his big Oscar moment.  And while his numbers may be accurate, Putnam's actions and his comments seem to only bring greater attention to his fundraising activities and what they really mean for the citizens of Florida who need their chief regulator to regulate.
USA Herald has been closely following these stories (read our coverage here and here). As Agricultural Commissioner, Putnam seems to show a pattern of favor towards big donors, and even more alarming, a departure from the duties of Agricultural Commissioner and a focus on his next political office.   USA Herald will be following this trend. With another $2.25M in donations, it remains to be seen if this money comes with strings attached.