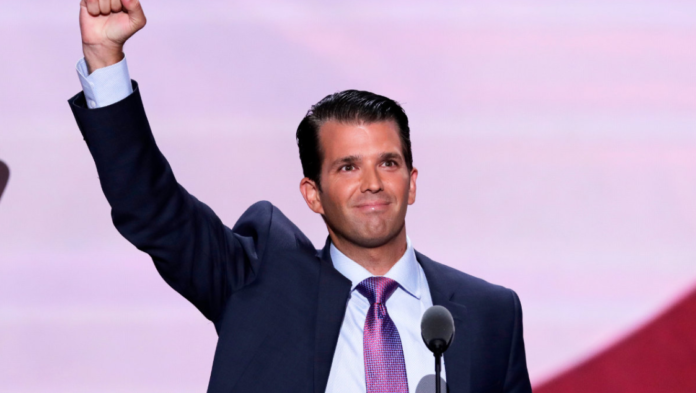 The mainstream media does not give up. After failing to successfully link President Trump to colluding with Russia, they made his eldest son, Donald Trump Jr. their latest target. According to reports from CNN, Donald Trump Jr., Jared Kushner, and others from the Trump team allegedly met with Russia lawyers during the 2016 Presidential election in order to obtain information regarding the Clinton campaign.
An excerpt from the New York Times reads the following:
"Before arranging a meeting with a Kremlin-connected Russian lawyer he believed would offer him compromising information about Hillary Clinton, Donald Trump Jr. was informed in an email that the material was part of a Russian government effort to aid his father's candidacy, according to three people with knowledge of the email."
In response to this mounting conspiracy theory being perpetrated by the Democrats and liberal mainstream media, Donald Trump Jr. tweeted out the following message earlier this morning:
"Media & Dems are extremely invested in the Russia story. If this nonsense meeting is all they have after a yr, I understand the desperation!"
According to Fox News, a new report has emerged, alleging Donald Trump Jr. was informed that the Russian government had information which could serve as advantageous to his father's campaign. The Russian lawyer who met with the President's eldest son is denying the claim from this so called "new report."
Quite frankly, the mainstream media has lost all credibility. Their latest assertions to evince Donald Trump Jr.'s guilt are utterly baseless. Simply meeting with a Russian lawyer is not treasonous. For months, the mainstream media attempted to push the conspiracy theory of President Trump's supposed collusion with Russia. When that failed, they claimed his administration worked with Russia. Both of their attempts have proven fruitless, so they are now targeting Donald Trump Jr.
Eric Bolling was correct when he called this latest Russian conspiracy theory "an insult to nothing burgers." Colluding with Russia to sway an election is no easy feat. If there was any real evidence, the media would have released it by now. So far, all they have presented are groundless assertions and political conspiracy theories. Putin, himself, has denied that Russia had any involvement in the 2016 Presidential election.
Yesterday, Donald Trump Jr. affirmed his willingness to work with the Senate Intelligence Committee to share information. Until the media has pure, unadulterated evidence that Donald Trump Jr. broke the law, they should bring the accusations to a swift halt. They are merely wounding their own credibility and giving more reasons for Americans to percieve them as fake news networks that have made it their mission to unfairly and maliciously target the First Family of America.