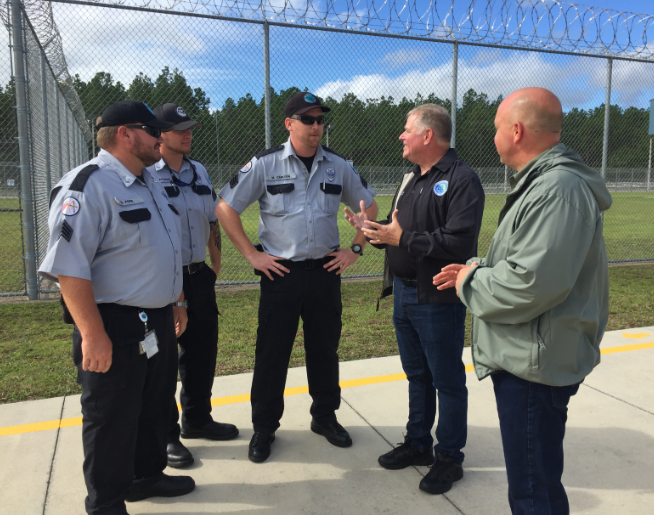 It is no secret that Rick Scott did not make the Florida Department of Corrections or disabled inmates even the slightest of priorities while Governor of the State of Florida.
In 2014, according to the Miami Herald, Rick Scott's Chief of Staff, Adam Hollingsworth, told then Secretary Mike Crews, that he needed "to take a bullet for the governor." Since then, Corrections continues to take bullets for the former governor and now U.S. Senator.
Scott slashed DOC's budget for years, causing critically dangerous low levels of staffing within the prisons and a lack of necessary care for inmates with disabilities. Under Scott, in 2014, inmate deaths reached a record high. When Scott was forced to confront the record number of inmate deaths under his control, his budget did not allocate any new resources to investigate those deaths.
When DOC had a 654 employee shortfall in the prisons, he only offered to give the agency funding to fill half of those vacancies. By not addressing the crisis of empty positions within the agency, Scott's indifference to DOC caused use of force against inmates to almost double, causing dangerous conditions for inmates and employees.
Rick Scott's administration knew that it wasn't treating inmates with HCV despite it being the standard of care to treat HCV with direct acting antivirals since 2014, yet his administration treated less than 20 in those four years, and those were only treated after the agency was sued in a blockbuster class action that ultimately cost the state over $100 million. Arguably, this cost could have been avoided had Scott and his administration been more diligent in treating medical conditions of inmates. While Scott cost Florida taxpayers money by ignoring this crisis within DOC, he profited off of it personally as his trust, which he alleges to have no control or insight into, had invested approximately $1.1 million with Gilead, the company that created the "cure" for HCV and the company that the State of Florida paid $21.7 million to for the HCV cure treatment in 2018.
Scott's administration also saw the death of two disabled inmates, Darren Rainey and Randall Jordan-Aparo alleged to have occurred at the hands of dirty correctional officers, which cost the State of Florida over $6 million to settle just those two cases. The horrific irony of these settlements and costs is that they would have been exponentially higher if the inmates had lived. Disabled inmates under Scott had it especially rough, and specifically in 2017 when the then prison secretary Julie Jones concluded that there were several shortcomings in mental health services in a South Florida prison.
Scott's vanity at the expense of the State of Florida and DOC was especially apparently as former secretary Crews testified that he was told to delay, downplay, or hide all of these issues until after Scott's 2014 reelection campaign. This all despite Crews' 2013 testimony that DOC was receiving $500 million less in funding from 2007 despite having 9,000 more inmates. Some say Scott's treatment of DOC during his tenure as Governor were not different than a corporate raider, taking what he wanted and leaving the agency behind destitute.
However, new Florida Governor Ron DeSantis has shown by action that he is fixing the problems at DOC left behind by Scott. Florida's new Governor appointed former United States Army major general Mark Inch to lead the agency. Inch has used his remarkable background to lead the Florida Department of Corrections away from the terror and maltreatment caused by Rick Scott, requiring a higher caliber of employee, requiring more and better training of correctional officers, and firing employees immediately instead of allowing them to continue working and creating more liability for the State of Florida. This proactive approach has been recognized statewide. Despite the incredible successes of DeSantis and Inch at the agency in only one year, both still continue to fix problems created by Rick Scott at the Florida Department of Corrections.
By ridding the Florida Department of Corrections of the liabilities created by Rick Scott and improving the agency over the next three years, DeSantis will be able to do what no Florida Governor has done since the 1980s: make the agency safer and operate the agency at a lower cost to taxpayers by confronting problems proactively instead of hiding them. This will allow Governor DeSantis to tout these successes with the agency, deservedly so, as a positive in his reelection instead of the Achilles heel it has been for Governors over the past thirty years.