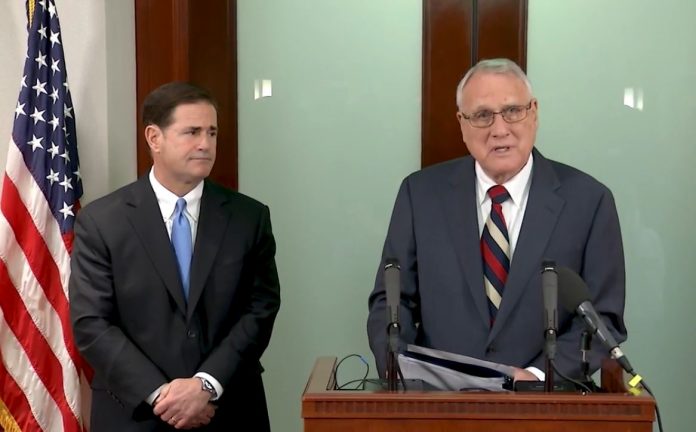 Arizona Governor Doug Ducey announced that Senator Jon Kyl is leaving the U.S. Senate on December 31. The governor accepted the senator's resignation letter on Thursday afternoon.
In September, Ducey appointed Kyl to fill the seat vacated by the late Sen. John McCain. Kyl agreed to accept the responsibility of representing Arizona in the U.S. Senate. He he told the governor that his commitment is to "serve through at least  this season of Congress" and will not run in the 2020 special election for the Senate seat.
In his resignation letter to the governor, Kyl wrote, "When I accepted your appointment, I agreed to complete the work of the 115th Congress and then reevaluate continuing to serve. I have concluded that it would be best if I resign so that your new appointee can begin the new team with all other senators in January 2019 and can serve a full two (potentially four) years."
Ducey thanked Kyl for service to Arizona
In a statement, Ducey said, "Over the last few months, Senator Kyl served with the same integrity and statesmanship that marked his 26 years in Congress."
"Senator Kyl didn't need to return to the Senate. His legacy as one of Arizona's most influential and important political figures was already without question. But he did return, and I remain deeply grateful for his willingness to step up and serve again when Arizona needed him. I wish him and his family all the best," added the governor.
Ducey will announce the senator's replacement in the future. Prior to Kyl's resignation, there had been speculations regarding the matter.
Some people are suggesting that the governor may be considering outgoing Rep. Martha McSally, who lost her bid to replace retiring U.S. Sen Jeff Flake.  Last month, sources told CNN that Senate Majority Leader Mitch McConnell tried to convince Ducey to appoint McSally.
Others are thinking that Ducey may be contemplating on appointing Kirk Adams, his former chief of staff.