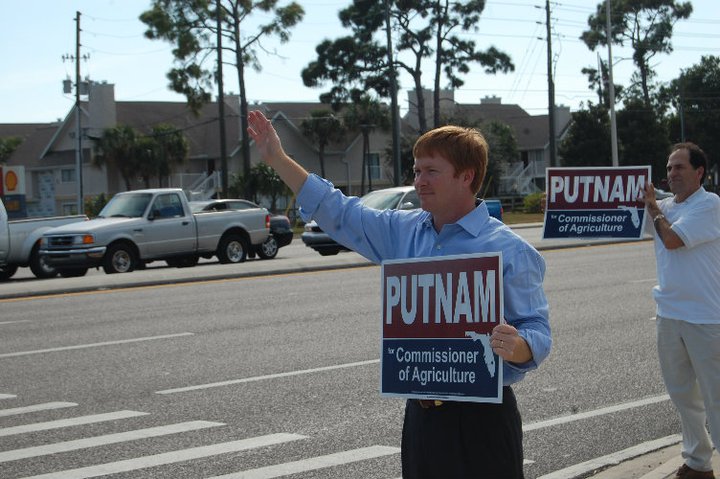 In November of last year, the ABC Action News team in Tampa Bay broke a story detailing how 7 Publix locations had failed food safety inspections with serious violations.  The iconic grocery store puts tremendous effort toward their food safety training programs.  So, naturally, consumers were surprised by this news.  The biggest surprise, however, came the next day, when all the pass/fail grades and inspection results were removed from the Department of Agriculture's website.
According to Adam Putnam, the scores were removed because, "I believe that the pass/fail system is unclear because if it's a failure, why is it still open?"
Putnam, as Florida's Commissioner of Agriculture, runs the agency that conducts the food safety inspections and, according to the ABC report, is responsible for removing the grades from the Department's website.
Some argue that Putnam may have had other motives.
ABC Action News reported that Putnam has received almost $350,000 from Publix, its employees and family members in political contributions since 2000. $232,038 of those contributions were received between 2012 and the present, including a $50,000 contribution in August of 2016 to Florida Grown PC (Putnam's Political Committee). This does not include political contributions that could have been made to other Political Committees that then turned around and supported Putnam, shielding the original donor.
In 2014, the Orlando Sentinel reported:
We can see Agriculture Commissioner Adam Putnam's "Sunshine State Leadership Project" ad-buying committee collected $41,000 from the Florida Chamber of Commerce last month, $25,000 from Wal-Mart Inc. and $10,000 from developer and Everglades leaseholder A. Duda & Sons Inc.

We can also see Walt Disney gave $250,000 to "Florida Jobs," which later shifted money to Putnam, and Publix Super Markets gave $100,000 to the chamber group.
In May of 2016, the Florida Chamber's Florida Jobs PAC contributed $100,000 to Adam Putnam's Florida Grown PC.
When asked whether these contributions influenced his decision, Putnam responded, "Of course not, anymore than anyone else's contributions influence."
The food safety inspections are still publicly available but do not feature any grades or indication about the severity of an infraction.
Before, the inspection results were changed, the information published online allowed consumers better analysis of health and safety information about where they shop for food. Now, consumers have very little information in these reports and, to get more detail, must submit a public records request.
"The working group is going to have to make the decision about how to identify those grades in a way that the public can understand. Maybe it's a letter grade, maybe it's a good/fair/poor, but the pass/fail isn't working," Says Putnam.
While Putnam refers to a system of good/fair/poor as a possible remedy for the confusion that he believes the pass/fail system creates he does not explain why he might return to the system that was in place before he was elected to office.
Under Putnam, the Department of Agriculture transitioned to the pass/fail scoring from a grading system that scored establishments as "good" "fair" or "poor", because that system was viewed as too subjective.
Before Putnam ordered the removal of the pass/fail system, the Department of Agriculture featured language on their website to assist consumers in understanding the ratings. Prior to the change, the site stated: "Pass ratings indicate the establishment is in compliance with sanitation requirements." And "Fail ratings indicate the establishment is not in compliance."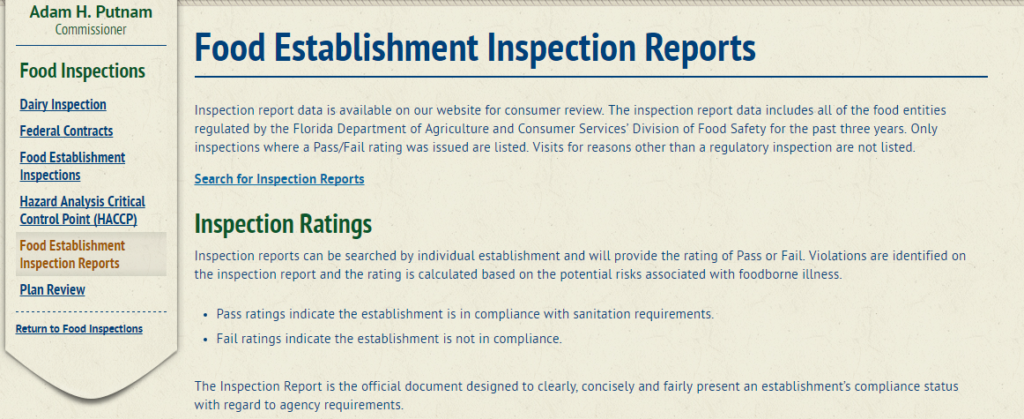 "The pass/fail system is a failure because an industry leader, who has highly trained and highly qualified, nationally renowned food safety standards ought not be mislabeled based on minor infractions," says Putnam. The ABC report, however, details infractions that were anything but minor. Citing the state inspections, the report reveals seven stores with failing grades for a variety of reasons including "numerous rodent droppings," dangerous temperatures for foods and "food products stored under leaky drain line."
Putnam also states "I think we need to have a grading scale that is more reflective of the conditions in that store so that the consumers are aware and can make their shopping decisions accordingly."
"I'm very aggressive about this, and I'm pushing them to come up with something very quickly," Putnam promises. Given the swiftness of his response to the original report, that much is clear.
Meanwhile, four months have passed, and a new system is not yet available, leaving grocery consumers to wonder if the food they buy is safe for their families.