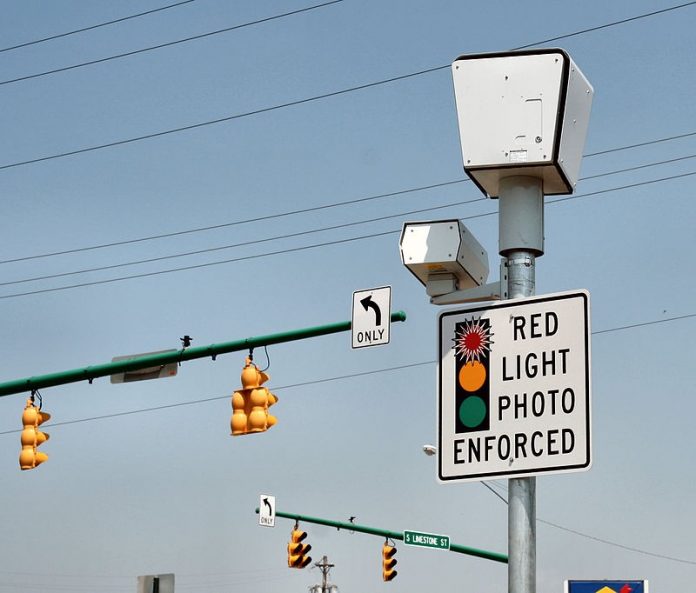 Crestwood, Illinois, Mayor Louis Presta, 69, was indicted on bribery and fraud charges Aug. 7, by the U.S. District Court of Chicago. Presta pled not guilty to the charges.
The charges include three counts of using an interstate facility to aid bribery and official misconduct, several counts of income tax fraud, and one count of making false statements to the FBI and the IRS. He faces up to 19 years in prison.
Presta is the latest to be ensnared in a far-reaching and on-going federal investigation. From 2008 to 2018, bribes and political influence were involved in the proliferation of red-light ticket cameras that have collected over $1 billion from Illinois residents.
Red-light cameras were first installed in Crestwood in 2016. The village, which has a population of 10,000, was the top-ticketing Chicago suburb. And they brought in $13 million in fines.
The bribery charges stem from a taped meeting where Presta accepted an envelope with a $5,000 bribe. The false statement charges result from Presta's subsequent denial that he received a bribe.
Presta's campaign amended his election state finance reports, to show a $5,000 in-kind contribution from Omar Manni that was to be used for "incidentals during the campaign" in March 2018. Omar Maani was a co-founder of SafeSpeed and no longer has any affiliation with the company.
Thomas Breen, Presta's lawyer didn't explain why the campaign filing was made two years after the cash was received. He claims that the funds "certainly was not used to influence the mayor's position on any issue that affected the village."
The red-light ticket camera story was reported in the Chicago papers earlier this year with the arrest of former state Sen. Martin Sandoval, the former chair of the Senate Transportation Committee who pleaded guilty to taking $250,000 in bribes from an associate of SafeSpeed, whom he named in court.
SafeSpeed has since issued a statement following cease and desist letters to the Tribune Publishing Company, the Chicago Tribune, and their reporters, regarding their reporting on the Sandoval bribery case.

"The story falsely asserted that Sandoval was bribed '$70,000 from clout-heavy SafeSpeed for acting as its 'protector' in the State Senate.' … The money paid to Sandoval was provided by the government as part of a government sting, unbeknownst to SafeSpeed."
In March, there were multiple related indictments of bribery and political corruption involving local officials. Cook County Commissioner Jeffery Tobolski resigned and has not been charged with any crime. His chief of staff, Patrick Doherty, was charged with bribery.
Bill Helm, a former top Illinois Department of Transportation official, was charged with allegedly paying Sandoval to get his support for a construction project.
Both Helm and Doherty worked as paid sales representatives for the red-light camera company SafeSpeed while on the city payroll, the Chicago Sun-Times has reported.
Chicago-based SafeSpeed continues to deny any wrongdoing. SafeSpeed is the biggest red-light camera vendor in Illinois. Despite the federal corruption investigation SafeSpeed received a Paycheck Protection Program federal loan of $1 million.
————————————————–
Have a story you want USA Herald to cover? Submit a tip here and if we think it's newsworthy, we'll follow up on it.
Want guaranteed coverage? We also offer contract journalism here.  Just be sure you're comfortable giving up editorial control because our journalists are dogged and will follow the story through to the conclusion. The story will be published to our exacting standards, without regard for your preferred slant.
Want to contribute a story? We also accept article submissions — check out our writer's guidelines here.