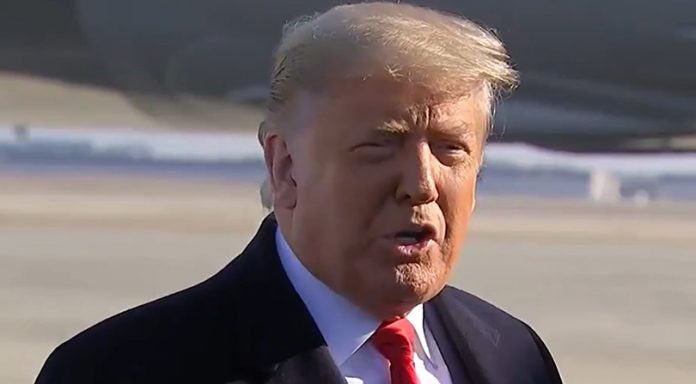 After drama in the early morning hours, the Democrat House impeachment managers and the defense team for former President Donald Trump have reached a compromise.
The agreement came on Saturday afternoon, after the Senate had voted to hear witnesses, which could have delayed the trial for weeks.
They have agreed to allow the statement of Rep. Jaime Herrera Beutler to be read into the record with no cross examination, The New York Post reported.
This means that the trial of the former president could end on Saturday as had been expected by near everyone.
Rep. Herrera Beutler was one of 10 House Republicans to vote to impeach former President Trump and on Friday she issued a statement regarding her recollection of a phone call that House Minority Leader, Rep. Kevin McCarthy had with Trump.
"In my January 12 statement in support of the article of impeachment, I referenced a conversation House Minority Leader Kevin McCarthy relayed to me that he'd had with President Trump while the January 6 attack was ongoing. Here are the details," she said.
"When McCarthy finally reached the president on January 6 and asked him to publicly and forcefully call off the riot, the president initially repeated the falsehood that it was antifa that had breached the Capitol. McCarthy refuted that and told the president that these were Trump supporters. That's when, according to McCarthy, the president said: 'Well, Kevin, I guess these people are more upset about the election than you are.'
"Since I publicly announced my decision to vote for impeachment, I have shared these details in countless conversations with constituents and colleagues, and multiple times through the media and other public forums.
"I told it to the Daily News of Longview on January 17. I've shared it with local county Republican executive board members, as well as other constituents who ask me to explain my vote. I shared it with thousands of residents on my telephone town hall on February 8.
"To the patriots who were standing next to the former president as these conversations were happening, or even to the former vice president: if you have something to add here, now would be the time," she said.
The Republicans who voted to hear witnesses included Sens. Lisa Murkowski of Alaska, Susan Collins of Maine, Mitt Romney of Utah, Ben Sasse of Nebraska and Lindsey Graham of South Carolina.
The yes vote of Sen. Graham was, apparently, an indication of his desire to call numerous Democrat witnesses and cross examine them.