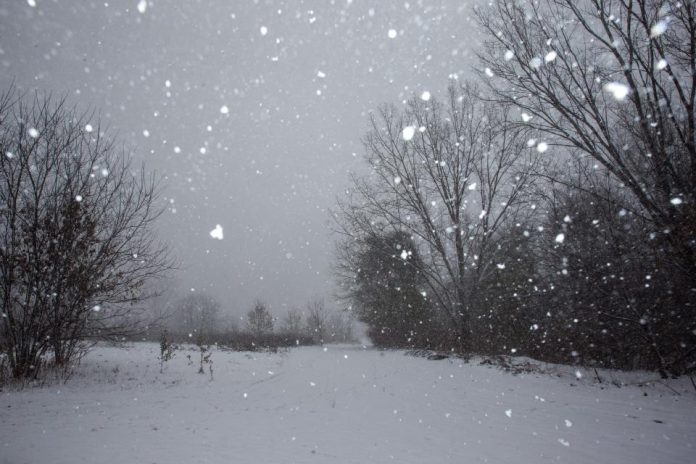 A dangerous lake-effect snowstorm paralyzed much of western and northern New York. The storm started on Wednesday and is continuing into the weekend. 
The early winter snowstorm dumped 2 feet of snow on parts of western New York state by Friday. It continues into Saturday with as much as 4 feet piling up from Lake Erie and Lake Ontario.  And more snow is forecast to pile up this weekend.
AccuWeather forecasters anticipate the snowstorm will break records. And daytime temperatures will be in the upper 20s to lower 30s F throughout the event.  Strong winds off the Great Lakes will make it feel like the temperatures are in the teens.
 AccuWeather meteorologist Renee Duff said that "Bands of heavy lake-effect snow began to pour off Lake Erie and Lake Ontario late Wednesday night, and meteorologists say that snow is only one phase of what is shaping up to be a historic and multi-day snowfall event."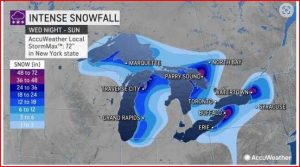 The National Weather Service said the snow may very well paralyze communities that are being hard hit.
The city of Buffalo has received two days of record snowfall. And the snow is continuing into Saturday. The Buffalo airport measured 16 inches of snow on Friday. This broke the 2014s daily snowfall record of 7.6 inches.
Buffalo is experiencing near-zero visibility due to the snow flurries. And travel is all but impossible in the area. All flights are canceled, and the roads are buried in snow.
As of 8 am Saturday snow totals near and south of the Buffalo and Watertown, New York are:
Orchard Park -​77 inches 
Natural Bridge -​72.3 inches 
Blasdell -​65 inches
Hamburg -61 inches 
The city of Buffalo hasn't quite gotten the human-height snowfall totals, but they have picked up two days of record snowfall. Today, Saturday, the airport in town picked up more than 16 inches of snow, which broke the daily record of 7.6 inches dating back to 2014.
What is a Lake-effect snowstorm?
Lake-effect snowstorms are more common in the late fall and early winter. And are usually centered in areas downwind of the Great Lakes.
When the cold air from Canada moves across the warmer waters of the Great Lakes moisture is transferred into the atmosphere. The air rises into narrow band clouds that can produce 2 to 4 inches of snow per hour.