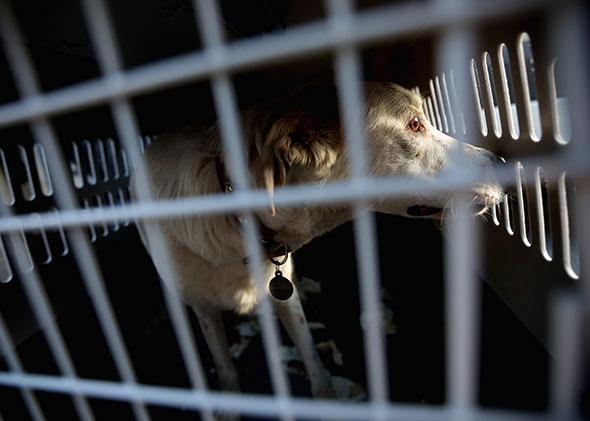 This story is written by Lynn Steinberg and sponsored by Maggi Hall of Animal Rescue Konsortium via the USA Herald Platform
In 2007, Maggi Hall of Deland, Fl started a non-profit organization called ARK. Her team has saved thousands of companion animals that would have otherwise been euthanized in local shelters. Maggi's organization abides by the guidelines of The No Kill Advocacy Center. Maggi rejects the accepted principals of the "no kill" movement where over 10% of animals are still being euthanized in shelters that tout themselves as being "no kill."
Maggi Hall Practices What She Preaches
In July 2012, Maggi Hall of Deland, Fl stumbled across two dogs on an Indian Reservation in Arizona. Both dogs were loaded with ticks and were visibly starving. Maggi drove the dogs to a shelter in Sedona that advertised itself as "no kill," hopeful that the dogs would find good care and eventually a good home. Sadly, the dogs were rejected from the shelter as their medical needs were too extensive.
After being rejected from several facilities throughout Arizona, Maggi transported the dogs back to Deland, FL. With the help of The University of Florida's School of Veterinary Medicine, both dogs were diagnosed with TV, Transmissible Venereal Tumors, a rare form of cancer. The dogs then received chemotherapy and other surgeries to solve their complex medical issues.
Maggi Hall and ARK Finds Foster Homes for Animals in Need
According to Maggi, "Fostering a dog is one of the best things you can do for a dog in need. Dogs who have endured a difficult past such as abuse, cruelty, neglect, under socialization, benefit greatly from this process. As a foster, you have the chance and opportunity to gain a dog's trust, show them human touch and love perhaps for the first time, provide an environment for them to feel safe, and watch them transform before your eyes."
ARK was able to place both Arizona dogs in happy foster homes in Deland, FL. They were able to adjust to family life and feel safe. The dogs, now known as Addie and Friskie currently live with Maggi and her husband Ron in Deland, FL. They are both friendly, healthy animals who are thriving in their forever home.
How Do I Learn More About ARK?
ARK is a 501(c)(3) non-profit organization formed exclusively for charitable and educational purposes. The organization provides medical and adoption services for injured, abandoned, and surrendered dogs, cats, and exotics. ARK achieves its goals through a foster program, aggressive adoption program, promoting the no-kill advocacy movement, strengthening the spay/neuter program, supporting TNR for free roaming cats, networking with other rescue groups, and distributing educational material to the community. More information can be found at http://arkfl.rescuegroups.org/