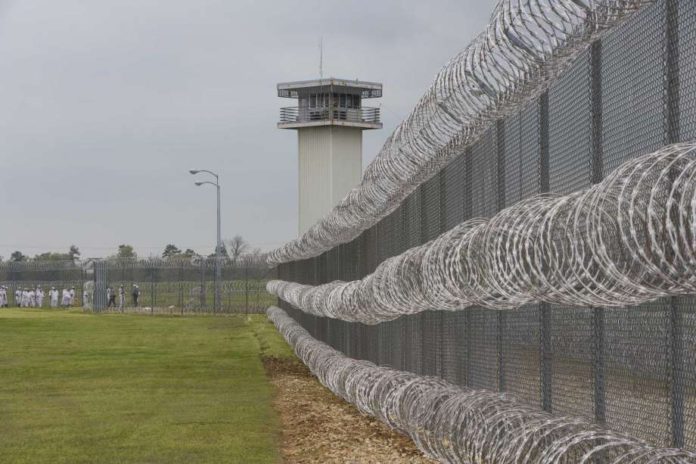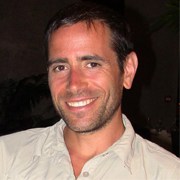 Michael Arnstein was arrested and pled guilty earlier this year for forging court orders and sending them to Google to remove negative information about his company, The Natural Sapphire Company.
Earlier today I caught up with Arnstein to get his take on what happened and why he decided to take the law into his own hands.
During the interview Arnstein contradicted himself a number of times.
Here's Arnstein's story:
In 2010 Michael Arnstein claims that Prashant Telang, owner of Transpacific Software Pvt (TPS), had caused The Natural Sapphire Company's website to fail.  Arnstein claims that he fired Preshant Telang thereafter.
2. Michael Arnstein then claimed that TPS demanded over $150,000 in compensation for unpaid bills and refused to hand over the source code.
3. Thereafter, Arnstein claims that Prashant "Prashant Telang/TPS posted approximately 500-600 (2011-2015) false and defamatory 'reviews' or similar on dozens of popular industry and consumer websites, scam and complaint websites, etc of horrible lies about NSC."Arnstein claims that Prashant Telang ran programs to run up his charges on Google Adwords, which Arnstein charged back on.However Prashant Telang made this official statement claiming that Michael Arnstein is lying:https://www.linkedin.com/pulse/arrest-natural-sapphire-company-ceo-michael-arnstein-sending-telang/
"Michael Arnstein CEO of The Natural sapphire Company New York; is arrested and charged with creating multiple forged court orders which were sent to Google in order to get negative reviews about their company removed from the search results. Arnstein was arrested and charged with two counts of forging a judge's signature and one count of conspiracy to forge a judge's signature and faces 5 years imprisonment 
Full case details available on The Washinton Post
What TransPacific Software has to do with it?
When we heard that Michael Arnstein CEO Of The Natural Sapphire company was arrested for forging a Federal Judge's signature and facing 5 years Jail term we were NOTsurprised. But when we learned that his advocate Steven Brounstein blabbering in Trade Magazines like National Jewelerthat "Arnstein was "clearly victimised" in the case involving Telang and his company. " We were truly agitated. What on earth a case which was settled in 2012 has to do with Arnstein forging Judge's signature between 2014-2017 to save his SEO and online reputation ???"
4.  Arnstein claims thereafter that he contacted the FBI and other law enforcement officials, whom "failed" because "NSC's case was never given any legitimate attention."Arnstein agrees to settle the matter and pay Prashant Telang bill of $72,000.
5.  Arnstein's lawyer appears to have ignored the settlement and continued to move forward with a default judgement against Prashant Telang, whom is in India and doesn't respond.   The judgement is sent to Google and Google de-indexes links from its search engine.
6.  Arnstein then claims that he runs out of money and that his lawyer is overbilling him, costing over $70,000.  Also, in the emails Arnstein provided us today with his attorneys, he admitted that after getting advice from the reputation management company that he hired, he spoke to his attorney to add links that were missed in the order.  Arnstein told us that his attorney was "ineffective" because he missed the deadline to add the additional links to the order and that the only way to have the links removed, he would have to spend "an exhoribitant amount of money" to open a new case and get a new default judgement.  Here are the emails:
—–Original Message—–
From: Brett Lewis [mailto:[email protected]]
Sent: Friday, January 11, 2013 9:15 AM
To: Evan Guttman
Subject: Re: Michael wants to know the cost of going back to the judge for those additional links.
At this point in time, cost is not the issue.  Too much time has passed since the judgment was entered to modify the judgment or reopen the case.  We had about a month to file if we were going to.
—–Original Message—–
From: Evan Guttman
Sent: Friday, January 11, 2013 10:55 AM
To: Michael Arnstein
Subject: FW: Michael wants to know the cost of going back to the judge for those additional links.
Google only started rejecting us after a month had already passed.  Maybe they knew this too.
Evan Guttman
President www.47thSt.com
CIO www.TheNaturalSapphireCompany.com
On Jan 11, 2013, at 6:41 PM, Michael Arnstein wrote:
To: Brett Lewis [mailto:[email protected]]
I'm confused here? How does time effect this?
Did we not have all the links in the initial request/filing with the court?
If it wasn't over a month period, how would you be dealing with this?
From: Brett Lewis [mailto:[email protected]]
Sent: Monday, January 14, 2013 11:14 AM
To: Michael Arnstein
Cc: Evan Guttman
Subject: Re: Michael wants to know the cost of going back to the judge for those additional links.
Michael,
The Court entered a final judgement.  That means that the case is disposed of.  There is a limited amount of time to petition to re-open a case once it's been closed.  
Google ran out the clock, although I do not believe that it was intentional.  More likely, Google does not want us to keep running back to it asking it to take down more links.  
If we were under 30 days, we could have discussed filing a petition to modify the judgment, but it would have been costly, and you would not have gotten everything that you wanted — we might not have gotten anything.  We would also have been having a discussion about our invoices, which would need to be paid before we could take on another substantial piece of motion practice.   
Please let me know if you'd like to talk.  
Best,
Brett
Brett E. Lewis, Esq.
Lewis & Lin, LLC
45 Main Street, Suite 608
Brooklyn, NY 11201
From: Michael Arnstein <[email protected]>
Date: Mon, Jan 14, 2013 at 1:50 PM
Subject: RE: Michael wants to know the cost of going back to the judge for those additional links.
To: Brett Lewis <[email protected]>
Cc: Evan Guttman <[email protected]>
So you're saying that 30 days is based on your experience/opinion or is that actually a court procedure/rule?
From my review there are very old and very prominent posts coming up very high in the results in google.
Can you confirm that Evan didn't give you all the links to be included in the filing?  Or is it just google being randomly selective about what they will and will not comply with per what is ordered in the injunction?
At this point anyone who searches for 'review' 'scam' sees more than enough posts to turn them away, this is the sad reality to the current state of goal.
Regarding what we owe you, I'm not sure how our bookkeeper missed more than $10,000. In bills, b/c what I just reviewed in our system is far far less than the statement I just reviewed your office sent us.
We had the worst year in our history in 2012, I've tried to continue the piecemeal payments every month and will continue to do so. As you know the ongoing billing for services is what has kept the balances from getting closer to zero.  If we stop the work now then I guess we'll get the balance to zero, but I'm still sitting with a really bad reputation online which should be considered in why I'm so frustrated with the situation Brett.
If we can't afford to do the future work on this with you, can the case be transferred to another attorney who can take over the procedural work that would happen moving forward on adding more links to the order etc.
I will have my bookkeeper get in touch with your office for the statements/invoices that were missed here.
Thank you,
Michael Arnstein
7.  Next, knowing that he is out of money and out of options, Arnstein decides to forge the judges order by adding additional links and then submits it to Google.  He brags about how much money he saved instead of filing a new complaint and going through the regular legal process.
8.  Google catches wind of it and reports him to the FBI.   Arnstein is arrested, pleads guilty, and in an attempt to mitigate his sentence, blames his lawyer, the reputation management company he hired for "bad advice", and even Google for his crime…which he purportedly included links in his forged order from legitimate customer reviews.
Arnstein sent us this statement:
"April 2017 Google reverse's dozens of previously de-listed URL's related to false defamatory reviews on NSC.
NSC has paid Google over $2,446,000. Dollars over the years of for pay per click ads.
See last page of Exhibit 21  which shows $2.4m in total payments to Google
Prashant Continues to post negative reviews (as early as 2015) See Exhibit 41
Prashant harasses NSC Immediately after Michael Arnstein's criminal charges are reported in the Press: Prashant immediately starts to harass NSC.  NSC's attorney proactively emails Prashant directly to ask him to stop. Prashant Telang responds that he is worried about his reputation online….
See Exhibit 40
Critically important note of concern: Google's Legal Dept brought this case to the FBI. Should Michael Arnstein/NSC be found guilty as charged it is very probable that Google will drop NSC as an advertiser and de-index NSC's organic search engine listings.  This belief can be exhibited through multiple similar experiences of other companies.  This will effectively put NSC out of business  overnight.
Here is one example:
Ascentive, LLC v. Google, Inc., 2:09-cv-02871-JS
…Ascentive-Google relationship deteriorated, … (Google's correspondence just cryptically cited "multiple policy disapprovals"). After Ascentive had spent over $645k as an AdWords customer in 2008, Google kicked Ascentive out of the AdWords program. A week later, Google completely dropped Ascentive's website from its search index. As a result, Ascentive was frozen out of both Google's organic search results and sponsored links, and not surprisingly, Ascentive suffered a "severe drop in online sales"
Additional details of the referenced quote above can be found here.
May 31, 2017 update: Attorney Brett Lewis Esq emails Google's Legal Dept with original court order.  Google refuses repeatedly to comply in any way. The irony of Google turning-in one of their customers to the Justice Dept who was being extorted and defamed, while at the same time refusing to honor a Federal Judge's Court Order is appalling.  See Exhibit 56
July 2017 US Attorney's Office declines any and all 'plea' deals related to an application for
Deferred Prosecution even in light of being given extensive documentation related to the mitigating circumstances of TPS/Prashant's attacks against NSC. (A deferred prosecution agreement (DPA), which is very similar to a non-prosecution agreement (NPA), is a voluntary alternative to adjudication in which a prosecutor agrees to grant amnesty in exchange for the defendant agreeing to fulfill certain requirements.)
August 2, 2017: Prashant Telang starts sending harassing/threatening emails to Michael Arnstein.  (Earlier in the year Prashant had made it clear through anonymous 'chat' that he would destroy our company if his name was defamed in anyway in the criminal case of USA vs Michael Arnstein). Exhibit 60
August 7, 2017: US Attorney's Office informs Michael Arnstein's attorney they will offer no 'plea-deal' for non trial guilty admission.  Further they are recommending 12-18 months prison followed with probation; felony conviction.

September 15, 2017: Michael Arnstein formally pleads guilty in Federal Court, Southern District of New York. Judge Andrew Carter sets sentencing date of January 16, 2018.
Closing Comments
This document is a TRUE account of an American company that paid over 1 million dollars to an Indian programmer. When the business relationship was discontinued for poor quality work, the programmer became a cyber-extortion-terrorist hell-bent on destroying his former client.  This was never a contractual disagreement or civil dispute of any kind, in any form.  
NSC did everything in it's power through what it believed was legal and legitimate means to protect its existence and keep honest hard working American families from losing their carriers.  Google continues to reject any assistance to resolve these matters whatsoever, on the contrary they have made efforts in effect to support the immense stress and losses suffered by The Natural Sapphire Company and its employees.
Punishment WILL NEVER END for Michael Arnstein's name/reputation when organic search results show him as a convicted felon, characterized as a criminal jeweler who allegedly tried to whitewash his reputation. This untruth is incredibly unjustified or warranted.
Further, his three young children, wife and multi generation family name in the jewelry industry are undeserving of this embarrassment and shame."
Closing Statement
Arnstein went on to to blame The Washington Post for not reporting the story accurately.
Then he complained that his company paid $2M+ to Google and that he shouldn't have been turned in by them.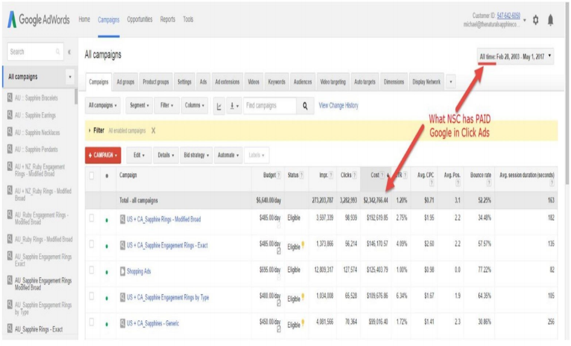 As we got deeper into the interview, I pointed out the inconsistencies in Arnstein's story to him.   I noted that Arnstein is a highly educated business owner and that it appears that he's using others as a "scapegoat" to get a lower sentence…to which he responded  "with all due respect, that is the case…i've been nailed to the cross and I'm the victim here."