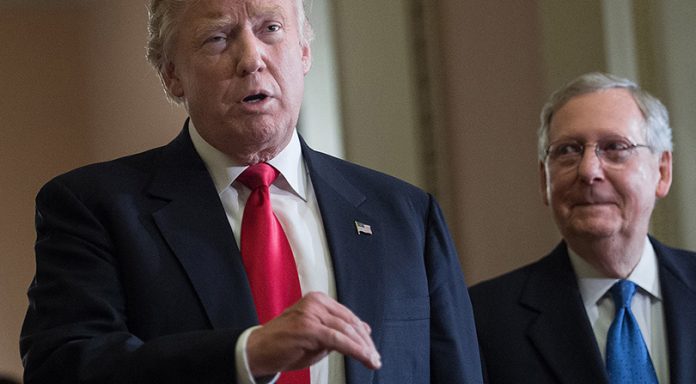 Senate Minority Leader Mitch McConnell, after voting not to convict former President Donald Trump in his impeachment trial, showed precisely what type of backstabber he is.
Ever a creature of the swamp, the Kentucky senator used his speech after the acquittal to berate the former president, blame him for the January 6 Washington D.C. riot and hint at criminal prosecution.
"January 6th was a disgrace," he began.
"American citizens attacked their own government. They used terrorism to try to stop a specific piece of democratic business they did not like.
"Fellow Americans beat and bloodied our own police. They stormed the Senate floor. They tried to hunt down the Speaker of the House. They built a gallows and chanted about murdering the Vice President.
"They did this because they had been fed wild falsehoods by the most powerful man on Earth — because he was angry he'd lost an election.
"Former President Trump's actions preceding the riot were a disgraceful dereliction of duty.
"The House accused the former President of, quote, 'incitement.' That is a specific term from the criminal law.
"Let me put that to the side for one moment and reiterate something I said weeks ago: There is no question that President Trump is practically and morally responsible for provoking the events of that day.
"The people who stormed this building believed they were acting on the wishes and instructions of their President.
"And their having that belief was a foreseeable consequence of the growing crescendo of false statements, conspiracy theories, and reckless hyperbole which the defeated President kept shouting into the largest megaphone on planet Earth.
"The issue is not only the President's intemperate language on January 6th.
"It is not just his endorsement of remarks in which an associate urged 'trial by combat.'
"It was also the entire manufactured atmosphere of looming catastrophe; the increasingly wild myths about a reverse landslide election that was being stolen in some secret coup by our now-President.
"I defended the President's right to bring any complaints to our legal system. The legal system spoke. The Electoral College spoke. As I stood up and said clearly at the time, the election was settled," he said.
McConnell said that he voted to acquit because he did not believe the Senate had the jurisdiction to convict a former president.
But that reason is ridiculous as it was McConnell who prevented the trial from taking place while trump was still president.
"Whatever our ex-President claims he thought might happen that day… whatever reaction he says he meant to produce… by that afternoon, he was watching the same live television as the rest of the world," McConnell said.
"A mob was assaulting the Capitol in his name. These criminals were carrying his banners, hanging his flags, and screaming their loyalty to him.
"It was obvious that only President Trump could end this.
"Former aides publicly begged him to do so. Loyal allies frantically called the Administration," he said.
"But the President did not act swiftly. He did not do his job. He didn't take steps so federal law could be faithfully executed, and order restored.
"Instead, according to public reports, he watched television happily as the chaos unfolded. He kept pressing his scheme to overturn the election!" he said.
But it was this part, where he hints at criminal prosecution of former President Trump, that shows how frightened he is of him campaigning again in 2024.
"President Trump is still liable for everything he did while he was in office, as an ordinary citizen," he said. "He didn't get away with anything yet. Yet. We have a criminal justice system in this country. We have civil litigation. And former presidents are not immune from being accountable by either one."
Mitch McConnell cannot drain the swamp because Mitch McConnell is the swamp.