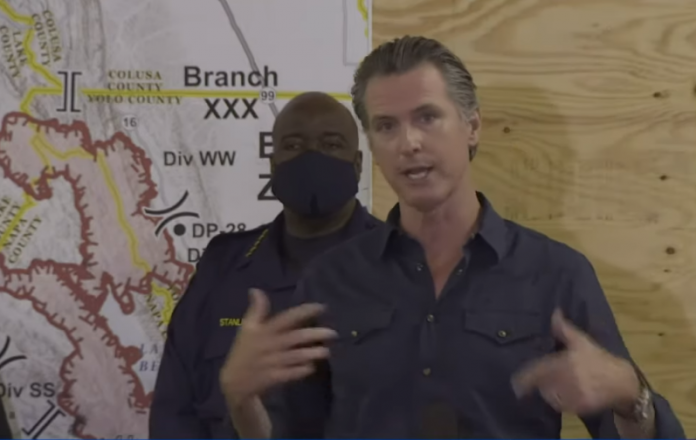 The White House approved California's request for a Presidential Major Disaster Declaration to boost the state's response to the ongoing massive wildfires, according to Governor Gavin Newsom.
Currently, more than 14,000 firefighters are working tirelessly to contain over 600 wildfires that already burned nearly 1.3 million acres across California. The wildfires were caused by the lightning siege on August 15.
Gov. Newsom thanked President Donald Trump for his "partnership" and for "granting" the bipartisan request for a major disaster declaration, which would also further California's support for residents impacted by the wildfires.
"I want to thank the Trump administration. I want to thank Bob Fenton in particular, who is here, who is the western regional coordinator for FEMA. There is no greater partner in the Western United States than Bob Fenton, said Gov. Newsom during a press conference on Friday.
Gov. Newsom added that Fenton and his team helped California obtained five fire grants, which Pres. Trump approved.
He also thanked all the firefighters for their hardworking and sacrifices, California Senators Kamala Harris and Dianne Feinstein for helping secure the presidential disaster declaration, as well as the Governors Arizona, Oregon, Washington State, Texas, Nevada, Idaho, Utah, and Montana for providing resources to help California suppress the wildfires
Newson says "no politics" when it comes to saving people's lives
Gov, Newsom emphasized, "No politics in this space. We'll defend ourselves. We'll defend our values, and we'll defend the facts but at the same time, we are very grateful that in this moment of crisis we also have to defend the American people. Right now 40 million Americans living in the great State of California. There's not one of them that wears red versus blue at this point. We're here to save lives, Everybody deserves to be protected."
The Governor also said California established a new "historic" partnership with the U.S. Forest Service" to "increase vegetation management."
When asked about Trump's recent attacks against California, Newsom said,  "There's not phone call that I have made to the President where he hasn't quickly responded. He may make statements publicly, but the working relationship privately is an effective one."
A Presidential Major Disaster Declaration would provide more funds for California. It would also allow the state to be more flexible in responding to the wildfires and providing help for the victims of the disaster.
California will use the Fire Management Assistance Grants from FEMA to support its response to the different wildfires in Santa Clara, Stanislaus, Santa Cruz, San Mateo Napa, Nevada, Lake, Solano, Yolo and Monterey counties.
————————————————–
Have a story you want USA Herald to cover? Submit a tip here and if we think it's newsworthy, we'll follow up on it.
Want guaranteed coverage? We also offer contract journalism here.  Just be sure you're comfortable giving up editorial control because our journalists are dogged and will follow the story through to the conclusion. The story will be published to our exacting standards, without regard for your preferred slant.
Want to contribute a story? We also accept article submissions — check out our writer's guidelines here.