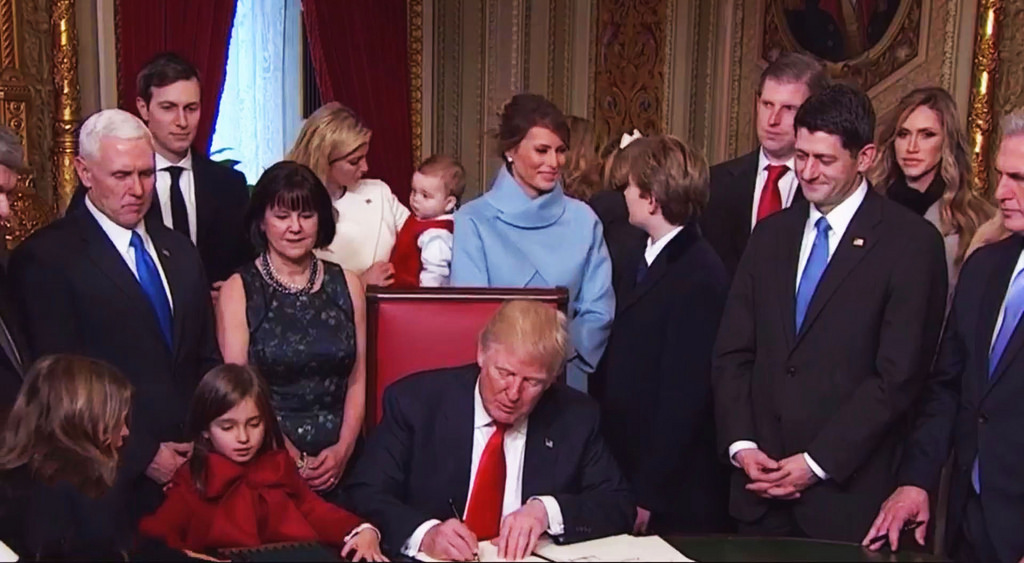 President Trump made his eighth executive action Monday, January 31, 2017. The Trump Administration's so-called "One-in, Two-out" Plan is designed to deregulate federal agencies by giving the Office of Management and Budget (OMB) the authority to oversee any new regulations. It is now more difficult for these agencies to create new regulations that affect private businesses because the plan requires them to eliminate two regulations in order to conceive a new one, and to do so, these agencies are required to submit their selections for elimination along with the newly proposed regulation to the OMB for approval or denial.
Besides eliminating two preexisting regulations, the OMB is now also obligated to ensure that new regulations do not create additional costs for private businesses. The executive order calls it "essential to manage the costs associated with the governmental imposition of private expenditures required to comply with federal regulations." As such, Donald Trump told agencies explicitly that costs for new regulations this year "shall be no greater than zero" in total unless otherwise authorized. This fulfills another of Trump's campaign promises to considerably deregulate the private sector.
The One-in, Two-out Plan requires government agencies to identify two regulations for elimination and one new regulation to implement, but it does not apply to national security or military regulations, which keeps it from interfering in military process or the processes of intelligence agencies. The plan also includes a provision for flexibility in the case of an emergency. In the event of such a circumstance, regulatory decisions in the case of emergency default to the OMB Director, which is presently Mark Sandy who took the position during the Obama Administration.
The Trump Administration's nominee for Director of the Office of Management and Budget on December 16, however, is Congressman Mick Mulvaney who previously represented South Carolina's fifth district in the U.S. House of Representatives. As with all of Trump's nominees, Mulvaney has yet to be confirmed by the U.S. Senate. South Carolina Representative Mulvaney, despite being Trump's nominee, has recently been in the news for his vocal opposition to some of Trump's positions. During his Senate confirmation hearing on January 24, 2017, he expressed a need for significant changes to Medicare and Medicaid, and he stated that shoring up some of the government's largest benefit programs would require the consideration of tax increases. So far, Mulvaney is silent on One-in, Two-out and the power it vests in the office for which he has been nominated.
While signing the order, Donald Trump said publicly, "If you have a regulation you want—number one—we're not going to approve it because it's already been approved probably in 17 different forms." The President signed in the presence of Vice President Mike Pence, Chief of Staff Reince Priebus, and several small business leaders.
Many of these small business leaders are optimistic about the new executive order, and some like Adam Robinson, founder of Hireology, express frustration over how difficult it was for his business to thrive under the Obama Administration. Though Hireology did quadruple its workforce, he says about the Department of Labor moving the threshold that makes non-exempt employees eligible for overtime, "I told [the House Small Business Committee] that if this overtime regulation had been in place, I literally could not have hired my first employee."
Some deregulation at the federal level can be very effective in easing the financial burdens of small businesses, but a lot of the regulations that bind them are governed at state and local levels. Karen Mills, senior fellow at Harvard Business School and former head of U.S. Small Business Administration, told CNBC that federal deregulation does not ease that burden, and she cautions that "Just saying things like for every new regulation that gets put in place, two must be eliminated, doesn't do the trick. It's more complicated than that."
Time will tell how this change affects small businesses in large or small ways, and it will have a lot to do with which regulations are eliminated and what regulations replace them.