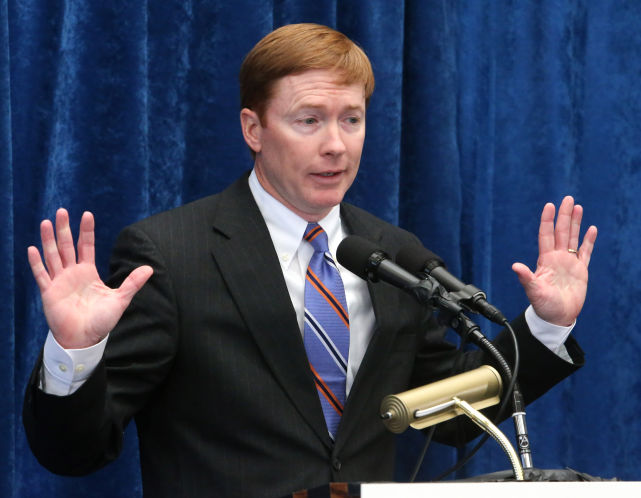 According to those who know him best, Adam Putnam was born to be Governor of Florida. Reared in one of Imperial Polk County's landed gentry families, Putnam was the good son, the Future Farmer of America. The Bartow High graduate then raced off to Gatorland, the breeding ground of Florida's Governors and quickly became amember of UF's Agriculture Fraternity and studied food science as his major. Upon graduating from UF, instead of returning home to run the family business, Putnam set about pursuing a career in politics and succeed he did.
Armed with a wholesome look, a methodical, if cautious approach to his path, Putnam's trajectory looked more like that of a Space Coast rocket than a son of the Heartland. His love of Florida unquestioned, he married and raised a family all while continuing his quest for power and service. Putnam served quietly, but effectively for four terms in the Florida House of Representatives. Making more friends than waves, Putnam spent is twenties learning the procedural ropes of governance. From there, it was off to Washington, where as a young thirty-something Congressman, Putnam made even more friends in the power elite. He latched on to leadership, was a good member, a loyal vote for his Party, he even Chaired the leadership caucus, whipped up votes and raised millions for other Republicans to earn or keep their majority status.
Unfortunately for Putnam, serving in Congress meant being miles from home and time away from what he loved most; his family, his home and his quest for the Governor's mansion. Following the disastrous Congress that saw Putnam help lead his party to one of history's largest expansions of government during and after the economic chaos of the Great Recession, he found a convenient opportunity to run for Commissioner of Agriculture. Putnam jumped at the chance to reestablish his Tallahassee chops in an easy job that was almost abolished for its lack of consequence by the last Constitutional Revision Commission.
Putnam then did what he does best, quietly, methodically make more friends. He got to know big-money lobbyists, statewide fundraisers, and other wealthy and powerful friends who would ultimately help him in his quest to grab the brass ring he so covets. Immediately following the tumultuous 2017 legislative session, a session where many were asking, "where is Adam Putnam?" he emerged and announced that he was, finally, a candidate for Governor. Given the fact that he has spent his entire life preparing for this moment, developing his policy chops and ideas on governing the state – one might have thought Putnam would announce with great fanfare, new ideas, and passion yet unseen in Florida. This announcement should have rivaled that of Jeb Bush's 1998 kick-off – the heir apparent, the man whose time had come. Yet we were instead reminded that Adam Putnam is no Jeb Bush.
At his big kick off, Adam Putnam announced that it was time to put Florida First. Really – forty years in the making and that is Adam Putnam's bold new plan and inspiring new slogan – Putting Florida First. In essence, this is the Publix Deli equivalent of an Air Sandwich. To be fair, Putnam has further boldly proclaimed that his priorities would focus on education, public safety and making Florida friendly to veterans and the military. Of course, even our tourists know that Florida has a long history of being very pro-veteran and pro-military while and it is lost on no one that every Governor in modern time has made education and public safety a priority in Florida. So much for the bold vision thing.
Putnam makes a good point and speaks eloquently about making Florida "more than a prize for a life well-lived someplace else," even if he has no clue how to actually do it, at least he recognizes and talks about it. Putnam states that he wants Florida to be the launch pad for the American dream, that "it can be that if we put Florida First." Yet, as Senate President Joe Negron battled to make Florida's biggest economic engines world class places by bringing Universities to the level of quality to rival UNC and UVA, Adam Putnam was MIA. Does putting Florida First mean we spend money to do so, make policies that get us there or just pledge to do so on a bus tour of Florida? One can almost hear Putnam humming about his beloved Florida, "we are first in war and first in peace, and first in everyone's hearts…" but for the fact that that song is already taken.
With 40 plus years of preparation, onlookers must be left to wonder how it is that Rip Van Putnam emerges as a candidate and all he can tell us is that we should "put Florida First." In fairness, that was not all Putnam said as he embarked on a 22-stop bus tour of Florida. He also has stated that the future "is boundless if we focus on letting American innovation unleash itself, instead of falling down the trap of big government and bloated bureaucracy." Adding "That won't happen on my watch." The only problem with this point is that years and years of former Governors and legislatures have already created the low tax, low regulatory promised-land Putnam envisions. Putnam is like Columbus, thinking he "discovered" America and the rest of us are like the Native American's thinking: "No, sir, we knew it was here all along."
Ah, Adam Putnam, the Courageous Crusader! Forty years to prep and all we get is platitudes. All this talk of conservatism would make you wonder how this guy voted the way he did for all those big Government programs in Washington. Meanwhile, as Agriculture Commissioner, Putnam was listless and nearly lifeless, especially during the most recent legislative session where Visit Florida budgets and job recruitment programs were almost purged. But fear not, Adam Putnam has now emerged to lead us to the promised land, just as he has led Florida's agriculture industry into… stop. That won't work, Florida Agriculture is in a terrible decline and has gotten worse on Putnam's watch.
Putnam's stump speech is simply that – a stump. For all his fundraising prowess, all his careful calculation, one would think Adam Putnam would have one, just one new idea to present as he kicks off his first campaign for Governor. Instead, the people of Florida are left to ask their Commissioner of Agriculture – Where's the Beef?