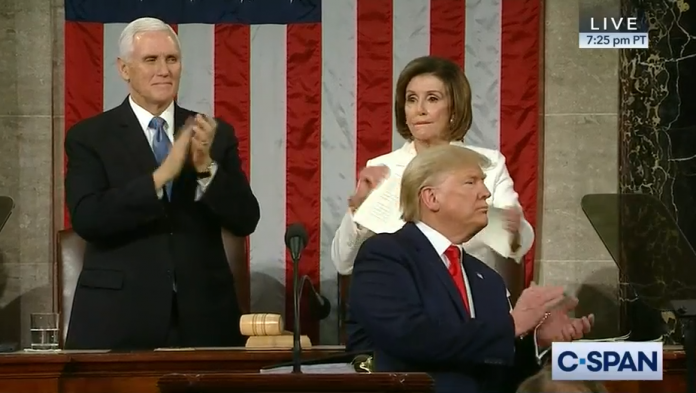 House Speaker Nancy Pelosi (D-CA) ripped a copy of the speech of President Donald Trump at the end of his State of the Union address on Tuesday night.
Pelosi made her dramatic move on national television was unexpected for the House Speaker. She is known for being discreet and often encouraged her fellow Democrats to respect the presidency of the United States.
Before delivering his State of the Union address, Pelosi attempted to offer a handshake to Trump. However, he snubbed and refused her handshake.
When reporters asked why she tore the President's speech, the House Speaker answered that it was "the courteous thing to do given the alternatives."
During a private meeting with Democrats on Wednesday, Pelosi explained, "He shredded the truth, so I shredded his speech. What we heard last night was a disgrace," according to sources quoted by Politico.
The House Speaker's action is trending on social media. Republicans condemned it with the hashtag #PelosiTantrum. On the other hand, Democrats are defending and praising her with the hashtag #IStandWithPelosi.
In an interview on Fox and Friends, Vice President Mike Pence, said, "I didn't see her do it. I found out just a few moments later, and I think it was a new low. I wasn't sure if she was ripping up the speech or ripping up the Constitution."
He added, "There's always a basic decorum and basic respect. But to have her stand up and tear up that speech really dishonored the moment, and I really thought it was beneath the dignity of a joint session of Congress, and I think it will be remembered as such."
Responding to Pence's comments, Pelosi's deputy chief of staff, Drew Hammill said, The Vice President's complicity in last night's reality show is disgusting. He is in no position to lecture anyone about the Constitution, decorum or respect as he cheerleads the mistruths of his master."