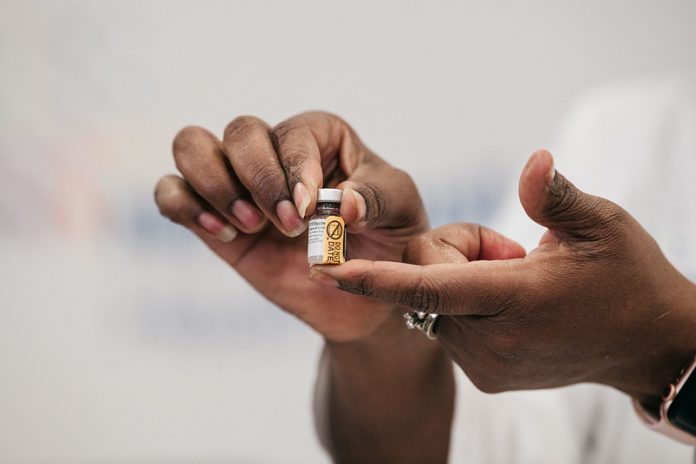 The U.S. Food and Drug Administration (FDA) granted full approval to the Pfizer-BioNTech COVID-19 Vaccine for individuals 16 years of age and older.
The Pfizer-BioNTech COVID-19 vaccine has been available in the United States under Emergency Use Authorization (EUA) since December 2020. The vaccine has been found to be 95% effective in preventing the COVID-19 disease. It will continue to be available under EUA for individuals 12 to 15 years of age and for the administration of the third dose in certain immunocompromised individuals, according to the FDA.
Pfizer Inc (NYSE:PFE) and BioNTech SE (NASDAQ: BNTX) are marketing their COVID-19 vaccine as Comirnaty (koe-mir'-na-tee). It contains messenger RNA (mRNA), a type of genetic material the body uses to imitate one of the proteins in the virus that causes COVID-19. After a person receives the vaccine, his/her immune system reacts defensively to prevent the COVID-19 disease. The mRNA in Cominarty does not change a person's genetic material and it only stays in the body for a short time, the FDA explained.
Comirnaty is the first FDA-approved COVID-19 vaccine. Its full approval is expected to change the minds of many people who are skeptical to get vaccinated against the deadly disease. Businesses, schools, universities, and other organizations will now be more confident to implement vaccine mandates.
In a statement, Acting FDA Commissioner Janet Woodcock, M.D. said, "The FDA's approval of this vaccine is a milestone as we continue to battle the COVID-19 pandemic. While this and other vaccines have met the FDA's rigorous, scientific standards for emergency use authorization, as the first FDA-approved COVID-19 vaccine, the public can be very confident that this vaccine meets the high standards for safety, effectiveness, and manufacturing quality the FDA requires of an approved product."
"While millions of people have already safely received COVID-19 vaccines, we recognize that for some, the FDA approval of a vaccine may now instill additional confidence to get vaccinated. Today's milestone puts us one step closer to altering the course of this pandemic in the U.S.," the FDA Acting Commissioner added.
On the other hand, Pfizer Chairman and CEO Albert Bourla commented that the FDA's full approval "affirms the efficacy and safety" of the Pfizer-BioNTech COVID-19 vaccine (Corminarty) at a time when it is urgently needed. he noted the fact that infections, hospitalizations, and death rates continue to increase among unvaccinated people across the United States.
—————————————-
Have a story you want USA Herald to cover? Submit a tip here and if we think it's newsworthy, we'll follow up on it.
Want to contribute a story? We also accept article submissions – check out our writer's guidelines here.