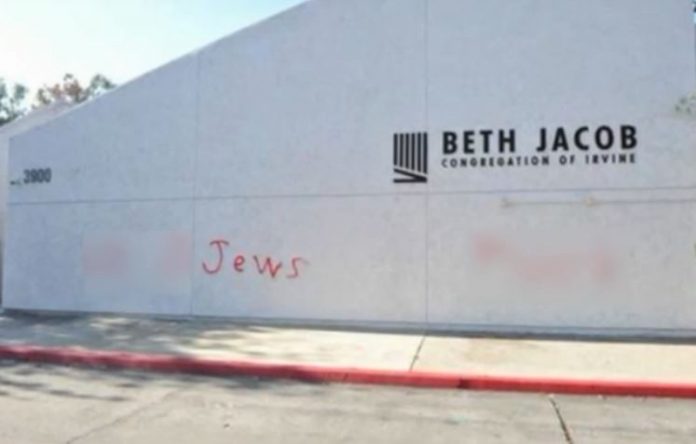 Police officers are investigating an anti-Semitic vandalism at a synagogue in Irvine, California on Wednesday morning. The hate crime occurred less than a week after the deadly shooting at the Tree of Life Synagogue in Pittsburgh, Pennsylvania.
In a post on Facebook, the Irvine Police Department said someone spray painted the exterior wall of Beth Jacob Synagogue with an anti-Semitic comment. The graffiti reads "F*** Jews."
A surveillance-camera video showed that person who committed the vandalism was wearing a hoodie.
Based upon the preliminary investigation, it appears the vandalism at Beth Jacob Synagogue occurred during the early morning hours of October 31. Anyone with information on this case is asked to contact Irvine PD Detective Dave Tran at 949-724-7098. https://t.co/HSRHYWeIpQ pic.twitter.com/wjuVhVN6zR

— IPD (@IrvinePolice) October 31, 2018
The Irvine Police Department is working closely with the leadership of Beth Jacob Synagogue to investigate the hate crime. It also increased the number of officers patrolling around Jewish facilities in the city.
Anti-Semitism incidents are "enraging and unacceptable"
Irvine Mayor Don Wagner condemned the vandalism at the synagogue and a similar anti-Semitic incident at Irvine Valley College. He called both incidents "enraging and unacceptable."
Additionally, Wagner said, "These two local acts of hate, and even more so the senseless, wanton murder of 11 innocent people in Pittsburgh, remind us that historical prejudices remain alive in evil people. It is for the good to work tirelessly against them, their hatred, and their evil. Anti-Semitism cannot be acceptable in this country; it will not be ignored in Irvine.
Law enforcement officers will bring the perpetrators to justice
Furthermore, he promised that the entire City Council will work with the Irvine Police Department to "identify and bring the perpetrators to justice." They will also "continue to do everything in their power to condemn anti-Semitism and to protect Irvine's Jewish community" as well as "everyone of any race, religion, or ethnic background in this city."
On the other hand, California Attorney General Xavier Becerra encouraged everyone to condemn the "unconscionable vandalism" at the synagogue.
Hate crimes must never find safe harbor anywhere in America. An attack on one of us is an attack on all of us. We stand with our fellow law enforcement authorities as they investigate this crime to bring the perpetrators to justice," said Becerra.