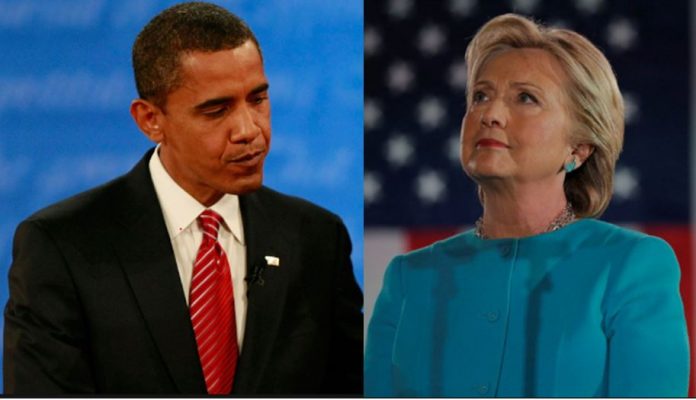 The U.S. Secret Service intercepted two "potential explosive devices" in a mail addressed to the homes former First Lady Hillary Clinton and former President Barack Obama.
In a statement, the Secret Service said its personnel in Washington DC recovered the suspicious packages during "routine mail screening procedures."
"The packages were immediately identified during routine mail screening procedures as potential explosive devices and were appropriately handled as such. Both packages were intercepted prior to being delivered to their intended location," according to the Secret Service.
Additionally, the agency said Clinton and Obama "did not receive the packages nor were they at risk of receiving them."
Furthermore, the Secret Service stated it started a "full scope criminal investigation." It "will leverage all available federal, state and local resources to determine the source of the packages and identify those responsible."
Other potential explosive devices mailed to several public figures
Separately, a courier delivered a package with an explosive device to the Time Warner Center where CNN's New York bureau is based. The package was addressed to former CIA Director John Brennan. The building was evacuated. CNN staffers are working from nearby hotels, restaurants, and elsewhere.
In a memo, CNN president Jeff Zucker told staff, "We are working with authorities to determine the severity of the situation. We are also checking all bureaus around the world, out of a complete abundance of caution.
Other suspicious packages with potential explosive devices were mailed to former U.S. Attorney General Eric Holder and Rep. Debbie Wasserman-Schultz's. The lawmaker's address was used as a return address in most of the suspicious packages.
A potential explosive device was also placed in the mail box of billionaire George Soros.
Clinton and Trump called for unity
Clinton is currently campaigning for Democrats in Florida. During her remarks at a fundraising event in Miami, the former First Lady noted the U.S. is deeply divided. She encouraged everyone to help unify the country.
According to her, "Many of you and others across the country have asked after me and my family. I'm very grateful for that. We are fine, thanks to the men and women of the Secret Service…Every day we are grateful for their service and commitment…It is a troubling time…it's a time of deep divisions and we have to do everything we can to bring our country together." Trump says "acts or threats of political violence have no place in America"
On the other hand, President Donald Trump also called for unity during his remarks at the opioids event at the White House.
Trump said, "I just want to tell you that in these times we have to unify, we have to come together and send one very clear, strong, unmistakable message that acts or threats of political violence of any kind have no place in the United States of America"
Additionally, the president emphasized, "The safety of the American people is my highest and absolute priority."
Furthermore, Trump said the government is investigating that suspicious packages and "will bring those responsible for these despicable acts to justice."