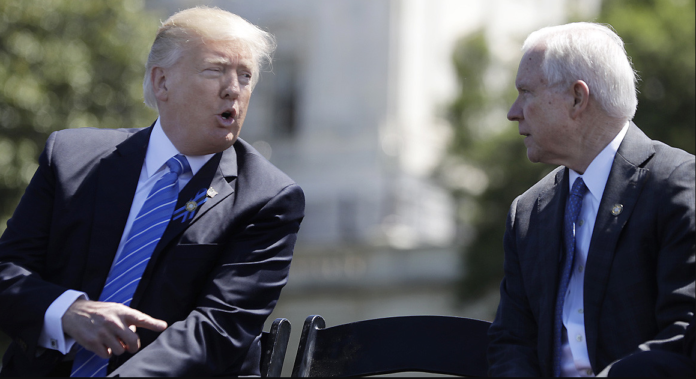 Over the past few weeks, the mounting tension between President Trump and Jeff Sessions has gradually increased. The aforementioned strain was engendered by Sessions decision to recuse himself from the Russia investigation. The President has repeatedly expressed his disappointment and displeasure with Sessions' course of action, even stating that had he known Sessions would recuse himself, he would not have appointed him as Attorney General. According to the Washington Post, President Trump is already taking steps to replace Sessions.
Despite the President's displeasure with Sessions, the former has reportedly been advised against canning Sessions by multiple people. Some believe such a decision could engender unforeseen legal problems, while others merely view firing Sessions as a bad judgement call. While Sessions was one of the first prominent people to come out in support of President Trump during the 2016 election, recusing himself from the Russia investigation was a slap in the face to Mr. Trump. As the head of the Department of Justice, it is in Sessions' job description to deal with legal matters. If he is unable to do this, he should not serve as Attorney General.
Within the past few days, many rumors of President Trump's supposed plans to fire and replace Jeff Sessions have surfaced. Newsmax alleges that the President's confidants believe he might be considering Texas Senator Ted Cruz as a replacement Attorney General, although Cruz has denied these claims. Additionally, President Trump's advisers affirm that the Commander in Chief would like for Sessions to step down from his position, as opposed to being terminated.
In light of the growing questions about the President and Attorney General, White House Press Secretary, Sarah Huckabee Sanders made the following statements:
"You can be disappointed in someone but still want them to continue to do their job, and that's where they are. He wants him to lead the Department of Justice. . . . He wants him to focus on things like immigration, leaks and a number of other issues."
Jeff Sessions has made his desire to continue serving as Attorney General quite clear. None of the President's criticisms seem to have any impact on Sessions and there has been no talk of him resigning. If the President truly plans to replace Sessions, he will most likely have to fire him. However, President Trump's repeated expressions of disapproval towards Sessions have caused many people to wonder whether his days as Attorney General are numbered. Truthfully, time will tell.