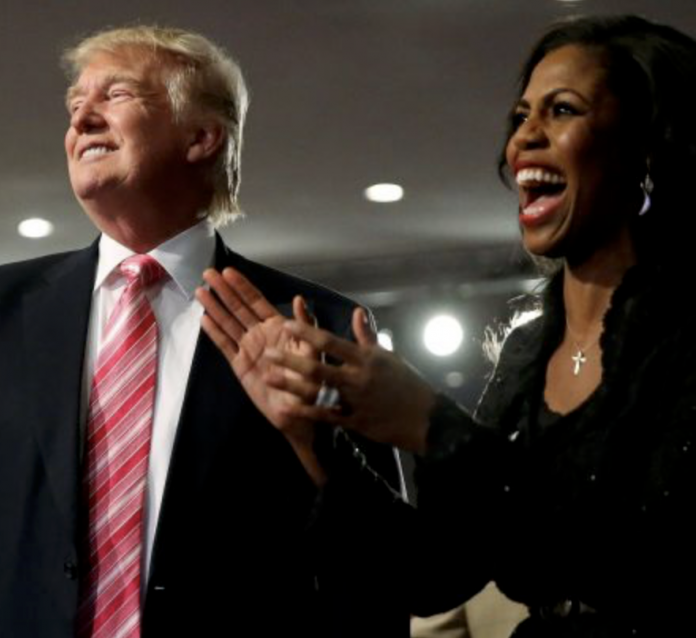 President Donald Trump pushed back against his former ally and now critic Omarosa Manigault Newman on Monday, according to The Hill. This weekend, Manigault Newman promoted her upcoming book, "Unhinged: An Insider's Account of the Trump White House."
The former White House aid also referred to the president as a "racist" and "misogynist" on multiple occasions and leaked recorded conversations of herself with White House Chief of Staff John Kelly and the president himself.
An Overview of Trump's Statements
On Monday morning, Trump posted the following tweets about Manigault Newman:
Wacky Omarosa, who got fired 3 times on the Apprentice, now got fired for the last time. She never made it, never will. She begged me for a job, tears in her eyes, I said Ok. People in the White House hated her. She was vicious, but not smart. I would rarely see her but heard….

— Donald J. Trump (@realDonaldTrump) August 13, 2018
…really bad things. Nasty to people & would constantly miss meetings & work. When Gen. Kelly came on board he told me she was a loser & nothing but problems. I told him to try working it out, if possible, because she only said GREAT things about me – until she got fired!

— Donald J. Trump (@realDonaldTrump) August 13, 2018
While I know it's "not presidential" to take on a lowlife like Omarosa, and while I would rather not be doing so, this is a modern day form of communication and I know the Fake News Media will be working overtime to make even Wacky Omarosa look legitimate as possible. Sorry!

— Donald J. Trump (@realDonaldTrump) August 13, 2018
A few hours later, the president followed up:
Wacky Omarosa already has a fully signed Non-Disclosure Agreement!

— Donald J. Trump (@realDonaldTrump) August 13, 2018
Trump also retweeted certain posts that contradict claims made in Manigault Newman's book excerpts.
LTo the many dozens of #journalists who called me, questioning @OMAROSA claim in her new book that @POTUS @realDonaldTrump took a note from me, put it in his mouth and ate it…I saw NO such thing and am shocked anyone would take this seriously.

— Michael Cohen (@MichaelCohen212) August 12, 2018
I'm in @Omarosa's book on page 149. She claims to have heard from someone who heard from me that I heard Trump use the N-word.

Not only is this flat-out false (I've never heard such a thing), but Omarosa didn't even make an effort to call or email me to verify. Very shoddy work.

— Frank Luntz (@FrankLuntz) August 10, 2018
Additional Details Regarding Omarosa
Over the weekend, Manigault Newman leaked a recording of herself with White House Chief of Staff John Kelly in the White House Situation Room. The recording lasts under a minute, and Kelly is heard telling Manigault Newman that they need to "talk about [her] leaving the White House."
The White House chief of staff then goes on to cite "integrity issues" and the importance of a "friendly departure" for Manigault Newman.
When asked why she secretly recorded a Situation Room discussion, Manigault Newman answered, "People would still believe the false, incredible story that I was running around the White House. People would still think that I was trying to set off alarms. So yes, I recorded myself and I have no regret about it."
Hours before Trump's tweets, Manigault Newman also leaked a recording of a phone conversation with him. Throughout the discussion, the president expresses dismay and shock regarding Manigault Newman's White House departure. Trump is heard stating that he's "not at all glad" about the matter.
New Backlash
Since the inception of Manigault Newman's book promotion and leaked recordings, she has faced notable backlash. Many critics have questioned the motivations behind her book, suggesting that she is seeking revenge for being fired. However, other Americans have more serious concerns.
Several conservatives and Republicans have questioned the legality of Manigault Newman's decision to make recordings in the Situation Room. Some have called for her prosecution if she did, in fact, breach any laws or regulations.
Secretly recording conversations in the Situation Room isn't just wildly inappropriate, it's a threat to our national security. If she broke federal law, she should be prosecuted.

— Ronna McDaniel (@GOPChairwoman) August 12, 2018
Omarosa has been on her book tour for all of ten minutes, and she's already being exposed as a terrible liar. Right out of the gate, she contradicted a core narrative in her book. #OmarosaUnhinged pic.twitter.com/LBJjZiOixM

— GOP (@GOP) August 12, 2018
Without question, @OMAROSA should be pursued to the full extent of the law for her flagrant violation of White House security protocol.

This is a NON-PARTISAN issue.#LOCKHERUP

— Candace Owens (@RealCandaceO) August 12, 2018
Never in my presence over 40 yrs-in public & private-incl @realDonaldTrump's last season hosting @ApprenticeNBC-have I heard @POTUS use any racial slurs. No one knows what's in anyone's heart-I just know nothing as filthy as @OMAROSA alleges ever came out of his mouth around me.

— Geraldo Rivera (@GeraldoRivera) August 12, 2018
"Unhinged: An Insider's Account of the Trump White House" will hit bookshelves on Tuesday. Manigault Newman continues to promote her book in the press and on social media.
#Unhinged 8.14.18 pic.twitter.com/PaslQbkWxF

— OMAROSA (@OMAROSA) August 9, 2018